H Dunne & Sons (Haulage) Ltd is a family run business, and have been supplying tarmac and aggregates to the haulage industry for 44 years. We're based in the Bedford and Cambridge area, and carry out contract work for large aggregate companies such as Tarmac Ltd and Breedon Group, whilst also supplying builder's merchants and individual construction businesses too. Lisa Dunne, Company Director and Fuel Champion, explains how the business – during its first year of Gold accreditation – has continued to focus on the principle objective of reducing an impact on the environment through FORS.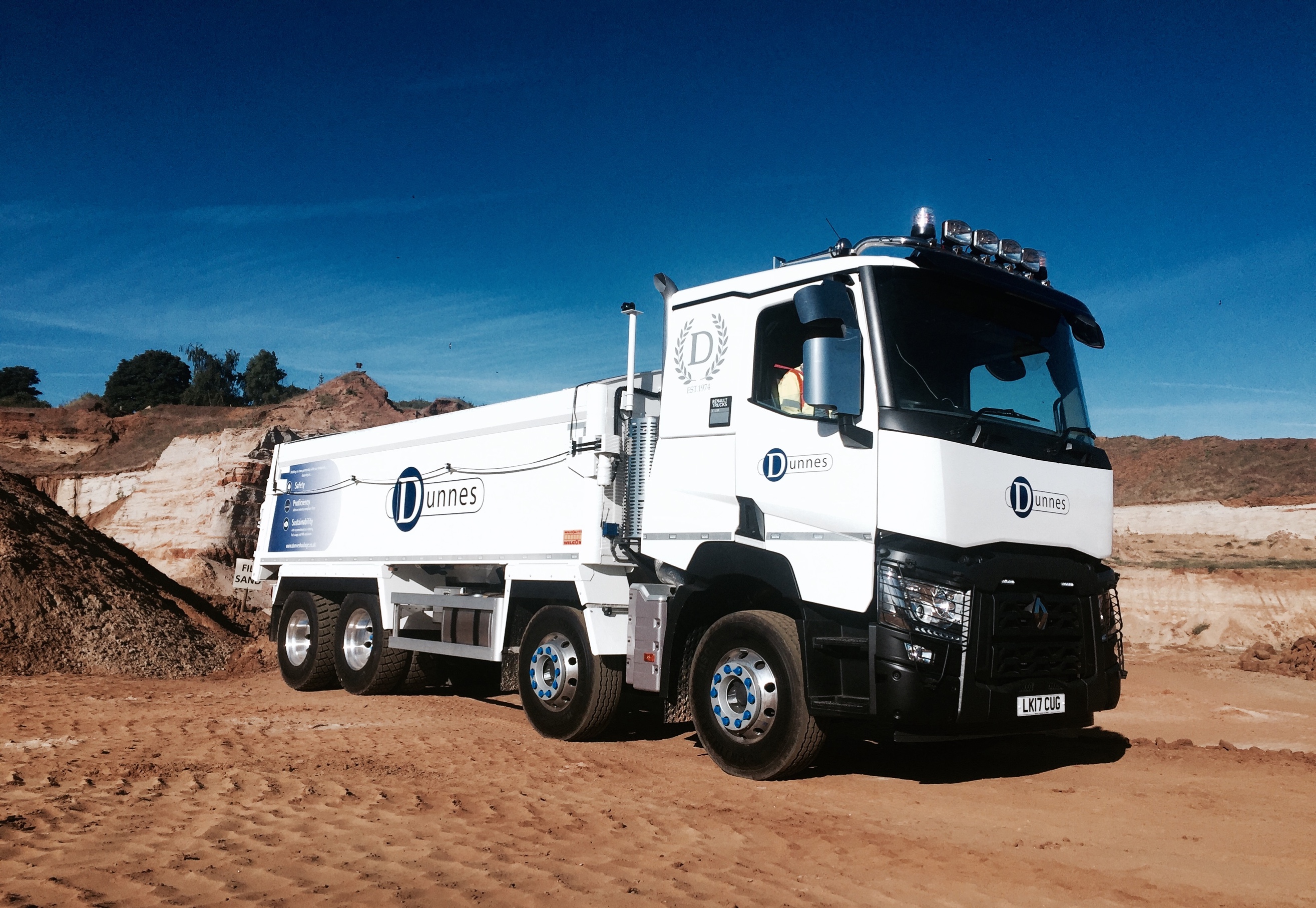 We've been a member of FORS for around five years now. Initially, we'd been introduced to the scheme by one of our main contractors, Tarmac Ltd. Prior to this, we had already instilled the fundamental safety and fuel economy processes within our business, but quite quickly we adopted the FORS Standards, as we recognised it was a clear, concise template of procedures that would ensure we remained compliant within the industry.
From passing our initial Bronze audit in 2013, H Dunne & Sons (Haulage) Ltd have embraced the challenge in meeting the Standards. Our goal was to move on up to Silver, and then go for Gold, which we proudly achieved last year. Our Company policies and processes have completely evolved since our first audit, and are constantly reviewed and updated. Our fuel monitoring is a particularly important aspect of our business. With the help of our telematics systems, we can look at the relationship between fuel usage and driving behaviour. Staff training is focussed on correcting any behaviours which increase fuel use.
The FORS accreditation introduced us to a framework of training, support and guidance. All our staff have completed e-learning modules, Safe Urban Driving courses and additional CPC courses available through FORS, which keep our driver's qualification status up to date. Aaron Dunne is a Company Director and our FORS Practitioner for H Dunne & Sons (Haulage) Ltd. He makes sure Standards are communicated to all staff through training and Toolbox Talks.
'Achieving FORS Standards will ensure full industry compliance' –Aaron Dunne, Company Director.
A key benefit for staff is the opportunity to access the FORS e-learning resource, and our staff take advantage of this training method throughout the year. Working through these collectively can be an effective way of discussing the issues. Or, drivers can access the modules individually. It provides a flexible approach to training.
'Access to regular training is a huge benefit to drivers, and plays a significant role in road safety' – Steve Dunne, Company Director.
Progressing through each accreditation over the past few years has helped us focus on the most effective way to operate. Moving from Bronze, Silver and then on to Gold has encouraged us put in place a structure to monitor and evaluate our business.
The below data illustrates driving behaviour is consistent over the two-year period. The number of PCNs remain at a low level.
| | | | |
| --- | --- | --- | --- |
| | KM/L | PCNs | Average fuel used per Km (calculated over whole fleet) |
| Jul 15– Jun 16 | 2.79 | 1 | 0.36 litres |
| Jun 16- Jul 17 | 2.74 | 1 | 0.36 litres |
| Percentage change | 0.05% | 0% | 0% |
The average usage of fuel per kilometre over the whole fleet has remained the same overall.
The health, fitness and well-being of our drivers is extremely important, and it's our responsibility to ensure we're aware of any issues. Annual Medical Declarations are completed by new staff when joining, and also for all drivers every January. The declaration reminds staff of their legal obligations to inform the DVLA if a condition could affect their ability to drive safely. We also carry out sight/distance tests every six months. Health and Well-Being meetings are offered if needed.
Our recruitment strategy involves finding staff from across a spectrum of different industries – not just those with a background in transport. Many of our drivers have joined us from working in landscaping, vehicle dealerships, and administration. A focus on safety, enthusiasm and team work is key to recruiting – and retaining staff. Training is essential for a new employee, and our 'Buddying' system is in place until the driver is competent and confident.
We're committed to reducing noise pollution. All of our vehicles are fitted with left-hand audio and reverse alarms, and these can be switched off from the cab by the driver at all times where appropriate. Our Noise and the Environment policy, kept in the cabs, details a step by step driver's guide for reducing noise on site, for both day and night time deliveries. Protection is provided for driver's hearing and site diagrams where noise surveys have been carried out are available for staff working in areas with high dB levels.

Because of the nature of our business, delivering hot asphalt from plant to designated sites and roadworks, we are limited to the mode of transport we can use. To provide our construction industry customers with the required materials, in the time frame needed – we can only operate by road using the current engines available to us. With this restriction in mind, we can explore how we can do this in the most efficient way possible, by monitoring our fuel usage and to investigate different fuel products that are cleaner for the environment. Using biofuels is definitely a consideration when looking at modal shifts. We've already expressed an interest in the availability of biofuel engines with our manufacturer contacts, and will continue to be in touch for progress in this area.
Our plans for the future are to continually improve the efficiency of the fleet, concentrating on lowering fuel usage, reducing unnecessary road miles and monitoring driver behaviour. We'll be keeping on top of our training schedule, and looking at individual training needs.
Another year with a Gold accreditation would be a fantastic achievement, and something to be proud of. By continually striving for a Gold standard, we can ensure that as we move our business forward, we stay compliant within our industry.
You can contact us through our website www.dunneshaulage.co.uk or through twitter www.twitter.co.uk/dunneshaulage
Please note: All published FORS Gold case studies have been submitted by the accredited company named above and transcribed verbatim.