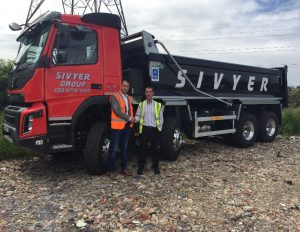 Sivyer probably has the longest heritage of any company in the UK waste and resource management sector. Our story started in 1862, when George Hutchings opened a horse-and-cart muck away business for building contractors in south London. We have come a very long way since then but retain his original site as one of our transport and recycling hubs. In the 1920s we started working for water, gas, and electricity companies, followed later by major civil engineering contractors, ground workers, builders' merchants and landscapers. We played a major role in the post WWII reconstruction of London and have gone on to support numerous prestigious projects including the Olympic Park, Crossrail and the O2 Arena. While the waste streams, disposal/treatment technologies and transport we originally worked with were markedly different from today's, our ethos remains constant. Professionalism, excellent service, innovation, investment in advanced technology and environmental best practice are at the heart of Sivyer's business.
The Sivyer Group currently employs over 150 people and turns over £30 million. We are headquartered in Charlton, south east London and have logistics hubs and recycling facilities across the capital. Logistics are at the heart of our waste management and materials supply businesses. Using our own dedicated fleet, we work to the highest standards, regarding planning, management and in the cab, and hold Gold accreditation under FORS (Fleet Operator Recognition Scheme). We aim to help all our customers onto a pathway towards zero waste, operating to the highest safety and compliance standards for your peace of mind – and ours. We shift inert, non-hazardous and hazardous waste streams, treating and recycling the loads as appropriate, to yield materials for current projects under the WRAP Quality Protocol, and we dispose safely of any non-beneficial residues.
Sivyer supplies Primary and Recycled Aggregates, manufactured soils, ready mixed concrete and concrete blocks. The statistics speak for themselves: annually we source and move over 1.5m tonnes of construction wastes, produce and deliver 500,000 tonnes of aggregates and 120,000 tonnes of manufactured BS quality topsoils, along with thousands of cubic metres of ready mixed concrete and concrete blocks.
We decided to go for FORS as best practise.  When we looked at the requirements and benefits of joining the scheme we saw that they fitted in perfectly with our ethos of improving safety whilst complementing our drive to improve fuel efficiency and reduce our environmental impact.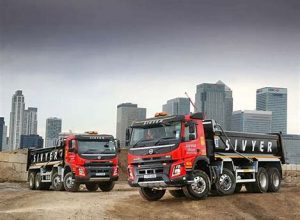 We take compliance and safety very seriously, so we achieved our Bronze and Silver Accreditation and knew we definitely wanted to show the industry how serious we are about compliance and we recently achieved the Earned Recognition with the DVSA and wanted to make sure we promote FORS across our supply chain by making example of being Gold ourselves. FORS did help us by providing training and tools that improved the policies and procedures'
All our drivers have completed their Safe Urban Driving course. We have also invested heavily in vehicle safety systems cameras, nearside proximity sensors and audible alarms for all our vehicles. All our drivers have also completed FORS E-Learning modules as well.
'FORS has helped us achieve compliance and safety' – Mario Hellawell Compliance Manager

'We have increased our MPG by 1.85% in the previous 12 months' – Mario Hellawell Compliance Manager
We have increased our MPG by 1.85% in the previous 12 months
| | | | | |
| --- | --- | --- | --- | --- |
| | MPG | Incidents | Number of PCNs | Numbers of Vehicles |
| Apr 16-Mar 2017 | 5.43 | 104 | 186 | 107 |
| Apr 17-Mar 2018 | 5.41 | 42 | 124 | 120 |
| Apr 18-Mar 2019 | 5.51 | 47 | 155 | 115 |
| Percentage improvement | 1.85% | -11.90% | -25% | -4.17% |
We get all my drivers to complete a comprehensive Medical Declaration on a annually basis even though the FORS Standard states once every 5 years. It's also mentioned in the drivers handbook that if they at any point in time start suffering from a medical condition they need to notify the company ASAP as well as if they need to start taking medication prescribed by their GP or over the counter drugs. We will then investigate it to see if it's still safe for the driver to be driving for the company and we may even ask the driver to get a letter from his doctor informing the company if he is still able to drive for the company. We will then start doing more driver assessments on the driver to make sure he isn't a risk to the company or anyone on the road.
We have recently adopted a recruitment policy to try and help us recruit young drivers into the Transport industry.
We only use our Operating yard for parking our lorries. We don't do any loading/ unloading on site and all our servicing is done by main dealers at their sites not ours. The only noise generated is when my lorries are idling so we can carry out our defect checks. All my lorries have white noise reversing alarms fitted to them.
We carry waste soil and aggregates to construction sites across the whole country. As we rely on our customers asking us to deliver/ collect to/from various construction sites across the whole country, we never know where we are going until they need us. Our business involves the transportation of aggregates and building waste by road which is the nature of the industry we are in. We are also exploring ways that will provide some effective control over fuel use and emissions by adopting logistical arrangements that maximise the use of lighter vehicles where possible. These weight dependent methods where practical will also ensure the maximisation of loads. We are replacing all our lorries with Euro 6 engines as and when they are due for replacement. We have looked at electric vehicles and because of the weights we carry and the fact that our lorries have specialist equipment fitted no manufacture have produced an alternative fuelled vehicle that can carry the weight we do and go over the same terrain we do.
We will continue using what FORS has taught us to improve our MPG and reduce any wasted idling we might have.
We have positively promoted FORS by advertising it on our website, email signatures, vehicles and work wear. We also send out a letter to all our clients and suppliers telling them to join FORS if they haven't already.
Gaining FORS Gold Accreditation shows how dedicated we are as a company to improving road safety and the safety of all vulnerable road users in London as well as nationally. We will continuously use what FORS has taught us to help reduce our carbon footprint and make the roads so safer for everyone that uses them. We have also managed to make a significant saving by reducing our fuel usage and improving our MPG.
Website: http://www.hsivyer.com/
LinkedIn: https://www.linkedin.com/in/sivyer-group-67b8a414a/
Facebook: https://www.facebook.com/Sivyer-Group-335300510246289/
*Please note: All published FORS Gold case studies have been submitted by the accredited company named above and transcribed verbatim