H&A Bal Haulage Ltd is a well-established haulage company that is known for transporting aggregate and asphalt materials in the Heathrow region, London. Since joining FORS and implementing the recommended practices, the companies fuel usage and emission output figures have been at its' lowest, since establishing in 2013. Managing director of H&A Bal Haulage Ltd, Harjinder Bal, explains how FORS has been beneficial to their company.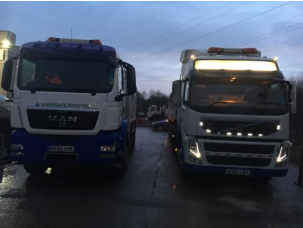 We initially came across FORS whilst working in London Heathrow. After conducting more research on FORS, we saw how beneficial joining the scheme would be to our company. Since joining FORS and acquiring all three accreditations, we have gradually seen significant improvements in our fuel efficiency and overall work ethic. Since becoming gold accredited our fleets fuel usage and emission output has been at its lowest levels and we wish to continue working at a gold accredited standard to ensure these figures stay as low as possible.
As FORS provided us with the appropriate tools and guidance to achieve our initial bronze, silver and gold accreditation, we were able to achieve each accreditation with ease the first time round. Due to the clear guidance and support FORS provided us when aiming for the previous accreditations, we are now encouraged to aim for another gold accreditation, as we believe using the techniques and toolkits required to be gold accredited have improved our business significantly and brought us more cliental.
Once we became a FORS gold accredited haulage business, we wanted to continue taking advantage of the wide range of toolkits and online resources FORS has to offer, to ensure we remain working at a gold accredited standard. One tool we continued to make use of once we were gold accredited was the performance management system. This toolkit gave us a place to put all relevant data and keep it organised. Having a system where we can keep track of information such as fuel usage helped us see where we needed to make improvements, and whether we have made improvements over a certain period of time.
'Having the performance management system has helped us keep track of improvements made within our fleet.' – Harjinder Bal
The e-learning aspect of FORS proved one of the most useful tools that FORS had to offer. By ensuring our driver's road knowledge was up to date, it increased the amount of safety measures taken due to the expanded knowledge and techniques provided by FORS. One of the FORS e-learning modules that helped our drivers become more aware of vulnerable road users was the cycle safety module. This module gave our drivers an insight to what the road looked like through a vulnerable road user's perspective.
'Our drivers are more motivated to complete driver learning modules as they are of easy access.' – Harjinder Bal
After achieving our initial bronze accreditation, we instantly felt the benefits from implementing the practices required for a bronze accreditation. Due to this we were encouraged to continue working with FORS and aimed for both a silver and gold accreditation which we achieve with ease. We now wish to remain a gold accredited company and are now working towards renewing our current gold accreditation.
In the ­­­­­12 months, we have increased our KMPL by 1.12% thanks to FORS.
| | | | |
| --- | --- | --- | --- |
| | KMPL | Incidents per 100,000 Kms | Number of PCNs |
| March 16 – Feb 17 | 2.68 | 0 | 0 |
| March 17 – Feb 18 | 2.71 | 0 | 0 |
| Percentage improvement | 1.12% | 0% | 0% |
At H&A Bal Haulage, we ensure our driver health is suitable for the mode of work our business carries out, by requesting them to fill out a health questionnaire declaring any health issues if there are any. If there are possible health issues that may affect their driving, we will refer the recruit to a GP for further consultation before official employment begins. Furthermore, we also have our drivers carry out an eye exam every six months to ensure their eye sight is suitable for driving.
When recruiting at H&A Bal Haulage Ltd, we like advertise through online platforms such gumtree when looking for new recruits. When recruiting, we like to advertise our two week buddy plan which welcomes inexperienced tipper drivers into the industry. This plan consists of the new recruit being shadowed by one of our more experienced drivers. If the new recruit has shown that they can drive independently once the two week training is up, they can begin their official employment.
The vehicles we use to carry out our mode of work are known for their contribution to the roads noise pollution. One method to reduce this that we have learned from FORS is the anti-idling method. This method consists of our drivers being aware of when it would be appropriate to turn off their vehicles' engine in order to reduce their vehicles noise pollution. Ideally the time to implement this method is when their vehicle is likely to be stationary for a long period of time. This method also helps our fleet save on fuel.
The asphalt and aggregate material our vehicles transport and deliver must be kept in an insulated body. The materials must also be easily deposited out of the vehicle and therefore requires a PTO system. Currently the most environmentally friendly vehicle suitable for our mode of work is a tipper vehicle with a euro six engine. We have recently replaced one of our older vehicles with another vehicle that has a euro six engine. We plan to keep up to date with any progress made in the tipper vehicle industry, to see whether any alternative vehicles are made available.
As mentioned previously, at H&A Bal Haulage Ltd we plan to continue keeping up to date with the vehicle industry to see if any alternative vehicles are made available for our mode of work. Furthermore, in the future we also plan to continue encouraging our drivers to regularly complete FORS driving modules, as we feel that having our drivers' road knowledge up to date ensures their safety and vulnerable road users safety also.
Having H&A Bal Haulage Ltd remain FORS gold accredited would reassure to our drivers that they are performing at an outstanding level, and encourage them to continue doing so. Furthermore, remaining gold accredited would allow us to continue acquiring new cliental and assure current clients that our business is still performing using the best practices, techniques and methods to carry out our work.
Please note: All published FORS Gold case studies have been submitted by the accredited company named above and transcribed verbatim.