A division of WFL UK Ltd, Hall Fuels continues to operate directly from Fuel Terminal locations in both East and West London, supplying bulk fuel and lubricants to commercial customers across the capital and the Home Counties.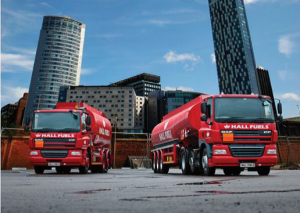 We at Hall Fuels are proudly seeking our eighth consecutive year at Gold status, having previously sat at Silver. We have now also recently obtained MOCA status as we review the larger picture of our partnership with FORS and look to integrate the FORS standards into an increased number of our sites nationally.
FORS continues to be an integral part of our Company profile and are included in various promotional and marketing materials and promotional presentations to new customers also as part of business updates to existing customers. We recognise FORS as a leading standard within the Industry and with that a standard that customers recognise and demand from their suppliers.
With both the 'National Fleet & Compliance Manager', Glenn Tyrie and Nat Fleet & Compliance Operations Manager Mark Robinson are FORS Practitioners which reflects the esteem the FORS standard is held within the business.
The effect of Hall Fuels Integration into World Fuels Services: Our business fully supported by our WFS Global parent company is committed to a long term, continuous and sustainable fleet replacement programme. In 2018 we replaced over 10% of our national fleet; which has reduced the average age of the fleet by over 20% year on year (2018 V's 2017). The next stage of the replacement programme in place for 2019 will see the average age of the fleet fall a further 35% year on year (2019 V's 2018).
The majority of the 2018 new fleet is located in Hall Fuels sites and therefore operating under the FORS Gold accredited sites and fleet. The Euro VI (6) fleet ensures full compliance with the Transport for London, Government initiative 'Ultra Low Emission Zones' (ULEZ) standards in place from April 2019.
Average Fleet Age

Year

2017

2018

YOY 2018 v 2017

2019

YOY 2019 v 2018

YOY 2019 v 2017

Age

11.5

8.5

-26%

5.5

-35%

-52%
Fleet Procurement:
An effect of company growth through acquisition has been the mixed fleet and equipment types inherited. Through centralised procurement we have set up clear and consistent standards with all new fleet, established on the results of internal meetings, feedback and considerations through our business including; our engineering team, trainers and drivers to ensure we have the most efficient and practical fleet and equipment.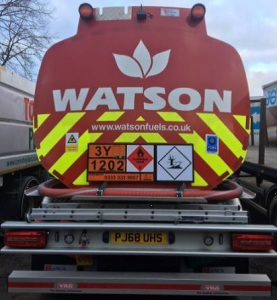 This has resulted in consistencies of In-Cab and external Safety Equipment, vehicle make and model irrelevant of vehicle size, this maximises vehicle familiarisation and driving efficiencies. We have Standardised fuel pumping equipment to minimise risk of user error and negative environmental effect.
This has a positive effect of the daily demands on the driver allowing maximum focus on driving safety standards, and equipment usage. Resulting in; reduced driver stress, fatigue and allows driver training and development to be invested in other key and progressive areas.
FORS Positive Benefits on National Fleet:
As a result of the consistency of the fleet replacement programme all new fleet meets the highest FORS standards so a national benefit and not just the imminent London ULEZ zones, in terms of Safety and Emissions. So all locations will benefit, whether they be receiving brand new fleet or that a little older but relocated from Hall Fuels sites updated in line with the ULEZ, enhancing driving safety due to the safety equipment already fitted to them, as well as the increased driver and driving efficiencies.
Emissions improvements:
The introduction of the Euro VI Engine into the Hall Fuels fleet has naturally had a positive effect on the reduction of emissions of Particulate Matter and NOx. The table below shows the like for like % reduction, firstly with a comparison for 2018 against 2017, with 14.26% & 17.28% respectively. Then far greater reductions are expected for 2019 V's 2018 when the complete Euro VI fleet will be in place.
  Effect of Euro 6 Fleet Replacements into Hall Fleet 
 *
 2018 v's 2017
 * 2019 V's 2018
 Particulate Matters
 14.26%
 56.63%
 Nox
 17.28%
 68.64%
The above takes into consideration the implementation programme considering the average 10 month build / lead time of a Road Tanker.