A division of WFL UK Ltd, Hall Fuels are based in both East and West London, and supply bulk fuel and lubricants to commercial customers across the capital and the Home Counties. We pride ourselves on providing outstanding service with Fuel Delivery Services, says Operations and Logistics Director Scott Roberts.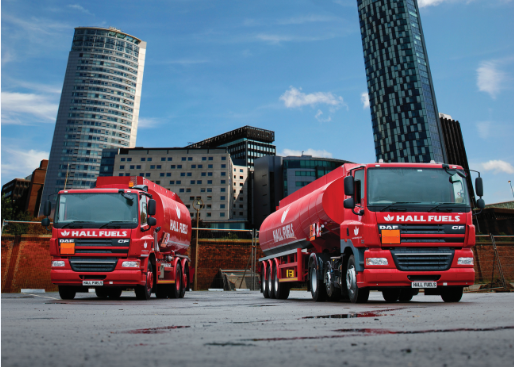 Hall Fuels has been a valued member of the FORS scheme for seven years, beginning with Bronze certification before progressing to Gold.
We passed our second Bronze audit in 2014. The FORS standards seem to be getting higher and higher each year, which is good for all concerned, in particular customers, employees, the general public and cyclists.
Halls Intregration into World Fuels Services
Following historic company acquisitions in the London and South East area of the UK, it was identified that different brands that operate within World Fuel Services overlapped delivery areas, due to the fact that they were planned and operated independently.
During the course of 2017 a Regional Planning Centre has been establishment in Staines to:-
Re-organise the routing and operation set up in the London and South East region.
Identify areas of over capacity with a view to removing inefficient resources, and put in a single organisation and reporting structure for the London SE region
This has resulted in the following operational benefit:- 
Increase in fuel delivery capability by 1.2 million litres per month delivered by the same fleet numbers.
Reduction of fuel consumption by 4.11%
Fuel Efficiency improvements:-
The kilometres driven across the fleet year has increased year on year, +25.17%, demonstrating increased utilisation of the vehicles operated.
Although the fuel used has increased on year (+20.61%), this does however demonstrate an increase in fuel efficiency of 4.11% – increasing Kilometres per litre from 2.54 km/l in 2015, to 2.64 km/l in 2016.
This has been achieved through driver engagement on 'driving styles', and education through monthly driver briefings.
| | | |
| --- | --- | --- |
| | KM's  Driven | Own Fuel usage |
|  Jan- Dec 2015 | 844,125 | 331,274 |
| Jan -Dec 2016 | 1,056,659 | 399,574 |
| Percentage improvement | 25.17% increase | 20.61% Increase |
Demonstrates a 4.11% increase in KM/Litre
Hall Fuels are always looking for ways to improve their operation. In 2018 Halls will introduce a new incab 'Fleet Automation' system to assist Operators and Drivers through their daily tasks. This provides key features such as, fuel delivery systems, GPS mapping and tracking, HGV Navigation, and onboard printing of Delivery information, which have previously not been available. This has already been deployed to fleet elsewhere in the World Fuel Services (UK) (268 rigid vehicles), and will be implemented in Q1 2018 to the Halls Fleet.
 
Please note: All published FORS Gold case studies have been submitted by the accredited company named above and transcribed verbatim