Annie Green, Quality & Compliance Manager for Hanson UK, part of the Heidelberg Cement Group. Hanson UK is a leading supplier of heavy building materials to the construction industry, producing ready mixed concrete, aggregates, asphalt, cement and cement related materials. We operate a fleet of more than 1200 vehicles to deliver our products including 850+ tippers and mixers operated by independent owner drivers under a franchise agreement. We also have a fleet of four rail locomotives and 140 wagons operated by our joint venture rail freight business. Our diverse customer base includes public sector works, major infrastructure projects, local building and civil engineering contracts and DIY projects.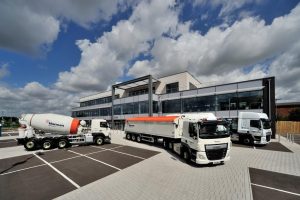 We have been a FORS Gold accredited company since February 2012 and take pride in having this recognised status. Year on year we have continued to invest in the latest technology for our vehicles and training for our staff and drivers.
David Fry- Operations Director – 'At Hanson we take our social responsibility very seriously. Having the FORS Gold standard illustrates our commitment to safety and sustainability to our customers and our colleagues. It builds on the legal compliance requirements we adhere to as an operator, and helps us to demonstrate compliance with other standards such as CLOCS and helps to underline our commitment to risk reduction especially for vulnerable road users.'
Over the last year we have introduced Mercedes Econic low entry cab mixer trucks which have joined the fleet in London on the Thames Tideway project. The eight cubic metre, rear steer trucks are much easier to get in and out of and also feature panoramic glass and 360 degree cameras which significantly improves the drivers visibility of cyclist and pedestrians, which is always foremost in our minds when we are looking to improve our fleet.
This year we have introduced an articulated concrete mixer with the UK's largest load capacity. It is currently being trialled on plants and customer sites across the country. The specially designed DAF tractor unit and McPhee mixer can carry up to 12 cubic meters which is twice as much as a standard 3 axle truck mixer.
Tim Sage Regional Transport Manager – 'The new vehicle was an industry leading development and feedback from our customers has been good since the evaluation started in the summer. We are giving it as much exposure as possible across our plants and with key customers in each region.'

'Hanson Australia has an articulated mixer and we have used some elements from that – like rear wheel steering – for our design, which has taken the best part of a year to go from drawing board to getting one on the road'.

'Its capacity is ideal for big pours, and it is more efficient and sustainable as it reduces vehicle movements. Keeping the vehicles weight down has been crucial to enabling its larger load capacity'.

'Along with smaller support wheels and plastic delivery chutes, it uses hydraulic power take-off from the low-emission Euro 6 engine instead of a separate – and heavy – diesel motor to run the mixer. The truck has all our usual safety features and includes a lower passenger door window for improved visibility'.
Artic Walking Floors – 2017 saw the introduction of 84 new artic walking floor vehicles. Custom and practice for walking floor vehicles has always been 8 wheelers with a payload capacity of 20 tonnes, the new artic walking floors can carry a payload of 27.5 tonnes. This again is more efficient and sustainable as it reduces vehicle movements and moves more product per vehicle. Initially these vehicles were brought in to cover our contract at Hinkley Point Power Station but are now being rolled out nationally. A great safety aspect of these new vehicles is that with the walking floor there is no requirement to tip the trailer.
Throughout the year the company has continued to promote the FORS standard. This includes events at schools, cycling events, fire brigade and council events. Our fleet and managers regularly attend promotional events to demonstrate to groups the challenges an LGV driver faces around vulnerable road users. Vehicles are used to show groups the technology our vehicles have fitted to assist with this, but also makes attendees aware of the issues faced. It gives the people attending the chance to sit in a heavy goods vehicle and observe the streetscape from our driver's perspective.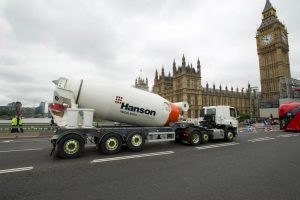 Our drivers have a continuous programme of training which is supplied by our in house training team. Continued professional development is key through a driver's career to ensure they receive the skills set to safely carry out their role in an ever demanding environment.
Hanson promotes approved progressive training and the continued development of all its drivers and staff. Currently we have 7 FORS practitioners within the Supply Chain and a further 3 members of the management team are in the process of attending the full set of Practitioner courses during 2018. Eight of our managers have also attained FORS auditor status.
Driver Health and Fitness review – our drivers currently complete a health questionnaire and this has been incorporated into our rolling driver assessment programme to ensure it is reviewed regularly. All Hanson employees have access to the Hanson UK Health and Wellbeing site 24/7 via our company intranet or by telephone. Our employee assist programme offers support on a range of subjects with immediate access to a confidential 24 hour telephone counselling and support service. 2018 has seen the launch of a company-wide drive to improve Health & Wellbeing and the initiative includes quarterly activities to support the campaign and a corporate partnership with MIND mental health charity.
Strategy for recruiting drivers – We actively recruit new drivers through recommendations from our existing drivers or by people making contact with us. Our vehicles require specialised skills so we cannot put any driver into a seat. Every driver is taken through a two week initial training programme covering the essential elements of operating within the Hanson business and working with specialist equipment, which is further supported by a continuous programme of assessment, coaching and training throughout their career in Hanson.
Noise Assessment – Within Hanson UK's integrated management system sits a Corporate procedure with regard to noise and its control and management. We have a duty of care to ensure that those exposed to noise in the workplace are considered. We carry out noise surveys at all sites with specific risk assessments identifying areas that require noise monitoring, the action taken to reduce exposure and control measures to reduce noise to a manageable level. Our drivers and vehicles are monitored within this policy. Our fleet is fitted with broadband reversing alarms and auto shut off radios.
Our FORS journey from Bronze through to Silver and Gold has seen year on year improvements within Supply Chain and this inspires us to continue with this trend. As Gold accredited FORS members and CLOCs champions we are constantly striving to manage the economic and environmental sustainability of our business, challenging 'normal' concepts to encourage forward thinking for our industry.
Welcome visit our website or email us