Our business is involved in the collection of waste products from commercial and domestic clients in and around London and the South East. Based conveniently just off the M1 near Luton the operation specialises in transporting waste to recycling plants and energy plants where it is turned into renewable energy. Heverin Haulage has made significant steps with both road safety and fuel efficiency with the introduction of the latest onboard live camera  systems and an all euro 6 fleet. Managing Director Michael Heverin explains how with the support of FORS the business is meeting the high standards expected within the industry.
"We were first made aware of the FORS scheme 5 years ago through a new potential contract where we were advised to gain accreditation to meet the safety standards required for working on their sites.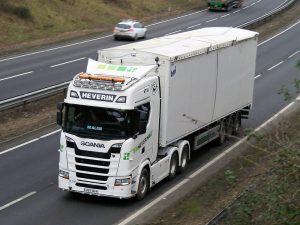 Passing our first bronze audit in 2013 prompted us to tighten up management techniques, improving the way we ran the company and making Heverin Haulage an efficiently run business promoting our credibility in the market place.
Once we had gained FORS accreditation we made full use of all training that was on offer including safe urban driving workshops which has helped improve driver knowledge and awareness of vulnerable road users and helpful information and tips for safe,considerate and fuel efficient driving with the FORS e-learning modules.
"The FORS scheme has contributed to our success in securing further contracts by promoting our credibility in the market place". Michael Heverin, Managing Director.
The FORS scheme sets high standards for operators and it has prompted us as a business to always look for ways to improve systems be it through fuel management and monitoring systems and the modern safety equipment fitted to the fleet.
"FORS are setting high standards within the industry with useful training and management tools helping operators optimise their businesses." Michael Heverin, Managing Director.
Reputation as a high quality operator has always been important to me so moving from bronze to silver and then up to Gold shows our customers and the general public as a whole that we adopt a serious attitude to our safety standards and we are always making progress on minimising the emissions output of the fleet by investing in the latest euro 6 vehicles.
| | | | |
| --- | --- | --- | --- |
| | MPG | Incidents | Number of PCNs |
| March 2016-April 2017 | 9.8 | 70 | 17 |
| March 2017 – April 2018 | 11.2 | 53 | 12 |
| Percentage improvement | 14.1% | 24% | 29% |
We are monitoring and reviewing the health and fitness of our drivers using medical declaration forms which are issued on employment and reviewed every 6 months thereafter. In addition, we have constructed a cycle shed at the operating centre and continue to encourage drivers to cycle to work to improve fitness levels and ease parking congestion at the operating centre.
Our drivers largely come from recommendation, but we are currently reviewing ways to encourage new drivers into the industry via local schools and colleges and adding a recruitment section to the website.
Although our operating centre is not in a noise sensitive area, some of the various site we deliver to can be, so we carry out toolbox talks to make drivers aware of keeping noise to an absolute minimum. Also, we are always careful in timing our deliveries carefully to minimise disruption in the local area.
We are always looking at how technology is moving forward to meet the needs of the industry however there is not yet any alternatively fuel vehicles suitable to meet our requirements, however we have continued to invest in the latest cleaner and more fuel efficient euro 6 vehicles that have proved a significant improvement in reducing our fuel usage and reducing harmful emissions.
We will continue to invest in the latest safety equipment for our fleet and continue to progress with comprehensive driver training developing knowledge and awareness of road safety and vulnerable road users alike. Using combined data from the vehicle trackers and fleet fuel cards my staff will carefully monitor and review this information and look for ways where fuel consumption can be improved by monitoring driving standards and detailed route planning.
Continuing to be a FORS Golds accredited member is helping the business achieve a high status in the industry and setting a benchmark for other Hauliers to follow. As a FORS accredited member the business has adapted and developed into a safer and efficient operation building on our reputation as a high-quality operator."
We can be found at website  or Facebook