H & S Thomas Transport, a small family business, was formed as a Ltd Company in August 2011(previously a sole trader). The company works with Tarmac Ltd as a contract haulier, owning 4 vehicles, which work within Stowfield and Halecombe quarries, covering the South West and Wales. We currently employ six team members, which includes ourselves, Andrew and Sara Thomas. Andrew is the Director, Transport Manager and drives himself and Sara is the Company Secretary. One of the main tasks Sara undertakes is to monitor the ongoing performance of the business and FORs has allowed us to have a benchmark, which we share with the team on a regular basis. Feedback to the drivers using reports from telematics and the FORS training and toolbox talks, has helped everyone focus on driving down emissions and improve road safety. We have a 100% record of no fines and charges!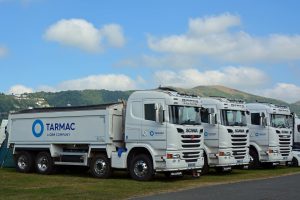 We were first introduced to FORs, many years ago, by Tarmac. Being and remaining Gold is important to us, as it shows we care about our business and its effects on the environment. We also have knowledgeable, well trained staff, which is good for retaining a quality team. Rather than it being something we renew each year, we maintain the levels required of Gold all the time.  We used the FORs criteria, as a benchmark, to monitor our business and to have robust policies, which are continually enhanced, as well as making use of the online training. We keep a log of all the improvements we have made, which has about 30 entries to date.
The initial Bronze accreditation helped us uncover some things we could improve, for example we looked at the Nox and Particular Matter emissions. This helped us structure a plan to replace all our vehicles and in January 2019, we take delivery of a new truck, to replace one which is currently Euro 5. The whole fleet will then meet Euro 6 standards. Having annual reviews of Bronze (as we are with Tarmac), Silver and Gold, ensures we stay on track with the FORs Standards.
We passed Bronze and Silver first time and so we looked then to get to Gold. We felt this would set us apart in the industry and in the long-term may make us more profitable. Gold stretched us and made us less complacent, specifically looking at developments in fuel and what other options we had for moving our consignments and what the future might look like and how we might need to grow our company in the future.
"It is good to feel that being a small company, we are still able to have a well thought out business plan for now and in the future. FORs has open our eyes on things we need to be considering." – Sara Thomas, Company Secretary
Andrew and Sara completed the FORS Practitioners workshops this year. It was a great opportunity to network with other people in the industry. As well as enhancing and learning new information, we picked up tips on how people applied the standards at a practical level. We were also able to help our colleagues on how we went about achieving Gold status and shared information on G2, being a small company and how we have chosen to promote FORs and G9 on Modal Shift, as we had already been through the process.
"Every member of our team should be proud of their commitment to FORs training in 2018. I was very proud that Sara and I are certified FORS Practitioners, having completed all ten courses this year!" – Andrew Thomas, Director
Once we had Bronze accreditation, we realised that we already had in place some of the aspects of Silver accreditation required and what was missing were things we really needed to change. This has been the same for progress to Gold. An improvement we made, was to ensure a more robust health check for team members. We set about creating a new health check policy and health check form, which we ask team members to complete each year. This was to ensure our drivers and everyone around us stays safe on the roads.  This is in addition to licence checks, vision and hearing checks, drug and alcohol testing.

 Quantify your improvements
| | | | |
| --- | --- | --- | --- |
| Year | Num. trucks Euro 6 Compliant/Ordered | No of Trucks with Telematics | No of PCNs & Fines |
| 2015 | 1 | 1 | 0 |
| 2016 | 2 | 2 | 0 |
| 2017 | 3 | 3 | 0 |
| 2018 | 4 – ordered Feb 2018, late delivery now Jan 2019 | 4 | 0 |
Driver health and fitness review – Our team are central to all we have achieved and we like to have a family feel to our business. We did identify a problem this year when a health check was required, but we followed our policy and dealt with our team member, with empathy and the medical issue was resolved promptly and the driver was back on the road, doing what he does best, within two weeks. So having robust health and safety policies and good contracts of employments, really helps!
Strategy for recruiting drivers – We encourage applicants from any section of the community, regardless of sensitive characteristics and experience. We are really proud to state that 50% of our workforce, came into the industry from alternative career paths. Our top performer on MPG (outside of the Director!) previously worked for a fencing company. His average is 8.4. He received a two week personalised induction, followed by regular reviews by the director, with on the job coaching, feedback from telematics and adhoc camera reviews.
Noise assessment –We complete an annual assessment of Noise and share this with our team members, with an at least annually updated policy, signed off by the Director. We ensure we have ear defenders as part of every-day PPE, despite our measures being within acceptable levels. We have white noise audible systems for working at night to cause minimal disruption.
Modal shift and alternative vehicles – A key aspect of our business plan was to move all of our vehicles to Euro 6, which will shortly be achieved. We then have an ongoing replenishment plan. We have made a business decision to have a Scania only fleet and they have some great developments in LNG and CNG now on Rigid vehicles. We await with interest an insulated rigid tipper being developed, with country wide fuelling stations.
We are looking in the future to acquire our first alternatively fuelled Insulated Rigid Tipper. As a small growing company we aim to improve profit, through our drivers using FORs training and CPC to enhance their skills and drive down fuel consumption, tyre wear and improving emissions, to make this dream a reality.
The top three enhancements to our company from Gold Status have been:
1) Informed and educated Team Members, confident in their ability, through FORs training and comprehensive policies
2) Well maintained Euro 6 compliant fleet of vehicles – displaying the Gold FORS logo.
3) Comprehensive Telematics reports, which allows us to assess and improve our emissions all the time and feedback to drivers.
Please Follow and like our FORS articles on our Facebook