Hughes Haulage Ltd began as a sole trader in 1989 transporting aggregates and asphalt for Foster Yeoman who were a large, independently owned quarrying and asphalt producer. After a very happy 19 years with them they were bought by Aggregate Industries in 2008 and Hughes Haulage Ltd became a franchise haulier for Aggregate Industries that year. An ongoing initiative throughout the construction industry for a better and safer way of conducting business has meant many changes over time; having been a FORS member since 2012, they have been a real benefit to the company and have helped in achieving the safety standards required for this mode of work. David Hughes, the director of Hughes Haulage Ltd explains how FORS has been beneficial to their company.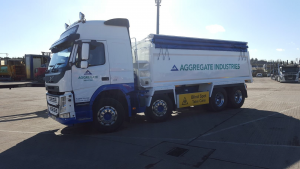 We initially heard about FORS through our suppliers, Aggregate Industries. They advised us to join the scheme as they offered a wide range of training resources for drivers in our field of work. They also informed and provided us with a range of up to date safety policies and regulations. Having a clear explanation of new policies, regulations and updated safety techniques, has made it easy for us to improve and continue improving on our safety standards.
Our initial Bronze audit in 2012 was a step into the unknown, but happily we passed and it was encouraging to discover that the systems in place were of a standard that was acceptable. As time has progressed, these standards have become much higher and as a company, we believe we have a duty to research and embrace systems and technology in conjunction with excellent driver knowledge and training to actively encourage a safer workplace.
The best technology and modern vehicles cannot work to their full potential however without well trained, knowledgeable and committed drivers. Therefore, after becoming bronze accredited, we continued to take full advantage of the training resources available from FORS. The training courses that our drivers have been on through FORS, in particular, the SUD and Staying Legal courses have been a real help in achieving our safety goals and the ongoing e-learning modules are also proving an effective tool. As contracts in our industry evolve it has become apparent that more and more clients are demanding from Aggregate Industries a minimum standard of FORS silver accreditation which my company achieved earlier this year which has opened up the flexibility for potential work that was not previously available.
'As the managing director of Hughes Haulage Ltd, I have now completed all FORS Practitioner workshops. Having been in the industry for nearly 30 years, I was somewhat sceptical as to how these workshops would help me but how wrong I was! They have been by far the most helpful and educational courses that I have been on and the professionalism and superb knowledge of the trainers were a really beneficial experience and the most worthwhile use of time that I have had for many years.' – David Hughes
Furthermore, by having management complete the e-learning modules designed for managing a fleet, and having read the guides and toolkits, in particular the effective driver management toolkit, it has helped improve the overall organisation of the business.
'The management of the business has significantly improved since implementing methods and techniques learned from the FORS guides and toolkits.' – David Hughes
The natural progression having achieved Silver is to go for Gold and to be the best you can be through this progression and continue to learn and improve and contribute to a safer and cleaner environment and workplace.
From the last quarter in 2017 compared to the last quarter this year, we have increased our KMPL by 2.35% thanks to FORS.
| | | | |
| --- | --- | --- | --- |
| | KMPL | Incidents per 100,000 Kms | Number of PCNs |
| Mar – May 17 | 2.56 | 0 | 0 |
| Mar – May 18 | 2.62 | 0 | 1 |
| Percentage improvement | 2.35% | 0% | -100% |
At Hughes Haulage Ltd, we request that our drivers complete a health questionnaire prior to employment. By doing this, we are ensuring that our drivers are fit to work in this field. If there are any possible health issues mentioned that may affect their driving, they will be referred to a GP, for further consultation. Furthermore, we also ask our drivers to have regular eye checks to ensure their eyesight is suitable for driving.
When looking for new employees at Hughes Haulage Ltd, we welcome new drivers who have no previous experience in this field. We offer drivers like these, a paid training period of two weeks, where they will be accompanied by one of our experienced drivers who will train and assess them over this time period. Once the training period has finished and the new trainee has proved that they are able to drive independently, they can then begin their official employment as an independent tipper driver for the business.
With the guidance from FORS, we were able to reduce our fleets overall noise pollution levels. After reading the FORS quiet equipment guide, we began installing equipment that would reduce our vehicles noise pollution levels. Furthermore, FORS also introduced us to the anti-idling method. By implementing this technique into our driver training, it has not only reduced our noise pollution, but has also helped us save on fuel.
Due to our mode of work there are no other forms of transport we can use other than road transport. The most efficient vehicles available for our work have Euro 6 engines which are acknowledged for producing low amounts of NOx. Currently we are a small fleet of only four vehicles, three of which are Euro 6. The remaining Euro 5 vehicle is earmarked for renewal at the beginning of 2019 in preparation for the Mayor of London's plans for a cleaner city in April 2019 when the ULEZ comes into force.
In 2015 Aggregate Industries were approached to take part in the Metropolitan Police Exchanging Places event and were asked to supply a vehicle. We supplied the vehicle and driver to two events both at extremely busy locations in London, one being on Upper Street in Islington together with a London bus and the other being on the one way system in Stratford East London. The extremely skilled and experienced Metropolitan Cycle Safety Team was there to educate the cyclists on the dangers of sharing the road with HGV's, by having the cyclists' sit in the driver's seat, and one of the team sitting in the vehicle passenger seat and another on a bike, positioning themselves in the various blind spots of a HGV driver. It was a worthwhile exercise as each cyclist that took part was not only shocked by the problems HGV drivers faced, but also commenting that they would change their method of cycling, having been shown the dangers in such a helpful, non-judgemental and interactive way.
At Hughes Haulage Ltd, we found this experience to have a very positive impact on us as we are currently looking into the possibility of rolling out a similar initiative at the schools in our local area. As the children of today are making their way to school every morning and coming home at the end of the day, with all the gadgets and distractions that they now have, really motivates us to pass on the knowledge we have gained over the years and to try and help bring about a greater understanding of sharing the roads together. We hope to start this by the end of this year.
By having Hughes Haulage Ltd become a FORS gold accredited fleet, it would reassure us that our efforts of working at a high standard is being acknowledged and the accreditation itself would also inform our clients that our work is being carried out using the best methods, techniques and equipment. We look forward to continue working with FORS to further our professional development.