Section 1 – Introduction
J A Mackenzie Limited is a specialist lifting and haulage company based in Wiltshire, although they cover the UK, Ireland and Europe.
Jimmy Mackenzie is the Managing Director and founder of the company, explains how operations have improved since joining FORS in 2014.
"It's quite incredible how just focussing on matters like fuel consumption and tyre usage can make such a big difference to the overall performance of the business".
Section 2 – How did you hear about FORS, what prompted the company to join and how long have you been a member?
We first heard about FORS when we were asked to make a delivery to a MACE site in London.  I looked into it further and it became clear, due to the volume of work that we do in the capital that this was something we were going to need to be on board with.  That was in 2014 – we were accredited with bronze in the August of that year and went on to attain Silver and then Gold in 2016.
Section 3 – What was your experience of the initial FORS Bronze audit?
As a small company our audits are quite straightforward but the first audit was a little nerve wracking for the admin team as they weren't sure what to expect.  The auditors was extremely helpful, and gave us plenty of advice to ensure that we were in no doubt what we needed to do to meet the required standards – we just got on with what was needed.
Section 4 – What was your main reason(s) for you progressing (either from Bronze to Silver and then Silver to Gold or straight from Bronze to Gold)?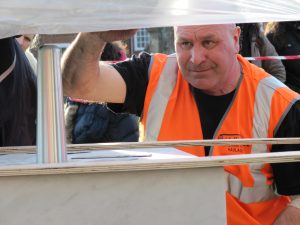 Once we had our Gold Accreditation it was a natural progression that our Operations Manager started to work towards becoming FORS Practitioner – she had already done the hard work really – but it is good to ensure people know that you are striving to be the best in your field.
"It was great to meet up with like-minded people at the FORS Practitioner Workshops – and discuss some of the issues faced when going for accreditation. You can pick up some really helpful tips" – Susannah Pyne, Operations Manager and FORS Practitioner

"It's re-assuring to know that we are being constantly monitored to ensure that standards remain high and that we are consistently working to best practice methods" – Jimmy Mackenzie, Managing Director
Section 6 – What improvements have you made?
These may include:
Performance data – Use data provided for FORS requirements S2 and G2. See example below for table (data can be presented in different table format if you prefer)
| | | | | | | | |
| --- | --- | --- | --- | --- | --- | --- | --- |
| | MPG | Incidents per 100,000 Kms | CO2 | NOx | PM10 | Number of PCNs | Proportion of fleet that uses alternative fuels |
| Year X | 2.4 | 0.12 | 281.59 | 0.6681 | 12.10 | 3 | 0% |
| Year Y | 5.4 | 0.28 | 245.49 | 0.5930 | 10.82 | 5 | 0% |
| Year Z | 5.3 | 0.15 | 261.94 | 0.4434 | 6.8 | 1 | 0% |
| Percentage improvement | 220% | .018% | 7.37% | 29.6% | 56% | 33% | 0% |
Driver health and fitness review – as a result of FORS we have made monitoring the health of our drivers a priority – our policies have been updated and include an annual medical declaration process to ensure that we know our drivers are in the best health possible for their job.
Recruitment of drivers – as a small company we have a base of drivers whom we have had with us for many years but that doesn't mean that we haven't made changes. We have a new recruitment policy in place and the frequent driving assessments and monitoring means that we are able to maintain standards throughout the workforce.
Noise assessment – we have started monitoring our noise levels in line with the FORS requirements. Upon purchasing new vehicles for the fleet they will always be equipped with the most up to date sound management equipment.
Modal shift and alternative vehicles – due to the nature of our work this is a tricky area for us – and there is nothing on the market currently that could serve our fleet, likewise with the use of rail or water but we always keep an open mind and should anything come onto the market that we can utilise – we will certainly consider it very seriously.
Section 7 – What are your plans for the future?
We will continue to strive to be the very best at what we do – and that includes the operations of the business as well as the management of the workforce – we believe that FORS helps us with this.
We have already renewed two vehicles this year – both at Euro 6 and we have a new one in planning.  Which will also be Euro 6 bringing the count up to 4 out of 6, possible by the end of this year.
Section 8 – What evidence do you have of positively promoting FORS at requirement G7?
All our external communications carry the FORS logo, on all our vehicles of course, but also our stationary, letter head, method statements and e mail footers.  We're very proud of our Gold status, and we take every opportunity to let others know that.
Section 9 –What FORS Gold accredition means for your organisation/to you?
FORS Gold means that we can operate knowing that others know we have the highest standards in the industry with regard to health and safety and environmental impact – it has also opened doors with regards to work we carry out in the capital.
We will continue to work with FORS standards in mind, and promote the scheme to others, as well as looking for continual improvement on fuel consumption, tyre usage and CO2 emissions.
Section 10 – (Optional) Please provide your social media contact details so we can follow your organisation
@jamhaulage
F: https://www.facebook.com/jamhaulage/
*Please note: All published FORS Gold case studies have been submitted by the accredited company named above and transcribed verbatim