Over two decades the JRL Group has grown from a company specialising in sub and superstructure packages to a business that offers integrated construction solutions by incorporating 10 companies for the built environment to full turnkey projects. Safety being at the heart of everything we undertake, our Plan Safe-Work Safe vision is critical. Our group will deliver a complete construction service at the right time, every time. Our clients benefit from wide-ranging expertise, a seamless service with added value. 'The ethos of the company is to work closely with our clients building lasting, trusting relationships.'- says Noemi Vachtler our Transport Manager and our elected Fuel Emissions Champion and Road Risk Manager'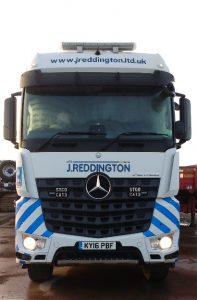 We have been introduced to FORS when tendering for projects across London and the UK. The requirements and benefits of joining FORS fits in perfectly with our ethos of improving safety, whilst it complements our aim to continuously reduce costs, improve fuel efficiency and reduce our environmental impact.
We pride ourselves in our professionalism, excellent safety record, legal compliance and care for the environment. FORS helped us by providing training and access tools that improved our policies and procedures.
'FORS have helped us to make continuous improvement in all aspects of the business including compliance, road safety, fleet management and driver knowledge and skill set.'- Brian Brockbank Group Transport Manager
We have benefitted from the dedicated FORS professional training courses both in class and online. All our drivers and Transport managers have completed their Safe Urban Driving courses, and FORS E-Learning modules. Our Transport Managers are also in the process of completing their FORS Practitioner courses. We have heavily invested in vehicle safety camera systems, nearside proximity sensors and audible alarms for all of our vehicles.
'During the last 12 months we have purchased 38 new Euro 6 HGV vehicles. These have either replaced our older vehicles or increased our fleet size compare to our baseline year.' – Brian Brockbank Group Transport Manager
We take compliance and safety very seriously, this is reflected by us achieving our Silver Accreditation first time. Achieving Gold accreditation will continue to add value to our company, and to ensure that we maintain the high standard required in the industry, it will also help open new business opportunities in the construction sector.
We have managed to reduce our Parking fines and accidents/incidents in the past 12 months compared to our baseline year. This was achieved by ensuring that the best and most efficient transport route is planned prior to each vehicle leaving the yard.
In our baseline year November 2014 to October 2015, the number of accidents/incidents based on 37 vehicles equated to 0.81 per vehicle. From November 2016 to October 2017 we managed to reduce this to 0.38, based on 86 vehicles. During our baseline year from November 2014 to October 2015 our average MPG per vehicle was 8.76. We have managed to improve this figure by 0.34%, achieving an average 8.79 per vehicle in year November 2016 to October 2017.
| | | | |
| --- | --- | --- | --- |
| | MPG | Number of Incidents per vehicle on average in the 12 month period | Number of Vehicles |
| Nov 14-Oct 2015 | 8.76 | 0.81 | 37 |
| Nov 16-Oct 2017 | 8.79 | 0.38 | 86 |
| Percentage improvement | 0.34% | 53% | 132% increase |
All of our drivers complete a comprehensive Medical Declaration on an annually basis, exceeding the FORS Standard of once every 5 years. In the drivers handbook it states that all drivers must notify the company ASAP of any changes to their medical condition and if and when they start taking medication prescribed by their GP or over the counter drugs. The company investigates and checks the government list of medical conditions that effect driving to determine if it's still safe for the driver to continue to drive a HGV vehicle.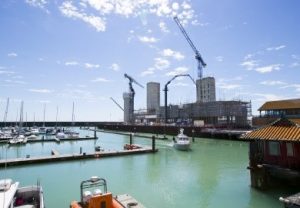 In some cases the company would request a letter from the driver's doctor to confirm his fitness for driving. Alternatively, the driver will be referred to Occupational Health for further investigation and examination. The driver will not be able to commence driving duties until he receives the all clear.
We have recently adopted a recruitment policy to encourage young drivers to pursue a career as a HGV driver and to choose the Transport Industry as their career path.
We have 4 Operator Centres where the vehicles are kept, and they are all in industrial estates. We don't carry out any vehicle maintenance at our depots, as all vehicle servicing is done by reputable main dealers at their premises. All our vehicles are fitted with white noise reversing alarms.
We transport heavy plant equipment and various material used in the construction industry to and from sites across the country. We move anything from a small excavator to a 150 tonne piling rig. The nature of our loads, customer requirements and time frames make the use of barges or trains an impractical solution. We collect all the equipment from building sites using HGV vehicles as there is no other alternative method to do this. Using HGV vehicles is the most cost effective way of moving our customer's and our own goods.
We are in the process of replacing our HGV vehicles with Euro 6 engines as and when they are due for replacement. At present there are no manufacturers who produce an alternatively fuelled vehicle that could meet our requirements, however we continue to monitor the emergence of alternative vehicles.
Achieving the FORS Gold Accreditation will show how dedicated we are as a company to improving road safety and the safety of all vulnerable road users. Our aim is to continue to use what FORS has taught us to help reduce our carbon footprint and protect the environment.
Please note: All published FORS Gold case studies have been submitted by the accredited company named above and transcribed verbatim.