Jaswant Sekhon Haulage is a sub-contractor for Tarmac Industries which was first established in 1991. Since joining the FORS scheme, Jaswant Singh Haulage has been continuously improving the procedures and techniques used to carry out their work. These improvements have shown through the fleets KMPL and emission output figures. Managing director of Jawant Sekhon Haulage, Jaswant Singh Sekhon, explains how FORS has been beneficial to their company.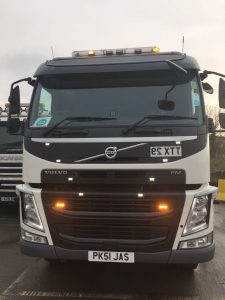 We first came across FORS online when looking for courses and other driver learning resources that we could provide for our drivers to help improve on their road safety knowledge and awareness. We discovered the wide range of e-learning resources available on FORS that were suitable for drivers such as ours. We saw that they were of easy access and decided to implement the e-learning modules into our drivers training. After working with FORS for a period of time and having our drivers regularly complete the appropriate e-learning modules, we have seen our KMPL and emission output levels decrease which we believe is due to our driver's professional and driving development with FORS.
When working towards our first bronze accreditation with FORS, we were offered a lot of guidance and advice on how to achieve the bronze accreditation first time round which we successfully did. This encouraged us to then work towards a silver and gold accreditation with FORS which we also achieved the first time round.
After becoming FORS bronze, silver and gold accredited, we decided to continue using the FORS toolkits and e-learning resources which helped us achieve our initial accreditations. By doing this, we were able to keep the procedures and practices we carry out our work with consistent and up to date, which in turn helped us be prepared for our next audits with FORS.
'The e-learning module Cycle Safety was particularly useful in making our drivers more aware and considerate of other vulnerable road users.' – Jaswant Singh Sekhon
One of the guides provided by FORS which we found helpful when managing our drivers was the Effective Driver Management ICOP guide. This guide informed us of how we could manage our drivers training and improve on their professional development as HGV drivers. Furthermore, the guide also informed us of the different procedures we can take to ensure the health, safety and wellbeing of our drivers and other vulnerable road users.
'The wide range of FORS Guides has really helped us improve on the management of the company as they are so detailed yet simple to understand.' – Jaswant Singh Sekhon
At Jaswant Sekhon Haulage, we are working towards a gold accreditation with FORS once again because we believe the accreditation makes our company more credible and appear more reliable to clients, which in turn then helps us acquire more clients.
In the ­­­­­last twelve months, we have increased our KMPL by 9.3% thanks to FORS.
| | | | |
| --- | --- | --- | --- |
| | KMPL | Incidents per 100,000 Kms | Number of PCNs |
| Dec 16 – Nov 17 | 2.58 | 0 | 0 |
| Dec 17 – Nov 18 | 2.82 | 0 | 0 |
| Percentage improvement | 9.3% | 0% | 0% |
With the help of the FORS ICOP Guide, we have more knowledge on how handle procedures regarding health and safety within the business. In regards to our driver's health, we ask that they fill out health questionnaires prior to employment and keep us informed of any changing health issues throughout employment. If there are any issues, we will refer them to a GP for further consultation.
As we are a small fleet, there is not a high demand for new drivers. However, we have prepared a two week training program for new drivers which we will implement when recruiting for new employees. During this two week program, the new driver is accompanied by an experienced tipper driver. This helps ease the new driver into their new work environment and also allows us to assess whether the driver is suitable and able to drive independently.
Methods we have begun to implement at Jaswant Sekhon Haulage in order to reduce our noise pollution levels includes the anti-idling method, which consists of having our drivers switch off their engines when idle in traffic for long periods of time. We have also made use of the FORS Quiet Equipment Guide, which informs us of the type of equipment we can add to our vehicles to reduce the noise production.
At Jaswant Sekhon Haulage, we use automatic, diesel vehicles with a euro 6 engine which is known for producing lower NOx emissions. At the time being, this is the only suitable vehicle for our mode of work. However, we plan to keep up to date with the transport industry to see when we could implement an alternative mode of transport which is more environmentally friendly.
At Jaswant Sekhon Haulage, our plans for the future include working on furthering our driver's professional development along with the management of the business. We plan on doing this by continuing to use the FORS toolkits and guides, and keeping up to date with any new ones that would be beneficial to our company's development.
By having Jaswant Sekhon Haulage pass another gold audit with FORS, it would reaffirm our drivers that their efforts to maintain the FORS gold procedures have not gone amiss. Since joining FORS we have been consistently and continually improving as a freight business and we look forward to continue doing so in the future.