JB Riney & Co. Ltd. is a Civil Engineering Contractor with 40 years' experience of working in London. Our Clients are predominately Local Authorities for whom we deliver a full range of highway services from emergency, reactive & planned road and street lighting maintenance to major and highway public realm projects.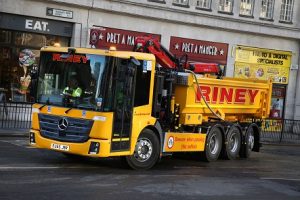 I am Steven King, the Transport Manager for Riney, and moving our people and materials around the streets of London is fundamental to our business. But we are acutely aware of the impact our operations have on the daily lives of others as we deliver our services in busy, congested inner London environments with conflicting demands on roadspace. I believe we have achieved significant improvements to our driver behaviours through membership of FORS which, in turn has seen reductions in fuel use, emissions and in work related road incidents.
We were encouraged to join FORS on award of a prestigious long term highway contract by the City of London in 2012. We are always looking for ways to support continuous improvement of our services and FORS provided a forum for us to review and improve our fleet operations and consider our impact on the environment. Membership of FORS has also helped put us in a strong position when tendering for contracts, particularly with London Local Authorities, who rightly see FORS as an independent accreditation of best practice in fleet management.
We are very proud to have passed our initial FORS Bronze audit first time round in 2012. Excuse the pun …. but this drove us on to consider what further improvements we could make. FORS membership encouraged us to get involved in the Construction Logistics & Cycle Safety programme (CLOCS) in their "Improving Vehicle Safety" workstream.  Through CLOCS, we worked with Mercedes Benz and Thompson Group to develop a prototype urban friendly high visibility safety vehicle. With full height glass doors on the nearside, wrap around windows and driver's seat positioned much lower than a conventional lorry, the new design provided our drivers with improved visibility of other road users, particularly cyclists and pedestrians.
As a FORS accredited company, we continue to explore ways to make best use of the benefits and support on offer to help us make further improvements within our company. We appointed a dedicated FORS Practitioner and this has enabled us to focus, not only on the measures required to ensure continued compliance with FORS, but also to look forward and prepare for FORS Standard Version 5. We have made good use of the performance management tool and introduced new measures including: E-Davis driver licence checker, Installing Navman to monitor Driver Behaviour and Assess Training Needs and Renewing Fleet to comply with the new ULEZ Euro 6 requirements.
Our Deputy Managing Director Chris Moore says, 'above all, FORS accreditation has helped us uphold our company reputation as a safe, responsible and considerate contractor'.
With a significant number of heavy goods vehicles in our fleet and knowing that hgv's are disproportionately involved in cycle fatal collisions, the FORS workshops were an excellent, practical way to increase our drivers' awareness of the vulnerability of other road users. We elected to send all company drivers, regardless of the size of vehicle he/she drives on company business, on the Safer Urban Driving training sessions. The sessions were well received by all who took part including our former Managing Director, John Davis
'It gave me enormous pride and satisfaction to see Riney employees from all levels within our company, taking part in the Safer Urban Driver Training with such enthusiasm, including those who hadn't ridden a bike for years'.
For us, progression from Bronze to Silver through to Gold is an essential component in our objective of continuous improvement. It also demonstrates to our existing and potential Local Authority Clients that we are fully committed to managing road related work risks and continually reviewing environmental impacts of our fleet operations which, in turns supports their priorities for road safety and air quality improvement.
The figures in the table below speak for themselves and show the significant improvement in fuel consumption together with a reduction in road incidents and issue of PCN's to our drivers:
| | | | |
| --- | --- | --- | --- |
| | KMs per Litre | Incidents per 100,000 km | Number of PCNs |
| 2012 (base year) | 5.05 | 5.83 | 253 |
| 2017 | 7.57 | 3.94 | 121 |
| Percentage improvement | 49.9% | 32.42% | 52.18% |
The health and wellbeing of our employees is a priority and we carry out regular fitness assessments on all staff (office, operatives and drivers) using an occupational health and wellbeing consultant. The aim is to identify early any issues which may impact their ability or confidence to carry out their role and responsibilities safely.
We have a policy to recruit locally to support the local economy and this applies to our drivers. We engage with employment agencies linked to our Client organisations with in-house training to support career development. For example, we have recently applied for C1+E Licence for three of our drivers.
We feel the greatest contribution we can make to mitigate against the adverse noise impact on local residents and businesses as we go about our business, is through provision of a first class fleet of vehicles with drivers trained to think about their driving behaviours. FORS supports us in this endeavour.
Many of our vehicle journeys are short distance from local depots to site so we will continue our move towards alternative powered vehicles. We recently trialled a Fuso hybrid vehicle and we have now ordered 6 new Fuso's for delivery in April 2019. We will also be testing a 7.5T lorry converted to electric power to assess its suitability and performance 'on street' in 2019.
As we look to the future, our plans include upgrading the fleet to meet the ULEZ standards and to further lower CO2 emissions. We will take advantage of the FORS LoCity driver training module to improve our sustainability. We are confident with the combination of high quality vehicles and well trained drivers, our company's reputation for safety in all aspects of our business will be enhanced.
Gold accreditation will be a great achievement to celebrate with our staff and with our Clients. It is a tangible demonstration to all who see our fleet in action that we care about our people, the public who are impacted by our operations and the quality of the local environment in which we deliver our services. It will also be a huge moral boost and recognition for our drivers especially that their hard work and training has reaped a Gold award.
We are proud to have been FORS Gold, demonstrating we are achieving the highest standards in fleet operations. We are committed to all aspects of Health & Safety, and have also made road safety a high priority throughout our company. We will continue to train our staff, introduce all safety aids as standard to our new fleet, and are continuing on a vehicle replacement programme to improve our operational performance further.
Visit our Facebook, Twitter, Google+, LinkedIn and Instagram