JB Transport Distribution Ltd is a sub-contractor for Aggregate Industries that was first established in 2013. JB Transport Distribution Ltd has been successfully transporting aggregate and asphalt materials for Aggregate Industries with the added help of the FORS scheme. Since joining the FORS Scheme, the company's overall KMPL and CO2 emission output has gradually and significantly decreased. Managing director of JB Transport Distribution Ltd, Jaspal Singh, explains how FORS has been beneficial to their company.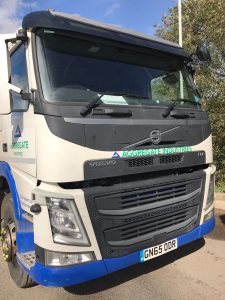 We first heard about FORS through word of mouth when tendering for work in London and Derby. Once we heard about the tools and benefits FORS has to offer to businesses like ours, we decided to join the scheme to see if it would help improve our fleets fuel efficiency and emission output. As we have been working with the FORS scheme for a few years now, we can confidently say that they have helped us improve on our overall fuel efficiency and emission output levels.
When working towards our initial bronze and silver audit, we were provided with the appropriate tools and clear guidelines in order to pass the audit the first time round. From working towards our initial bronze and silver audits, we instantly noticed the improvements made within the fleet and with our drivers. From this, we were encouraged to start working towards a gold accreditation with FORS to ensure that we were operating at the highest standard.
Once we became a FORS gold accredited freight business, we continued to make use of the wide range of toolkits, guides and e-learning resources that FORS has to offer, to ensure that we continued to work at the highest possible standard. One toolkit we continued to take advantage of was the TruckSmart toolkit. This toolkit informs the reader of how to make sure that their HGV vehicle is safe to drive and roadworthy, along with ensuring your loads are safe and legal at all times.
'With the help of the TruckSmart toolkit, we have ensured that our HGV's are safe and roadworthy.' – Jaspal Singh
Another benefit we reaped from the FORS scheme was from the E-learning resources. One module in particular, Security and Counter Terrorism, was very beneficial and informative for our drivers and worked well in conjunction with the information acquired from the TruckSmart toolkit. Since completing this module, our drivers are much more vigilant and aware of the precautions that must be carried out when the safety of the driver or vehicle is at risk.
'The easy access e-learning resources have encouraged our drivers to further improve on their driver and road knowledge which has shown through their work.' – Jaspal Singh
At JB Transport Distribution Ltd, we decided to work towards each FORS accreditation as we believed that it was the key to our success and improvement as a freight business. Since achieving all accreditations, we have been operating at our best standard since establishing in 2013. We are now working to renew our gold accreditation to show our clients and our contractor that we are consistently working at this high standard.
Since applying for FORS the first time until now, we have increased our KMPL by 0.39% thanks to FORS. Please note over time we have increased our vehicle size from 1 to 3 vehicles. Due to this reason there is very little improvement.
| | | | |
| --- | --- | --- | --- |
| | KMPL | Incidents per 100,000 Kms | Number of PCNs |
| Dec 2014 – Nov 2015 | 2.56 | 0 | 0 |
| Dec 2017 – Nov 2018 | 2.57 | 0 | 0 |
| Percentage improvement | 0.39% | 0% | 0% |
At JB Transport Distribution Ltd, we ensure that our drivers are fit to work by requesting them to complete a health questionnaire prior to employment. If there are any health issues, we will then refer them to a GP for further consultation. Moreover, we also ask that they keep us informed of any changes in their health to ensure that they are still fit to drive on the road.
When recruiting at JB Transport Distribution Ltd, we offer new drivers to the industry an opportunity to join our team as we have a two week training plan in place. This training plan allows new drivers with zero experience to ease into their new job role comfortably and safely, with the assistance of one of our experienced drivers.
At JB Transport Distribution Ltd, we have implemented the anti-idling method, taught by FORS, to decrease our fleets' noise pollution levels. Furthermore, we have made use of the FORS Quiet Equipment Guide to ensure that our vehicles are fitted the appropriate noise reducing equipment.
At JB Transport Distribution Ltd, we currently carry out our business operations in tipper diesel vehicles with a Power Turn Over (PTO) system. As of yet, there are no alternative methods of transport, but we are aware of the improvements being made in the electronically powered vehicle industry, and we plan to keep up to date with the developments being made.
At JB Transport Distribution Ltd, we plan to make continual fleet improvements by ensuring we have the best equipment installed to ensure low noise pollution, emission output and fuel efficiency. Furthermore, we also plan to continue working on the professional development of our drivers by keeping up to date with current and new FORS e-learning modules and classroom courses.
To conclude, by having JB Transport Distribution Ltd remain a FORS gold accredited company, it would reiterate to our contractor's clients that we are still carrying out our work using the best procedures and practices. This in turn will help us acquire more business contacts as we have shown that we are continuously improving and working at a more than efficient standard. We look forward to continuing to work with FORS in the future!