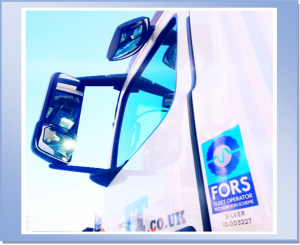 JCP international is a small business working in and round London for the past 12 years. We are based in Essex and have been delivering for a range of clients during the last 12 years we have been operating out of a plant in Barking London.
John is my name, I am the CEO and operational manager I have 33 years' experience in transport and logistics, and I am an accredited FORS Practitioner and CPC Holder
We come across FORS at a trade show in 2013, FORS has help us to achieve best practice in our business, also having the FORS accreditations has add significant value to JCP International.
With the help of my staff, we  passed our initial audit first time audit  in September 2013 we found this a daunting task but with the online help from FORS we achieved Bronze, this showed us to continuing moving forward year on year and encouraged us to go for Sliver in July 2014 and Gold in March 2016 and we continue to keep our standards high up to 2018 and now 2019 is here we continue to keep moving forward.
Once we achieve Bronze, we decided that we should progress to Silver because we wanted to achieve best practice within our company moving forward and receiving Gold standards.
Once accredited, we really made the most of the benefits on offer. FORS Fleet Management System, FORS Practitioner workshops and, FORS Vehicle Graphic Service, FORS Associates offers and discounts, has helped us to improve, we have implemented policy & procedures and we have seen improvements in our systems and management within the company.
COVID19 has had a serious effect on our business, and we had to make some tough decision within the company. Rebuilding our business back to what it is, is top priority in 2020
"Online training from FORS has helped us to keep all our driver up to date with the excellence of their E-Training on the FORS website". Patricia Burnett – Office Manager 

"Safety if our priority at all times" – John Prendergast Transport Manage
It important that we continue to improve our business, by doing this we are in a better position for more contract and expansion in the future.
| | | | | |
| --- | --- | --- | --- | --- |
| | Fuel Used | Incidents | CO2 | Number of PCNs |
| Year 2016 | 144,184 | 2 | 383,123 | 5 |
| Year 2017 | 197,000 | 7 | 521,888 | 3 |
| Year 2018 | 170,138 | 4 | 450,525 | 15 |
| Year 2019 | 119,300 | 5 | 516,057 | 2 |
We continuously monitor the health and fitness of our drivers who must complete a health declaration prior to employment and reviewed annually. We encourage our drivers to enjoy a healthy lifestyle and provide them with appropriate literature on how to achieve this
We do not use any recruitment agency's we generally recruit drivers through word of mouth and on recommendations.
It is important to us as a company to reduce noise pollution we have implement a company policy, our HGV vehicles are fitted with noise reverse bleepers which can be switched off by the drivers during restricted hours only when a traffic marshal or banksman is in place.
We have investigated modal shift and alternative vehicles for our operation. However, our research with our vehicle suppliers indicates that their nothing suitable for our requirements is currently available. We plan our deliveries to minimise the empty running of vehicles, monitor fuel usage, reduce our fuel costs and the impact of harmful emissions on the environment. We also encourage all staff members to use alternative means of transport for their daily commute to and from work.
JCP International Ltd takes pride in been a FORS accreditation member and recognises the hard work and investment we have put into the accreditation scheme.  It allows us to be seen at the forefront of the Industry and compete for more prestigious job opportunities whilst maintaining a safer work place environment. 
We will continue to stay updated with new technology for our vehicle, for safety of the public as well as our drivers on the roads. JCP International Ltd takes pride in been a FORS accreditation member and recognises the hard work and investment we have put into the accreditation scheme.
FORS has transformed our approach to our business and I believe will only promote a positive outlook for our company & for the health & safety of all road user today.
*Please note: All published FORS Gold case studies have been submitted by the accredited company named above and transcribed verbatim