K P Tippers Ltd is a sub-contractor for Tarmac Industries that was first established in 2012. Since joining the FORS scheme, the business' efficiency whilst transporting and delivering their asphalt and aggregate materials has significantly improved. This improvement is evident through their decreased fuel usage and emission output figures. Managing director of K P Tippers Ltd, Karmveer Padda, explains how FORS has been beneficial to their company.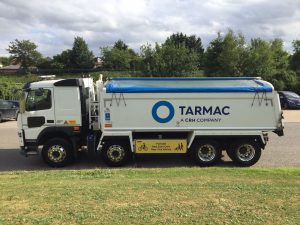 We were informed about the FORS scheme by our aggregate and asphalt suppliers, Tarmac Industries. We learned that FORS provides fleet operators with the appropriate tools to be able to achieve best practice in safety, efficiency and environmental protection. Having worked with the FORS scheme for a while now, we can confirm that FORS has helped us achieve best practice in all areas of our freight business.
Once we began working towards our initial bronze accreditation with FORS, we saw that implementing the improved and revised policies contributed greatly to our fleet developments and positive progression. Similarly, we saw gradual but notable improvements made within the fleet whilst working towards our silver and gold accreditations. This encouraged us to maintain and continue implementing FORS's recommended practice.
After achieving all accreditations with FORS, we continued to implement the policies and procedures that were recommended by FORS, which were required to attain each accreditation. The FORS toolkits were particularly useful when creating these new and improved policies. Notably, the FORS TruckSmart Fleet Manager toolkits proved to be very informative when developing policies specifically designed to ensure roadworthy HGV vehicles.
'The FORS TruckSmart Fleet Manager toolkit helped us implement better policies for our drivers to abide by to ensure that their vehicles are safe and legal at all times.' – Karmveer Padda, Director
Moreover, another tool provided by FORS that contributed to our fleets improvements, were the e-learning modules that are readily available to our drivers at no extra cost. As the online modules FORS has to provide are of such high quality and accuracy, our drivers are more inclined to regularly complete the appropriate modules, therefore maintaining and enhancing their road safety and HGV knowledge.
'The FORS Cycle Safety module provided our drivers with a better understanding of the road from a vulnerable road user's perspective, which made them more empathetic and cautious of them.' – Karmveer Padda, Director
At K P Tippers Ltd, we want to remain a FORS gold accredited haulier company because FORS has helped us to achieve the best possible practice, which in turn has lowered our fuel usage and expenditure. Moreover, being FORS accredited has helped us acquire more business contracts, as our credibility and reliability has increased with our FORS accreditations.
In the ­­­­­last twelve months, we have decreased the fuel usage our vehicle idling by 18% thanks to FORS.
| | | | |
| --- | --- | --- | --- |
| | Fuel Used (Idling) | Incidents | Number of PCNs |
| Feb 17 – Jan 18 | 6962.90 litres | 3 | 4 |
| Feb 18 – Jan 19 | 5708.80 litres | 2 | 4 |
| Percentage improvement | 18% | 33.33% | 0% |
At K P Tippers Ltd, prior to employment, we ask that drivers complete a health questionnaire form to ensure that they are fit to work for the appointed job role. Moreover, we also ask that they inform us of any changes made in their health that may affect their driving ability. Furthermore, we also request that drivers comply with regular eye checks.
At K P Tippers Ltd, when hiring new drivers, we do not require any previous professional tipper driving experience. At K P Tippers Ltd we have a four week training plan in place that is available to drivers with no experience. This training period provides the new drivers with a safe and controlled environment to ease into their new job role, as they are accompanied by one of our experienced drivers.
At K P Tippers Ltd, we have added the FORS anti-idling method into our drivers' handbook and training. This technique helps to reduce our fleets noise production and fuel usage levels. Moreover, we have installed the recommended noise reducing equipment into our vehicles, with the help of the FORS Quiet Equipment guide.
At K P Tippers Ltd, we require an insulated body to transport our aggregate and asphalt materials. Currently, there are no suitable modes of transport available, other than the tipper lorry that has a power turn over system installed. We will continue to look for alternative modes of transport as we are aware of the developments being made in the electronically powered vehicle industry.
At K P Tippers Ltd, we plan to continue our search of ways to implement an alternative mode of transport for our materials, which would be more environmentally beneficial. In addition, we plan to continue improving on our driver's professional development, by ensuring that we have implemented the appropriate and most up to date driving modules and courses into their training schedules.
To conclude, at K P Tippers Ltd, we hope to remain FORS gold accredited as it would show our clients that we have been consistently working at a high standard, since our previous gold audit. The benefits acquired from FORS have helped us to improve on our fleets KMPL. In the future, we hope to further improve on our KMPL by continuing to work with FORS and implementing their recommended practice.