London Goods Transport Ltd is a sub-contractor for Aggregate Industries, Hanson and Conway, that transports asphalt and aggregate materials in bulk. Established in 2011, the company has seen a significant improvement in their fleets KMPL and a drastic improvement in their driver's professional development since joining the FORS scheme. Managing director of London Goods Transport Ltd, Resham Dhillon, explains how FORS has been beneficial to their company.
We first heard about FORS through a fellow haulage company, that was similar to ours, who was already FORS accredited. As they were already FORS accredited, it made them a reliable source to get an honest opinion about the FORS scheme from. This encouraged us to conduct further research into the FORS scheme. After conducting our research, we were convinced that joining the FORS scheme would help improve our business practices and standards.
When working towards each audit, we were provided an abundance of support by FORS which proved very useful when working towards each accreditation. With this support, we were able to successfully achieve each bronze, silver and gold accreditation the first time round. After seeing the results and gradual yet significant improvements made within our fleet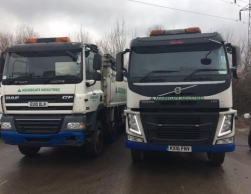 after each audit, we were encouraged to maintain the new and improved procedures implemented into the business after the audits.
One of the FORS tools we continue to take advantage of to maintain the progress that was made is the e-learning resources FORS has to offer to our drivers. After implementing the FORS e-learning into our drivers' schedules, we saw that our drivers were more confident, vigilant and safe on the road.
'The FORS Cycle Safety module really made our drivers more aware and empathetic of other vulnerable road users.' – Resham Dhillon, Director
Another resource from FORS that we continue to utilise at London Goods Transport Ltd is the online toolkits and guides. One guide in particular that continues to be useful is the FORS Fuel Management guide. This guide provides the reader with practical advice on how to implement robust policies to ensure minimum fuel usage within the fleet. The guide also provides information and advice on how to implement better management systems and the appropriate training for drivers in order to reduce fuel usage. Moreover, the guide also addresses the environmental impact and safety issues caused by our type of vehicles.
'The FORS toolkits and guides proved to be very useful when organising the overall management of the business.' – Resham Dhillon, Director
At London Goods Transport Ltd, we absolutely believe that the FORS scheme has been the key to our fleets' drastic improvement in KMPL and emission output figures, along with improved driver development. Because of these improvements, we are working towards another gold accreditation with FORS, to maintain our progress and to show our clients that we are still working at a high standard.
Since going for Gold, the first time and until now, we have increased our KMPL by 75% thanks to FORS.
| | | | |
| --- | --- | --- | --- |
| | KMPL | Incidents | Number of PCNs |
| Oct 15 – Dec 16 | 1.05 | 1 | 7 |
| Jan – Dec 18 | 2.10 | 2 | 6 |
| Percentage improvement | 75% | -100% | 16% |
At London Goods Transport Ltd, we believe our driver's health is of the utmost importance in order to avoid human error caused accidents on the road. We ensure our drivers are fit to drive by requesting that they fill out a health form prior to employment. We also ask that they keep us up to date with any changes made in their health. If any health concerns arise, we will refer the driver to a GP for further consultation. Furthermore, we also ask that our drivers get their eyesight checked every six months.
Moreover, when recruiting at London Goods Transport Ltd, we welcome tipper drivers with no previous experience to join our team. As we offer a two week training period prior to employment, new drivers have more opportunities to join the industry. Furthermore, by implementing this two week training period, we are able to assess the driver and provide them with a safe environment to adjust into their new job role.
At London Goods Transport Ltd, we have implemented the FORS recommended anti-idling technique which is used to reduce fuel usage and noise production by our HGV's. Moreover, we have also used the FORS Quiet Equipment guide to ensure that we have the appropriate noise reducing equipment installed into our vehicles.
At London Goods Transport Ltd, we conduct our business operations in 32 tonne automatic tipper vehicles that have a euro 6 engine. As of yet, there are no alternative modes of transport that are suitable for our kind of work. However, we continue to conduct research and keep up to date with the electronically operated vehicle industry as we are aware of the fast developments they are making.
At London Goods Transport Ltd, we plan to continue working on our driver's professional development as we believe that our drivers are the heart of our business. Furthermore, we also plan to continue searching for ways in which we can make our fleet more environmentally friendly.
To conclude, we hope to remain a FORS gold accredited company at London Goods Transport Ltd, as we believe the accreditation has helped us acquire more business contracts and more importantly, made us a less environmentally damaging fleet. We look forward to working with FORS and further improving as a haulage business in the upcoming future.