London Trucking Ltd was first established in 2013 and has managed to make a good name for them self, as being a successful and credible haulage company that delivers asphalt and aggregate materials for Tarmac Industries. Since joining FORS and operating at a FORS standard, the company has gradually seen a decrease in their fleets fuel usage and emission output. Gurpreet Shergill, the director of London Trucking Ltd explains how FORS has been beneficial to their company.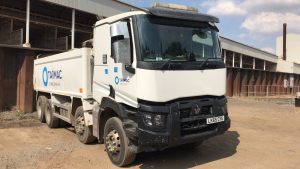 We first heard about FORS through Tarmac Industries, where we were encouraged to join and work with the scheme to try and reduce our fleet's fuel usage and emission output levels. After seeing the tools provided by FORS on their website to help us make improvements, we decided to move forward with the program. After joining the program, we began seeing improvements within the business almost instantaneously.
When we began working towards our first bronze accreditation, we were able to follow and carry out all the necessary requirements with no hiccups or complications. As FORS provided us with total support and clear guidance, we were able to achieve our bronze accreditation first time. From this point, we were encouraged to aim for the next silver accreditation. As we saw drastic improvements within the business just from the bronze audit, we felt that continuing with the silver audit would only further improve our business and credibility.
Once we became both bronze and silver accredited, we continued to make use of the wide range of tools FORS has to offer to its members. One tool in particular that proved very beneficial to us was the fuel tracker toolkit. This toolkit helped us organise our individual vehicles' fuel information, where would could then keep track of emission output and expenditure.
'With the help of the FORS fuel tracker, we were able to keep our data organised and easy to understand.' – Gurpreet Shergill
Another aspect of FORS that we really benefited from was the wide range of e-learning resources available to drivers and managers of the business. Modules such as Locity for managers and Smart Driving were very informative and helped us organise and manage our fleet more efficiently.
'Management of the business has greatly improved with the help of the management specific modules available on FORS. ' – Gurpreet Shergill
As mentioned previously, our main reasoning for wanting to progress from a bronze to a silver accreditation was stemmed from the instantaneous improvement made from working towards our initial bronze accreditation. As expected, we saw even greater improvements when working towards a silver accreditation which has now encouraged us to work towards a gold accreditation with FORS.
From the last quarter in Q1 2018 compared to the last quarter Q2, we have increased our KMPL by 24% thanks to FORS.
| | | | |
| --- | --- | --- | --- |
| | KMPL | Incidents per 100,000 Kms | Number of PCNs |
| Jan – Mar 18 | 2.52 | 0 | 0 |
| Apr – Jun 18 | 3.13 | 0 | 0 |
| Percentage improvement | 24% | 0% | 0% |
At London Trucking Ltd, we ensure that our employees are fit to drive by requesting them to fill out a health questionnaire prior to employment. We also ask our drivers to have regular eye checks to ensure their eyesight is suitable for driving. Any possible health issues that may arise with our employees will be referred to by a GP for further consultation.
When recruiting at London Trucking Ltd, we understand that there are not a lot of opportunities available to new drivers with no previous tipper driver experience. However, at London Trucking Ltd, we welcome new drivers who have no previous experience in this field. We offer newbie drivers, a paid two-week training period, where the driver will be accompanied by one of our experienced drivers who will then train and assess them over this time period. Once the training period has been completed, and the driver has proved that they are able to drive independently, they can then begin their employment as an independent driver for the company.
Thanks to FORS, we were able to reduce our fleets overall noise pollution levels. FORS informed us of techniques such as the anti-idling methods to help reduce our pollution levels. This method also helped us save on fuel. FORS also informed us of what type of equipment we can implement into our vehicles to make them quieter.
Due to the nature of our work, we are currently only able to work with forms of road transport to pick up and deliver our materials. The most efficient form of road transport for us is currently a rigid lorry with a euro 6 engine. The euro 6 engine is known for producing low amounts of NOx.
At London Trucking Ltd, we plan to continue our search of finding alternative methods of carrying out our work in a more environmentally friendly method. We also plan to continue working on our professional development by encouraging drivers to keep up to date with the FORS e-learning modules.
By having London Trucking Ltd become a FORS gold accredited accompany, it would increase our credibility as a business, and reiterate to the public and our current customers, that we are continuously improving and working at the highest possible standard.