Mark Luck Ltd based in Swanley, Kent, specialises in waste services and grab hire. We provide our services to the construction and building industry. Our fleet of vehicles engages in the supply of all types of primary aggregates, recycled aggregates and top soil. Rachel Archbutt HR Manager explains how the company has used FORS to make improvements on road safety. Since 2011 the company's infrastructure has grown and improved significantly since being introduced to FORS. Kenneth Luck sadly passed away in June 2018, meaning Mark Luck became the Managing Director and therefore overseas reduction in fuel use, reduced CO2 emissions and reduced fines and PCNs. We have also employed a Compliance Manager Elizabeth Carter to make sure all our lorries are fully compliant in regards to safety on the roads.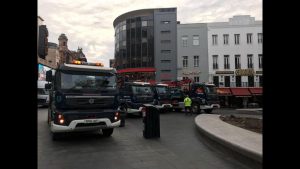 Our customer compliance meant that we had to become bronze accredited to work on certain sites. When we looked into the benefits of joining FORS it was clearly apparent that having this standard of accreditation would benefit our company and its safety procedures. FORS bronze has helped improve our policies and procedures and has given us the tools to train our drivers about vulnerable road users. Silver accreditation has meant that we have had to look closely at reducing CO2 emissions and fines.
Passing the bronze audit was encouraging and set the foundation to want to achieve Silver and Gold accreditation. Achieving silver accreditation meant that as a company we are actively aiming to improve the overall safety of our fleet which ensures the standard within the industry. We continue to monitor fleet efficiency through base line data and manging work related road risk. Gold accreditation has meant that we have had a good look at driver health and fitness amongst our workforce. Making our drivers think about their health and how to improve it. We continue to provide information on having a healthier heart and losing weight. Better monitoring of noise assessments has also contributed to our efficiency in regards to the environment and community.
Gaining bronze and Silver meant that we wanted to set our safety standards even higher. Some sites required the FORS Gold which then gave us the drive to achieve this standard. Gaining the bronze and silver FORS standard has meant that we can go onto large construction sites with a high standard of driver and vehicle compliance.
'Being FORS accredited has contributed to improving our safety on and off the road. We will continue to support and promote the FORS scheme whenever possible.' -Mark Luck- Managing Director/ Transport manager.
Rachel Archbutt and Mark Luck have attended FORS practitioners courses. The post-collision practitioner course attended in October, was extremely helpful in examining procedures in regards to accidents, collisions and incidents. We have noticed a dramatic reduction in accidents in 2018. We believe this is due to the high level of compliance that FORS requires has had an obvious effect on our entire fleet. All of our drivers have completed the safe urban driving course and continue to learn from the FORS E-Learning. We provide onsite CPC training to make sure all our drivers are up to date with training.
'FORS Gold accreditation would show all our customers that we continue to improve our fleet safety and driver training.' -Mark Luck Managing Director/Transport Manager.
Once we had achieved FORS bronze, Silver was the next stage to progress Mark Luck Ltd. Silver has helped us be more aware of all the safety features that our lorries require. Our lorries have four way cameras to reduce the risk of vulnerable road users on the road. Our new improved telematics has also helped in reducing fuel and Co2 emissions. Having Silver has meant that as a company we have a high accreditation that would allow access on restricted sites. Being fully compliant is a major factor of the running of our company. Moving onto Gold accreditation would show all our customers that we are significantly improving our fleet and drivers. We encourage any fleet to become FORS compliant no matter how big or small it would benefit the company in many areas of fleet safety.
Educating the drivers on reducing Incidents and accidents through toolbox talks and E-learning has shown dramatic decrease in the last year. We believe this is down to the high level of safety features on our Lorries and educating drivers about vulnerable road users. Parking and loading in appropriate places to reduce the company's PCN's has also been an area we needed to improve. It is our company policy that the driver pays for parking fines that they may incur, this has shown a decrease in fines.
| | | | |
| --- | --- | --- | --- |
| | MPG | Incidents/Accidents | Number of PCNs |
| Jan-Dec 2017 | 7.33 | 18 | 24 |
| Jan-Dec 2018 | 7.35 | 7 | 22 |
| Percentage improvement | 0.27% | 157% | 5% |
Driver health and fitness declaration is conducted on new drivers and then every year for existing drivers. Any health problems will be addressed and information provided for drivers that have any issues. As a company we have implemented free fruit at work to encourage healthy eating amongst our workforce. We have also joined the government bike to work scheme which our drivers have made use of. We are actively trying to encourage our drivers to have a healthier lifestyle. We have acquired a treadmill in our training room that drivers can make use of before and after work. And we do eye sight tests every 6 months.
To recruit new drivers we have used a direct employment recruitment company this year to see the standard of drivers which are employable. Previously we have been to school careers day. However for the HGV drivers we require they need to be of a certain age and experience, it was a good day to promote driving as a future career. We use social media to advertise for driving jobs also. We run an apprentice scheme for our workshop mechanics. And we fully train all new drivers to the FORS standard we require from our drivers.
Noise assessment is carried out once a year which takes into consideration noise produced from our haulage yard, noise from our vehicles and any other noise that could disturb local residents. All our vehicles have white noise reversing alarms fitted to be used at certain times.
All of our vehicles are Euro VI standard. We have tried to use bio fuel and LPG Gas. Neither was cost affective they didn't save fuel and ended up causing more problems with blocked filters. Electric powered vehicles need more work from the manufacturers to produce a vehicle that carries the weight and material we deliver and covers the terrain of construction sites. However we have been looking into other modes of transport and how they could help us to remove waste from London. Using the railway or the river could be an option for future modal shift.
We want to encourage a healthier lifestyle amongst our workforce, By giving our staff free fruit and encouraging bike to work scheme. We have had great interest in the bike scheme and a quarter of our drivers have now acquired a bike. We hope that this will have a positive influence on our workforce. We have a treadmill in our training room which drivers and staff are free to use. We have a dedicated team of transport managers that monitors the fuel consumption, Co2 levels and incidents within of our fleet. We believe we will continue to improve our environmental impact.
Going for Gold shows that as a company we are proactive in considering safety on and off the road. We will continue to support and promote the FORS scheme whenever possible. By achieving FORS Gold accreditation it will demonstrate to our existing and future clients the successful progress and efficiency of Mark Luck Ltd and the continued commitment to FORS standard and road safety.
Visit our Facebook, Twitter and Instagram