We are McFen Plant Limited , and we are based in East London. Although Plant hire is main aspect of the company , we also operate Road Sweepers . In addition to that , I ,Colin Woolf was employed late last year to also conentrate on the Low Loaders which we operate for our plant but also transport for third parties. McFen are always trying to improve all aspects of the company. Through SUD courses or through Talk box Talks and e-learning we include our drivers in all objectives and appreciate all their contribution and give them feedback in our progression.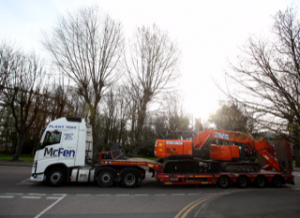 McFen Plant got it`s first accreditation in 2012. After visiting certain construction sites around London delivering Plant and road sweeping .It soon became clear that FORS was the way forward with regards to best practice. Now a few years on it carries a lot of well earned status within the industry and beyond. When we mention that we are now FORS Gold accredited it always gets a great and positive customer reaction.
When McFen achieved our first Bronze accreditation , it gave us the incentive to aim for GOLD as soon as we could and we achieved that the following year and have kept it ever since. We feel , that a) we don`t know everything and b ) Fors helps us to remind ourselves what we do know.
Once we had our first FORS GOLD awarded we decided that we should take advantage of it`s courses. These have been an absolute winner in our eyes. It`s always the finer details that we all forget sometimes in our busy day to day schedules. Our Managing Director Barry Fennessy was one of the first in the company to become a FORS practioner. After he finished his course he recalls saying,
"well that was such time well spent I think we should all do it. "- Managing Director, Barry Fennessy.
True to his word , now all operational office staff are put through the FORS practioners course as soon as they become available.
McFen are always positive and willing to improve and or learn.This goes through the whole company from MD to Drivers.We feel the introduction to the company of Talk box Talks is simple and genius. Before FORS we never did them , but you can tailor them to what current issues there may be. E-learning is also a definate improving. Even our MD ( Who is often heard saying " How do you turn this thing on again ? ! ) is impressed by the e-learning.To the point , we have implemented that the. drivers have now got their own computer set up for those who have limited internet access to enable them to complete some e-learning.
One reason why we decided to achieve Silver and Gold , was partly status. When a customer knows you have FORS accreditation it does give them reassurance that you are a company of good repute . Having to meet the FORS standards is a constant reminder of the finer things that we all need to do as I mentioned earlier.  Using the FORS ethos and working ethic helps us to be a stronger more efficient company.
| | | | |
| --- | --- | --- | --- |
| | MPG | Incidents per 100,000 Kms | Number of PCNs |
| Jan-Dec 2015 | 5.86 | 1.71 | 8 |
| Jan-Dec 2016 | 8.5 | 1.71 | 6 |
| Percentage improvement | 45% | 0 | |
McFen take great understanding in the importance of all staff health issues. If an employee speaks in confidence regarding health issues then that is where it stays. Any employee needing medical appointments are always catered for. We regularly have health questionnaires completed and also do random health checks. We have given each employee a Notice of health notice , whereby they can update McFen if or when a condition appears. This avoids time lapsing between questionnaires and also avoids any possible embaressment it may cause and enhances confidentiality.
McFen do use websites for employment , however , we get a lot introductions to candidates from existing employees. Social media seems to be hitting a trend for some recruiters , however McFen hve not tried that route. We`ll just watch and take note for now.
We have carried out a noise assessment on our road sweepers as they can be a noisy machine at times.That is one reason , 'moving forward ' we aim to update our older machines with brand new ones this year.We also only carry out our Adblue regeneration on our new engines in our depot ( which is sited in a very non residential area )
Unfortunately ,we do not have any alternative fuelled vehicles at present.This due to the fact that there no road sweeper that has manufactured an alternative fuelled machines yet. The other vehicles are STGO Cat 2 Low loaders and , again there is not any suitable in the general market place yet. Although I feel that the future is getting nearer.
Improving our fleet is certainly our short term goal.We are reducing our fleet but at the same time improving it. McFen believe in quality over quantity. If you the quality right then the quantity will follow.This goes from working standards ,equipment , staff and of course customer satisfaction. McFen Plant are currently being considered for a ROYAL WARRANT by Buckingham Palace.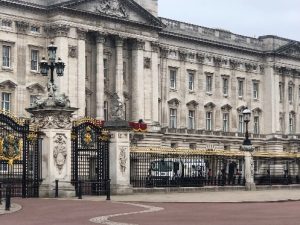 We have been sweeping the Palace gounds for several years in its preparation for the trooping of the colour etc. McFen have been invited to apply and are going through the process at present.
It is a great achievement to attain and keep the FORS Gold level . To have this hand in hand with a Royal Warrant would certainly take some beating.
FORS Gold has always been the target for McFen plant and is something to be proud of.It may directly gain you work , however it does show that we committed to operating in a professional and competant manner. This can only be good for the company , the customer and the public. Moving Forward , McFen Plant would like to update the fleet , maintain Gold Standard. Operationally , we have also introduced a telematics system which has improved our fule economy as we have been able to reduce idling as it is now highlighted and Moving Ford we would be looking to utilise the telematics more avidly.
Visit our website