McGee Group is a broad based construction company and multi-disciplined specialist contractor. Family owned and will be going onto its 60th year, we continue to build on our considerable technical capabilities and upon our reputation for excellence. We deliver a wide spectrum of decontamination, demolition, construction and civil engineering services – operating as a specialist sub-contractor or main contractor. We also provide recycling and land engineering services. We operate one of the UK's largest and most diverse ranges of plant and transport. From our iconic yellow lorries to specialist piling rigs, we have all the equipment required to successfully complete our customers' developments.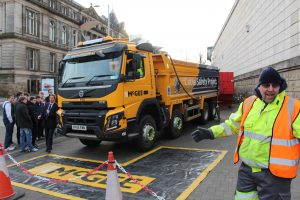 We're proud to put our name to it. Ashish Gami, Transport Manager is our elected Fuel and Emissions Champion. Ashish Gami is also a FOR's Champions as well as Kevin Murphy and Philip Moroney.
We came across FORS when tendering for work across London. When we looked at the requirements and benefits of joining the scheme we saw that they fitted in perfectly with our ethos of improving safety whilst complementing our drive to improve fuel efficiency and reduce our environmental impact. Being with FOR's has helped us win lucrative contract's such as HS2 where vehicle safety is off utmost importance.
We did our Bronze audit in 2014, and this will be our 5th Gold application. We are due our Bronze audit in Spring 2019. With all the training and tools provided by FOR's we have no doubt that we will pass our renewal.
The performance management toolkit really helped us set our targets for reducing our carbon footprint and improving our MPG. FORS has helped us improve our filing systems and procedures. We have 3 Transport Managers in the business who are FOR's practitioners. We have also provided our facilities to FOR's to run their workshops, we have actively encouraged our suppliers to book themselves onto these courses too.
'FORS has helped us achieve compliance and safety.' – Ash Gami – Transport Manager
All our drivers have completed their Safe Urban Driving course. We have also invested heavily in vehicle safety systems cameras, nearside proximity sensors and audible alarms for all our vehicles. All our drivers have also completed FORS E-Learning modules as well. As mentioned all 3 Transport Mangers are FOR's practitioners. This has helped them get a better understanding of FOR's.
We have managed to reduce our Parking fines & Charges by 28% compared to our baseline year and reduced our accidents/incidents down by 30%. We achieved this by being more proactive, choosing better routes and better scheduling, i.e getting permission to sites earlier so lorries can leave before rush hour, therefore reducing idling time waiting in traffic, and reducing the risk of incident's. We've also been highlighted to driver potential areas where we are likely to get PCN's to drivers so they can avoid or being more careful in these areas.
| | | | |
| --- | --- | --- | --- |
| | MPG | Incidents | Number of Parking Fines and Charges |
| Jan 14-Dec 2014 | 7.24 | 36 | 43 |
| Nov 17-Nov 18 | 8.92 | 25 | 31 |
| Percentage improvement | 23% | 30% |  28% |
We get all my drivers to complete a comprehensive Medical Declaration. It's also mentioned in the drivers handbook that if they at any point in time start suffering from a medical condition they need to notify the company ASAP as well as if they need to start taking medication prescribed by their GP or over the counter drugs. We will then investigate it to see if it's still safe for the driver to be driving for the company and we may even ask the driver to get a letter from his doctor informing the company if he is still able to drive for the company. We will then start doing more driver assessments on the driver to make sure he isn't a risk to the company or anyone on the road. All driver who start with McGee go through a Drugs and Alcohol test and we have an occupation nurse who carried out medicals for all our drivers. The work we have won at HS2 requires all our drivers to have on site medicals by our nurse. Drivers are also encouraged to speak to nurse if they have any issues and she is available for drivers to talk to if they feel they have medical questions to ask.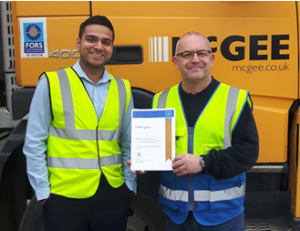 We have recently adopted a recruitment policy to try and help us recruit young drivers into the Transport industry and have changed our method of recruitment. In the past we looked for Drivers with a few years HGV experience now we are recruiting drivers with very little experience. We recently recruited a driver who only had experience in driving 7.5 ton lorries and with our help and support as well as guidance from senior drivers, the driver is now driving an 32 ton lorry in Central London. In the past McGee would have rejected his application due to his lack of experience however we have changed our attitudes.
All our HGV vehicles are fitted with engine cut off which stops drivers from excessive idling and in turn helps with noise reduction. A majority of our work is carried out by main dealers at their premises. There are a few houses in the vicinity of the yard; our drivers do ot start their vehicles until after 6.30am as per planning regulations. We have not had any complains about noise.
We run a fleet of rigid lorries. We have looked at alternative fuels and alternative transport but after looking at the whole life cost of each vehicle, it isn't cost effective for us to run Electric vehicles or using alternative methods of transport as trains etc.
There isn't any electric vehicle for our size artic lorries that has the correct safety equipment fitted to pick up the loads we carry, we already use ad blue in our lorries to help reduce our carbon footprint and improve our MPG. We are currently replacing our older fleet of lorries so that they are compliant with the new Euro 6 ULEZ zones coming into play. we have moved on from the McGee traditional manual gearbox to automatic gearboxes, as these are more fuel efficient, helps reduce idling and have engine cut offs.  As a majority of our work is in central London and recycling tips are out in the outskirts of London we can't use trains or barges to move our products as we don't have the infrastructure to make it possible.
We currently in the process of replacing all our pre Euro 6 Lorries with Euro 6 Lorries. By April 2019 we will have an entire fleet of HGV's which are Euro 6 compliant with the eldest lorry being only 3 years, which means we will have cleaner engines and will be reducing our emission levels even further next year. Our long term aim is to replacing our vehicles every 5 years so we can benefit from new technology and newer lorries tend to have better emission rates.
Gaining FORS Gold Accreditation shows how dedicated we are as a company to improving road safety and the safety of all vulnerable road users in London as well as nationally. We will continuously use what FORS has taught us to help reduce our carbon footprint and make the roads so safer for everyone that uses them. We have also managed to make a significant saving by reducing our fuel usage and improving our MPG. Being FOR's Gold has also helped us win contracts and due to this we have had to actively encourage all our suppliers to be FOR's silver or more meaning more and more lorries on the road are safer and efficient.