Mobile Mini are a provider of portable storage, welfare & accommodation solutions with locations in the US & Canada as well as 16 sites across the UK. Kevin Buckler National Transport Manager (part of the SHEQ team) explains how Mobile Mini has utilised modern technology and driver training to improve safety & efficiency whilst reducing CO2, NOx & Particulate Matter emissions with the aid of Scania FMP and FORS.
This is now the fifth year that Mobile Mini have been FORS Gold members and we are making improvements each year. FORS has helped us to achieve best practice and benefit us by keeping us focussed on some key areas, in particular; technology, economy, driver training & the environment.
Mobile Mini initially became FORS Bronze members in 2012 as a result of customer demand and contractual conditions of serving some of our larger customers. Over time, however, we have realised that the requirements of FORS do make a real difference both commercially and in terms of safety and the environment.
We quickly went from Bronze in 2012 to Gold in 2013 making good use of all of the information, tools, services and training etc. on offer. FORS has evolved & improved over time too and we are now using the LoCITY tools and additional e-learning packages such as the collision management for managers and LoCITY for managers & drivers.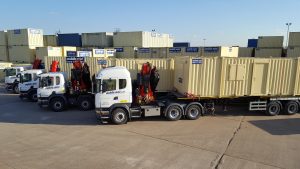 Following the most recent round of e-learning Martin Matthews (HGV Driver) said 'The e-learning training we get via the FORS website is a useful reminder of the importance of cyclist safety & protecting the environment'.
FORS approved training and e-learning has helped us to maintain low frequencies of road traffic collisions, personal injuries & PCN's. MPG & emissions figures have improved reducing the impact of our operation on the local air quality and the environment.
Chris Watcham (Director of Safety, Health, Environment & Quality) recently said 'We have noticed an ongoing reduction in incidents & accidents to a point where we have now attained a zero AFR' (Accident Frequency Rate). FORS Gold has played its part in helping us to achieve this.
Performance data – As a result of some of the changes made through FORS we have noticed an improvement in overall MPG, HGV MPG and HGV idling.
| | | | |
| --- | --- | --- | --- |
| | MPG Average (all London fleet) | HGV MPG Average | HGV Idling Time (as a % of overall engine running time) |
| Sept15-Aug16 | 10.56 | 7.86 | 19.66% |
| Oct16-Sept17 | 11.13 | 8.01 | 15.90% |
| Percentage improvement | 5.4% | 1.9% | 19.1% |
Driver health and fitness review – Our driver fitness & health is a key part of what we do; this is discussed at interview & induction as well as regularly throughout the year. We operate a robust drugs & alcohol policy with screening prior to employment. Induction training covers all kinds of impairment including tiredness and stress as well as the more common issues of medication, drugs & alcohol.
Strategy for recruiting drivers – We have been running a driver development scheme within Mobile Mini for many months now and we have already taken 3 staff from yard to driver with 1 more currently undergoing training; 3 more are planned for 2018. In-house upskilling ensures that we have motivated people with the right skills, a good knowledge of our business and a keenness to do well.
Noise assessment – Following assessment we identified that we are a relatively low noise polluting company; however, we realise that everyone can do their bit to improve. All recent trucks have 'power on demand' lorry mounted loaders to minimise noise whilst pausing between crane operations and engine auto-cut-off will prevent our newest vehicles from idling (without PTO engaged) for more than 1 minute.
Modal shift and alternative vehicles – Following a review of our fleet and our core transport operations we have confirmed that we are unable to shift mode and remain solely reliant on road transport. However, we will be considering the use of alternatively fuelled/powered vans operated by our repair & maintenance teams in the future. This may not only reduce our operating costs but also our emissions.
Being a FORS Gold accredited company means that we continually strive to improve by adopting industry best practice and ensuring that our staff are well trained. We are demonstrating to our customers, and the rest of the industry, that we care about; safety, health, quality and the environment.
Web: https://www.mobilemini.co.uk
Follow us on Twitter: @MobileMiniUK
Follow us on Linkedin
View our Brochure
Mobile Mini UK Ltd. Registered Office:  28 Falcon Court, Preston Farm Business Park, Stockton on Tees TS18 3TX | Company Reg No: 2862423 | VAT Reg No: 548 7575 89
Please note: All published FORS Gold case studies have been submitted by the accredited company named above and transcribed verbatim