Mobile Mini are a provider of portable storage, welfare and accommodation solutions with locations in the US and Canada as well as 16 sites across the UK. With its headquarters in Stockton-on-Tees it has a total fleet of 60 truck mounted loader cranes, one of the largest of its kind in the UK.  Andy Cowell, National Transport Manager explains how and why Mobile Mini have embraced the latest safety features and training to make their fleet as VRU friendly as possible.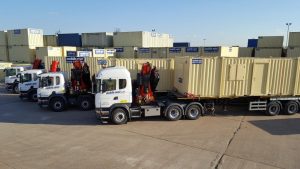 Mobile Mini became FORS Bronze members back in 20012 as a result of demand from some of our larger customers We are proud to be associated with FORS and have been Gold standard accredited for over 5 years. FORS has provided the framework for us to keep building on our best practice in compliance, driver training and fleet management.
The demand to demonstrate FORS membership is growing significantly both in London and nationally and Bronze is no longer enough. The Mobile Mini board fully support the FORS association both in terms of the commercial benefit and because 'it's the right thing to do'.
Once we had gained Bronze accreditation we quickly went to Gold in 2013 making good use of the services FORS had to offer and in particular the FORS Safe Urban Driving CPC course and elearning modules for both HGV, van drivers and managers.
Mel Brown (Transport Manager, London) said, 'the use of the training tools ensures that a consistent message is shared across the company and to all colleagues from truck and van drivers to office team and management'.
Despite a significant increase in work and fleet at our London depot and against a backdrop of increasingly busy city centre traffic and a rise in the number of cyclists we have been able to demonstrate a massive drop in the amount of accidents per km travelled and no personal injuries. We have achieved this due to the heightened awareness of our drivers to vulnerable road users and providing the most up to date tools to assist them.
Chris Watcham (Director SHEQ) said, 'The benefits the new safety equipment has already proved on our most recent fleet has promoted our decision to retrofit to some of our older fleet elsewhere in the network and bring them all up to Gold standard'.
After our initial accreditation we quickly realised the Bronze would not be good enough for our increasingly demanding customers. Most of the bigger contracts and especially government led ones demanded Silver accreditation or CLOCS.  It was a no-brainer for us but it also ensured we had another target to reach for.
The chart below shows the extra kms the depot is now running as a result of the increase in workload and fleet. Relative to this are the incidents per 100K Kms which has dropped significantly.  The increased number of PCNs is a disproportionate increase and direct result of the amount of runs we are doing around the capital
| | | | |
| --- | --- | --- | --- |
| | Kms | Incidents per 100,000 Kms | Number of PCNs |
| Sept 2015-Aug 16 | 264,135 | 0.379 | 4 |
| Sept 17 – Oct 18 | 680,645 | 0.147 | 13 |
| Percentage increase | 258% | -61% | 325% |
The improved incident figures have been achieved through
driver awareness of vulnerable road users (VRU) through Safe Urban Driving, Truck Smart and Van Smart training courses.
 investment in new state of the art Scania fleet with HALO technology supplied through FORS associate SMUK which alerts both drivers and VRUs alike
upgraded specification to include full 360 camera coverage to prevent and, where necessary, record incidents
All new drivers are required to complete a health declaration on induction and then annually. Eyesight checks are completed every 6 months and we are currently costing out a low level driver health check on site along with our yard operatives.
We have taken 6 drivers on through our Driver Development Programme taking yard operatives up to Class 1 drivers. We have found the benefit of this is we are recruiting drivers already instilled with our values and product/customer knowledge.
Noise on site has been assessed and specific ear protection areas created. Driving and crane-lift operations have been assessed on-site using apps recommended on the FORS practitioner course and found to be within safe tolerance levels.  Any noise critical operations are assessed specifically to reduce impact through driver awareness and training. Fortunately 99% of our work is in daylight hours.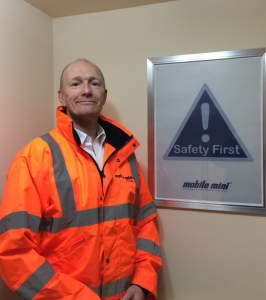 The opportunity to use alternative modes of transport has been explored but due to the nature of our work (abnormal loads to residential areas) is not feasible. We are, however, looking to switch some of our service vans to electric power in and around London.
Our next new batch of trailers will replace older non-compliant ones in the wider fleet and will incorporate all safety features demonstrated in the London fleet.  In addition we will also be trialling direct vision passenger doors to give drivers an additional clear line of sight.
Mobile Mini are proud to display the Gold accreditation on our fleet. It is recognised in the industry as the mark of excellence.  It has opened up new contracts to us and ensured a high level of consistency across the operation.  Using the knowledge we have built up and knowing the benefits we can gain from FORS membership we are committed to rolling out FORS to the rest of the company in 2019.
Visit our website, view our brochure and follow our on Twitter and LinkedIn