Oliver Connell Construction was founded in 1974 and the business has grown rapidly over the past few years with a multi-million pound turnover today. We have an operating centre in Perivale and operate a wide range of equipment including wheeled and tracked excavators, HIAB lorries, concrete pumps, diamond drillers and the latest in decking formwork technology. As the business continues to grow from strength to strength the volume and size of projects has also risen. To date we have successfully completed well over a thousand contracts, the largest being worth 8 million pounds. Our involvement with FORS has underpinned the quality standards expected to gain prestigious contracts. Gajendran Nadarajah our Transport Manager explains how FORS is helping the company to improve all aspects of its fleet and transport operations. As the transport industry changes and evolves FORS has provided assistance to structure the operation efficiently with organised systems in place for operator licence compliance.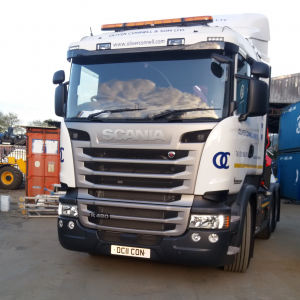 We gained Bronze accreditation in June 2015 which we achieved following the initial audit. The audit process was quite intense and very thorough although we all learnt along the way, especially on how to improve and adapt internal systems to meet daily and ongoing compliance and legal requirements. Quite rightly the need to continuously improve prompted us to apply for silver accreditation, particularly with our competitors already at that level, and we managed to achieve this a year later in 2016 and this was reapproved in June 2017. We made the necessary preparations to apply for Gold accreditation and were very proud to become a Gold member in October 2017. With the company moving forward with further operational improvements including additional cleaner euro 6 vehicles our re application for silver accreditation was also successful.
"The achievement of the gold standard has helped us to secure contracts with well known, reputable companies." – Nadarajah Gajendran, Transport manager.
Gold standard is a benchmark to which we had aspired ever since achieving our Bronze accreditation. We have utilised all tools that are provided by FORS such as e-learning and safe urban driver workshops that has helped to improve driving skills and awareness of vulnerable road users which in turn has contributed to a reduction of fuel usage and accidents.
With the further restructuring of the transport operation with a further reduction of the fleet size from 11 to 5  combined with the introduction of newer euro 6 vehicles to the fleet we have seen a significant reduction in the fuel used and co2 emissions. Our accident rate has also reduced from the previous 12 months indicating that with the assistance of safe urban driving training and e-learning, drivers are adopting safe and efficient driving standards.
CO2

INCIDENTS

NUMBER OF PCNS

Sep 2016-

Oct 2017

2260.46
5
27

July 2017 –

August 2018

854.09
2

8

Percentage improvement
62%
60%

70%
The current Gold standard requirements have also helped us focus on criteria which we have used to build on our existing practices as follows:
This applies to HGV drivers and provides a way of identifying any drivers with medical conditions which could restrict their ability to drive with remedial action identified to support any that need it. All our drivers complete a health questionnaire at induction and every 12 months thereafter. We also have subscribed to a cycle to work scheme where staff can enjoy the benefits of purchasing good quality bikes at a discounted price that they can pay in low instalments. This is to encourage all staff to cycle to work and improve fitness levels.
We have developed an ongoing strategy to support driver recruitment to ensure that we recruit the right people and identify any internal development opportunities for existing staff.
Using available software we are measuring our noise levels across the business and have developed a risk management tool to identify individual and collective risks which could potentially impact on our business activity. Having established existing levels across a broad range of our activities we have benchmark data which we can use as a measure of improvement.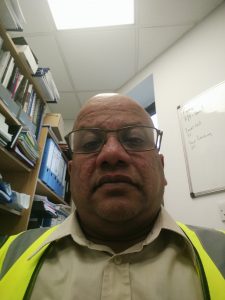 With the vast majority of our vehicle movements involving travel to and from construction sites there is currently little scope in exploring alternative modes of transport although with another euro 6 vehicle on order due for delivery in September, the company is reducing it emissions year on year.
The monitoring of driver fitness and health is ongoing and with the safety of vulnerable road users in mind our next priority will be to ensure their safety is maximised with plans for low entry/improved vision vehicles.
"We will continue to take advantage of the benefits that FORS offers." – Nadarajah Gajendran, Transport manager
Continuing to be a Gold accredited member will ensure we are seen as having high standing within our industry including amongst our competitors . We have seen proven results in improved performance of the fleet and drivers alike. The high standards that are set by the FORS  scheme has contributed to the business meeting such targets and improving operational efficiency year on year.
We currently do not engage in social media activity but please visit our website for more information about the company and what we do.