Established in 1997, Orlight is a long-standing dominant force within the Architectural lighting market. As our mission statement indicates, we pride ourselves in adding value to our client's proposition by providing unparalleled lighting products and services delivered in a unique manner to an ever changing and exciting industry sector. Our business model places us – and subsequently our clients – at an advantage, we are manufacturers and 100% in command of our supply chain.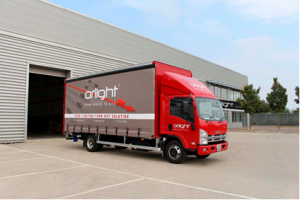 We are solely responsible for quality, research and development, product innovation, testing and procurement.  Having no third parties involved throughout our manufacturing process means we are able to deliver higher quality products at reduced prices to our client base. Substantial stocks of architectural products held for dispatch within the UK and Europe means we do not keep our clients waiting. Our ability to bulk deliver high quality architectural products directly to site and at a moments notice is often a competitive advantage to our esteemed clients. Claudiu Popa, Transport Manager is our elected Fuel and Emissions Campion and he recognises how crucial FORS is to our Company.
We discovered the FORS scheme while tendering for work in London. We looked into the requirements and benefits of joining the scheme and found it matched our ethos and determination as a company to improve safety whilst complementing our aim to improve fuel efficiency and reduce our environmental impact perfectly – it was an easy decision to make.
Compliance and safety is taken very serious here at Orlight so we achieved our Bronze and Silver Accreditation right away. We found FORS to be very helpful in terms of providing training and tools that developed our policies and procedures.
The performance management toolkit really helped us set our targets for reducing our carbon footprint and improving our MPG. In addition to this, FORS has helped us improve our filing systems and procedures.
'FORS has helped us set our KPI's higher to achieve more compliance and safety.' – Claudiu Popa – Transport Manager
We have implemented all the policies FORS has suggested which has enabled us to sustain zero accidents in the four years we have been using the FORs scheme. We have also implemented an anti-idling policy to help reduce our fuel usage across the Fleet. All our drivers have completed their Safe Urban Driving course which was funded by the Transport for London. We have also invested heavily in vehicle safety systems cameras, nearside proximity sensors and audible alarms for all our vehicles. All our drivers have also completed FORS E-Learning modules.
'We haven't had any accidents in the past 4 years.' – Claudiu Popa – Transport Manager
We have increased our MPG across the fleet by 15.29% and kept our incidents to zero for the past 4 years. This has been achieved by ensuring we always choose the best route possible to get to sites and we plan ahead prior to leaving the yard.
| | | | |
| --- | --- | --- | --- |
| | MPG | Incidents per 100,000 Kms | Number of Vehicles |
| Jul 14 – Jun15 | 26.82 | 0 | 5 |
| Jul 17 – Jun18 | 30.92 | 0 | 7 |
| Percentage improvement | 15.29% | 0% | 40% increase |
*No incidents for the past 4 years and a 15.29% improvement in MPG across the whole Fleet.
Despite the fact that drivers are required to complete a comprehensive Medical Declaration every five years to meet the requirements as stated in the FORS Standards, drivers at Orlight are required to complete a comprehensive Medical Declaration on an annually basis – which is beyond the standards required by FORS. It's also mentioned in the drivers handbook that if drivers, at any point in time, start suffering from a medical condition they must notify the company ASAP. In addition to this, if they need to start taking medication prescribed by their GP or over the counter drugs, we will then investigate further to see if it is still safe for the driver to be driving for the company and we may even ask the driver to get a letter from his doctor informing the company if he is still able to drive for the company. We will then start doing more driver assessments on the driver to make sure he is not a risk to either the company or anyone on the road.
We have recently adopted a recruitment policy to try and help us recruit young drivers into the Transport industry. We have also joined Quicktemp Agency to try and help us recruit drivers into our company.
As stated in our Noise Assessment, we have just one Operators Yard which is in an Industrial Estate. We load our lorry using electric fork lifts to reduce sound, we only use this site for parking our Vehicles. Servicing and cleaning is done by external garages at their premises and as we are a hauler we go to a site drop it off. Very rarely would we bring a load back to our yard and if we do it would then be unloaded using the electric forklift so there's no added noise. All our vehicles are fitted with White Noise Reversing alarms. The only noise generated is when our lorries are idling so we can carry out our defect checks. All of our lorries have white noise reversing alarms fitted to them.
We deliver our own products – lighting and fixings. We can not use alternative methods of transport as we cover the whole country and rely on customer demands. We do try, if it is a small order, to take deliveries by train however 99% of our delivers are pallets or longer than 2 meters in length, which makes this difficult. As we deliver to construction sites, it is very rare that there is the infrastructure available locally to enable us to get to the sites any other way than by road. So while there is an option to use alternative modes of transport on some occasions, we replaced our lorry last year and now have a euro 6 engine. We only use this lorry twice a week (if that). So even though there is an option it is still not cost effective as we do not use the lorry enough to justify the additional cost upfront.
We will continue using everything FORS has taught us to improve our MPG and reduce any wasted idling we might have and will do all we can to sustain our achievement of zero accidents.
We believe in FORS and are determined to achieve FORS Gold Accreditation so we can be a beacon to other companies. We are determined to improve road safety and the safety of all vulnerable road users in London as well as nationally.  We will continuously use what FORS has taught us to help reduce our carbon footprint and make the roads safer for everyone that uses them. In addition to this, we have also managed to make a significant saving by reducing our fuel usage and improving our MPG.