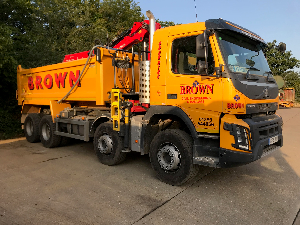 P J Brown (Civil Engineering) Ltd was incorporated on 10 March 2010 which consisted of Civil Engineering and Haulage. The very large presence within the groundworks side of the company's business model was also placed under the banner of P J Brown (Construction) Ltd. The company operator licence reflected this as it was noted as P J Brown (Construction) Ltd, T/A P J Brown (Civil Engineering) Ltd. Unfortunately, and as a direct result of the Covid-19 pandemic, the groundworks side of the business became non-viable because of social distancing and P J Brown (Construction) Ltd was placed into administration in June 2020. A new licence application for the haulage and civil engineering side (P J Brown (Civil Engineering) Ltd) was applied for in mid May with the interim being granted in mid-June. This enabled us, as a company, to safeguard circa 80+ jobs and thus retain a presence in Crawley as a local employer.
We became aware of FORS in 2014 following discussion with one of our clients and upon visiting the FORS website realised it could possibly help us to enhance our compliance practice.
Putting together the required documentary evidence for our initial Bronze audit was straightforward as we already maintained the evidence as a matter of course. Equally, the FORS layout of folders made things easier to find and made a great deal of sense.
Having obtained FORS bronze it was inevitable that we would look at both Silver and Gold as it is the company's ethos to progress and achieve the highest possible accreditation to enhance and endorse our standing as a compliant operator.
Having gained FORS Bronze, we took advantage of the road safety training that was available to us and booked our driver workforce on the Safe Urban Driver training. Currently we are now undertaking the first phase of drivers on their 5 yearly SUD refresher and have courses booked in October 2020 and February 2021 for SUD training with Fleet Source.
'There have been improvements in the reduction of CO2, NOX and PM as well as an improvement in mpg through control of our fuel and emissions data' – Phil Conner Transport Compliance
All the company vehicles are fitted with nearside proximity sensors and cameras which are linked into the left turn audible warning alarms which has helped from a road safety viewpoint. During 2018/19 we took delivery of 10 x (68 plate) 8 x 4 Scania tipper replacement vehicles which have all had 360 camera systems installed prior to going into service. A further 4 x (69 plate) Scania tippers were also added as fleet replacements.
The benefits of having 360 camera systems installed became apparent to us during 2017/18 and it therefore makes common sense to install these camera systems on all new vehicles ordered to continue upgrading the fleet with the latest safety technology.
Overall, some of the improvements we have achieved are detailed in the table below which serves to motivate us to further improve on our current achievements.
| | | | |
| --- | --- | --- | --- |
| | Average MPG | Incidents per 100,000 Kms | Number of PCNs |
| Jan-Dec 2018 | 7.0 | 2.05 | 3 |
| Jan – Dec 2019 | 7.1 | 1.96 | 8 |
| Percentage improvement | 1.43% | 4.59% | -62.5% |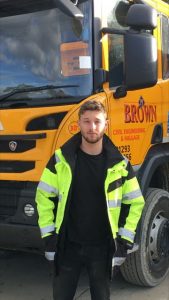 Driver health and fitness review – All new drivers must complete a mandatory Medical Declaration upon joining the company every 12 months. This was introduced as part of a new driver's induction in 2019. All medical conditions a driver has must also be disclosed, along with the medication, including quantities, being taken. Equally, all of our drivers must acknowledge whether DVLA have been informed, and if not, will be required to do so.
Strategy for recruiting drivers – the company is based in an area where there are several other operators carrying out similar work.  With it becoming ever harder to recruit drivers, we increased our driver rates in September 2017 to ensure that we retain our driver workforce in, what is, a very competitive marketplace.
We are currently looking at joining 'LinkedIn' and 'Facebook' as the previous company did. Through this, we will advertise through these media platforms and will actively promoted HGV driving as a career path at local events we will sponsor as a company.
However, like many operators, we are restricted to what we can achieve here as employing a young, newly qualified driver places significant financial penalty upon the company in increased excess insurance payments if we employ drivers under 25 years of age.
It is somewhat ironic that having built a strong driver team down the years, no-one could have predicted the pandemic that hit us in early 2020 and the decimation it would cause.
Noise assessment – the location of our operating centre means that our daily activities do not impact on local residences. To avoid other noise and inconvenience on the routes that will impact upon other road users, our vehicle fleet has usually left the 'OC' before the main build-up of local rush hour traffic and the 'school run' which serves, not only to minimise noise impact, but equally helps reduce emissions from vehicles that would otherwise be sitting idling in traffic queues.
Modal shift and alternative vehicles – we had a demonstration of the direct vision tipper vehicle that is available from Volvo trucks and this is something that we might consider for the future.
FORS has afforded the company the ability to quickly, simply and effectively implement various strategies to ensure the company and its vehicle fleet operates as safely as possible.
It has also given us a framework that ensures we are as up to date and as current as we can be and has given us access to tools such as e-learning and on-site courses that we would otherwise be unaware of.
'FORS has helped us enhance our compliance best practice' Phil Conner Transport Compliance
Moving forward, we will continue to maintain the highest levels of compliance we can wherever practicable.
In summary, achievement of GOLD has served to confirm that the company is both committed to meeting the highest standards of compliance and road safety whilst simultaneously striving to set new ones.
'Renewing our FORS Gold for another year will confirm the benchmark of said standards and for the company this means being part of a select group that has achieved its highest accreditation with FORS' – Richard 'Sonny' Brown – Civils & Environmental  Compliance
Currently our social media platforms are being re-built, the most complete platform is the company website which can be accessed from the link below.
Website – https://www.pjbrown.co.uk/
*Please note: All published FORS Gold case studies have been submitted by the accredited company named above and transcribed verbatim