Paul McGowan Grab Hire Ltd is based in Birmingham, we operate a fleet of 82 vehicles operating in the construction and utilities sector. The company has been operating for more than 25 years, our current clients include Costain Group, Kier Group, Galliford Try, AMEY, Balfour Beatty and Morrison Utility Services. During the past ten years we have assisted with the delivery of the Smart Motorway Upgrade Projects on the M42, M6 and M1.
Mark Allso our Training and Accreditations Manager explains that the company held ISO 9001, 14001, 18001 and Achilles UVDB accreditations prior gaining FORS Bronze. We became aware of the standard through the trade press and it seemed a logical progression to add FORS to the other accreditations as we already meet most of the requirements for the standard, achieving Bronze in March 2013. The audit process was straight forward, and we managed to pass first time. This confirmed that our systems and procedures were in line with a recognised national standard.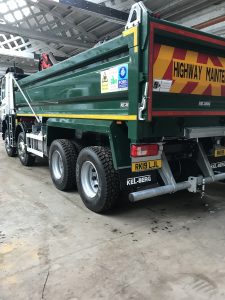 Although we didn't have any intentions to achieve Silver accreditation, we decided in January 2014 that we would fit four-way cameras, side scanner and audible left turn warning systems to the whole fleet.
We then decided to book our drivers of the Safe Urban Driving course with Fleet Source so when we decided to go for Silver in September 2017 we already met most of the criteria. I took advantage of the free FORS practitioner training and achieved practitioner status in September 2017, Mark Allso Training and Accreditation Manager. Other benefits of FORS are the excellent free toolbox talks and toolkits available to members.
"The toolkit has helped us to drive quality and efficiency within the business by helping us to measure performance more efficiently" – Mark Allso Training and Accreditation Manager.
We also use the FORS Driver Licence checking service and benefitted form discounts from FORS Associates offers.
Through the implementation of the Anti-idling policy we have reduces the amount of time the older vehicles in our fleet saving fuel and reducing emissions. We reinforced the importance of reducing emissions further by using the FORS on-line Lo-City for drivers and managers.
| | | | | | | | |
| --- | --- | --- | --- | --- | --- | --- | --- |
| | MPG | Incidents per 100,000 Kms | CO2 | NOx | PM10 | Number of PCNs | Proportion of fleet that uses alternative fuels |
| Year | | | | | | | % |
| 2017 | 4.1 | 0.7996 | 2.225.95 | 4690.90 | 85.60 | 5 | 20% |
| 2018 | 5.16 | 0.7768 | 4550.68 | 9589.96 |    175.00 | 7 | 20% |
| Percentage improvement | 25% | -2.9% | -49% | -49% | -49% | -40% | 0% |
All are key KPI's have improved over the past twelve months when the increase in fleet size is factored in. During the past three years we have purchased 48 Euro 6 vehicles, this has increased the % of Euro 6 vehicles to 60%. 28% of the fleet meets Euro 5 specification and 12% meets Euro 4 specification. During 2019 ten more Euro 6 vehicles will be purchased replacing the 10 Euro 4 vehicles. This will increase the number of Euro 6 vehicles in the fleet to 58 vehicles 72% of the fleet. To drive safety standards higher the company has increased it standard specification for new vehicles to include lane departure warning systems, and the automatic city braking system and automatic gearboxes. We are also carrying trails on a radar system that will   automatically applies the brakes if the driver fails to stop a hazard.
We positively promote FORS by using the logo on stationary and email. We also promote in on our website and actively encourage our supply chain to consider joining FORS. Where they cannot commit to becoming members of FORS we seek written confirmation that they are aware of the standard and will operate in accordance with the standard.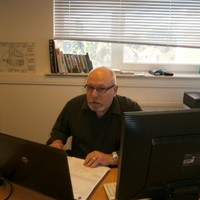 We are based in the Birmingham from where we cover the whole of England. We are situated in an industrial area, vehicles are fitted with white noise reversing systems and automatic cut off devices that activate after three minutes so we don't have any noise issues.
As we work in the construction industry opportunities to use alternative methods of transport is limited.
As part of our recruitment policy we offer opportunities to staff from our sister company to obtain their LGV driving licence and become LGV drivers. We currently have a driver taking his Theory and hazard perception tests who will hopefully be commencing training for the LGV driving test and DCPC module. We have also signed up to the Armed Forces covenant and recruit ex-service men.
Our journey with FORS has enabled the company to operate more efficiently. The use of FORS toolkits has allowed us to measure and monitor performance in greater detail. The data has highlighted areas that needed improvement bring tangible benefits to our business.
In the near future we hope to be able to get a hybrid demonstrator vehicle from DAF, and providing the vehicle is suitable for heavy duty work we hope to able to start purchasing them in 2020.
The hybrid vehicles will enable us to further reduce the impact of our operations on the environment. We will continue to use the FORS toolkits to monitor and improve fleet performance along with toolbox talks to help with the continuing development of our drivers and staff.