P.B. Donoghue is one of Hertfordshire and London's leading waste disposal and skip hire companies, specialising in skip, grab and tipper hire. With over 40 years' experience in the waste disposal industry, P.B. Donoghue is serious and passionate about recycling sustainably and effectively for the future and the environment.
In this case study, company Group HSQE Manager, Lawrence Large, explains how FORS has become an essential part of the company's processes and policies that guide P.B. Donoghue to achieve and maintain high standards. Lawrence Large explains how FORS has raised awareness of, and improved road safety by educating the company on factors that ensure safer journeys for all vulnerable road users. The FORS accreditation has also raised awareness of the company's environmental impact, leading to new company processes and the procurement of the most up-to-date vehicles. Through this, the company has reduced their transport related fines; road traffic accidents and reduced CO2 emissions; NOx and particulate matters (PM10). This is managed through the company's fuel data to improve the environmental impact and carbon footprint.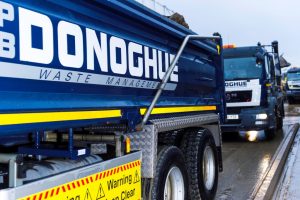 P.B. Donoghue first became aware of FORS back in 2007, when it was seen as a new way to assist haulage companies to ensure their safety. Leading up to the company achieving the bronze level, the benefits and educational characteristics of FORS were recognised in the behaviour of our team and the processes we were able to put in place. FORS has also impacted our relationships with clients and the way we think about the environment. FORS allows all our stakeholders and interested parties to know that we are committed to setting high standards and leading the way for other companies within the industry.
Managing Director Peter Donoghue said, "FORS proves to our clients that our company is committed to setting high standards and leading the way for other companies within the industry."
P.B. Donoghue group completed their first FORS assessment in 2007 when the accreditation was assessed by the metropolitan police. From this the company went on to achieve Bronze accreditation which really showed the company how our processes can be brought together and be managed under one umbrella. In 2014 we received our first silver accreditation (Pre FORS v3.3) and then successfully completed and retained our FORS Gold in 2017.
From achieving Bronze showed P.B. Donoghue that we could continue to improve, thus progression to Silver in 2014 and Gold in 2017. Our progression from silver to gold was a great achievement for our company, in this competitive industry it expresses P.B. Donoghue's commitment of professionalism, safety and sustainability.
There are many benefits to being FORS accredited. The main benefit is the ability to grow and improve as a company in a very competitive world. Continual training for our drivers and transport in the classroom and through E-Learning modules, had the greatest impact on changing perceptions, behaviours and attitudes to road safety. The FORS E-Learning group task especially helped as our drivers preferred the interactional way of completing the modules.
P.B. Donoghue continue to look to improve and within the recruitment process, by recruiting a FORS practitioner, which has benefited the company with knowledge from all the workshops and aided us throughout audits.
FORS Driver Trainer / Assessor said, "The FORS training packages have really benefited me and the company in understanding the standards and necessary requirements for our drivers to continue to be professional."
| | | | | | | | |
| --- | --- | --- | --- | --- | --- | --- | --- |
| | MPG | Incidents per 100,000 Kms | CO2 | NOx | PM10 | Number of PCNs | Proportion of fleet that uses alternative fuels |
| 2016 | 5.9 | 1.78 | 3472 | 7161 | 130.68 | 203 | 0% |
| 2017 | 6.2 | 1.8 | 3558 | 7336 | 133.87 | 120 | 0% |
| 2018 | 6.6 | 0.76 | 3077 | 7132 | 130.40 | 108 | 0% |
| Percentage improvement | 12% | 57% | 11% | 0.4% | 0.2% | 0.5% | 0% |
At PB Donoghue we have our own in-house Driver Trainer / Assessor, Mark Williams, who is very experienced in the heavy haulage industry. Mark Williams is responsible for our driver's, training, fitness and health and has put processes in place to help minimise the risk of incidents because of underlying health problems or diagnosis of a condition. For example, the P.B. Donoghue employment process ensures that all drivers have the right qualifications to carry out the duties required. All drivers must sign a fit to work declaration and complete a vision check before assessment. As well as this, all drivers are assessed by our Driver Trainer to ensure their competency. Our drivers are reminded that their fitness and health is very important and should attend health check-ups with medical professionals to ensure good health and wellbeing.
PB Donoghue ensures all staff are treated equally and equitably, this is presented in the company's Equality Policy that is practiced throughout the company. To ensure PB Donoghue attract and appeal to new drivers and staff, we use specialised driver agencies. For example, we attract members of the armed forces by offering competitive pay and driver and employee training programmes.
In order to reduce noise pollution, our Driver Trainer / Assessor and Depot Manager monitors vehicles constantly, especially before the work starts, to ensure no excessive idling. They are responsible for monitoring day-to-day driving at our operating centres (especially early hours), to oversee and control unnecessary noise pollution. For example, we ensure that vehicles do not reverse before 7am and ensure chain sleeves are used for skip loaders on delivery and collections.
Our company is reviewing the possibility of using BIO Diesel, as it would be less harmful than normal diesel. Due to the nature of our business, we do not directly use alternative modes of transport, but we do use companies who use Fright Trains to transport material.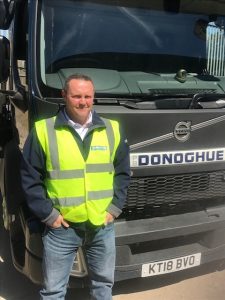 In addition, company directors are looking at the possibility of using hybrid cars for pool cars.
Photo of Group HSQE Manager – "In our latest transport company review, the team discussed a number of new HGVs planned for 2019 – we are ensuring that we update our fleet with the recommended low emissions vehicles where possible and reducing the number of older vehicles that may produce more harmful emissions."
We positively promote FORS throughout our company and examples of this are –promoting the FORS Logo on our company Newsletters and email attachments.
We promote FORS on our social media, on Linked-In, Instagram and Facebook. Our promotion of FORS is presented within a sales presentation, that business managers use for tenders and meeting potential new and existing clients.
Events & Supporting Safety Initiatives – We have completed two school talks in London and the Watford area to over 100 school children. Part of these talks include an explanation of the dangers of using the roads making them aware of blind spots, etc. This has been done to potentially help, hoping to lower the risk of danger that HGVs can be to venerable road users.
Achieving FORS Gold was a great achievement for our company, it demonstrates that our company is committed to maintaining and improving our high standards allowing for a safer future for all road users.