At Powerday PLC we are passionate about recycling and the role of renewables to satisfy the energy demands of the UK. We've invested heavily in our new materials recycling facilities and continue to invest in our operations across London, something which has given us the honour of becoming the largest and most efficient recycling company in Southern England. People are at the heart of our operations, and we now employ over 200 members of staff – without these people and their expertise we would not be where we are today. Powerday also owns and operates one of the largest independent fleets of skip, roll on roll off, mobile compactor and bulk haulage vehicles, all driven by directly employed, trained and authorised drivers. This is supported by an extensive inventory of containers, which are subject to continual appraisal refurbishment and renewal. Bill Cox Powerday's Transport Manager has overseen the FORs program from its inception.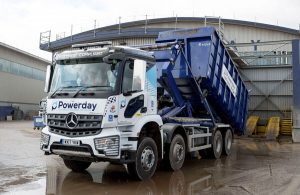 Powerday first became aware of FORs in 2012 from TFL's promotion of the scheme. Powerday was extremely keen to benefit from the standard laid out by FOR's, such as road safety initiatives.  By joining the scheme, we were able to achieve "Best Practice". We found that FORS dovetails our business principles and ethics. When we looked at the requirements and benefits of joining the scheme, we saw that they fit perfectly with our ethos of improving safety whilst complementing our drive to improve fuel efficiency and reduce our environmental impact.
Powerday passed the initial Bronze audit first time and encouraged us that we were on the right tracks and able to go even further.
Bill Cox stated, "Once we were Bronze we really made the most of the benefits on offer, in particular CPC training/practitioner workshops/driver licence checking and the anti-idling campaign."
Progression to Silver and then Gold was our aim from the outset as we wanted to be a leader in providing a safe and productive fleet operation. To hold the Gold standard is seen as very prestigious and showed our customers that our operation is managed at the highest level possible.
The performance management toolkit really helped us set our targets for reducing our carbon footprint and improving our MPG. FORS has helped us improve our filing systems and procedures. Once we were Bronze we really made the most of the benefits on offer, in particular CPC training/practitioner workshops/driver licence checking and the anti-idling campaign. Bill Cox as a result of following the FOR's scheme qualified as a FOR's Practitioner.
"Attending the many various workshops enabled me to see the wider problems effecting many operators on a daily basis. FORS has helped us achieve compliance and safety." – Bill Cox – Transport Manager
| | | | |
| --- | --- | --- | --- |
| | MPG | Incidents per 100,000 Kms | Number of PCNs |
| Jan 2016 to Dec 2016 | 5.98 | 0 | 201 |
| Jan 2017 to Dec 2017 | 10.25 | 0 | 400 |
| Jan 2018 to Dec 2018 | 10.90 | 0 | 308 |
| Percentage improvement | 6.34% improvement since 2017 | 0% | 23% improvement since 2017 |
Powerday employs a company called Hampton Knight to monitor health & fitness reviews of all employees including drivers. We get all my drivers to complete a comprehensive Medical Declaration on a annually basis even though the FORS Standard states once every 5 years. It's also mentioned in the drivers handbook that if they at any point in time start suffering from a medical condition they need to notify the company ASAP as well as if they need to start taking medication prescribed by their GP or over the counter drugs. We will then investigate it to see if it's still safe for the driver to be driving for the company and we may even ask the driver to get a letter from his doctor informing the company if he is still able to drive for the company. We will then start doing more driver assessments on the driver to make sure he isn't a risk to the company or anyone on the road.
Powerday in conjunction with The RLC Foundation are encouraging ex-military personnel to develop a career in heavy good vehicle driving. We currently have one apprentice employed and are currently engaged recruiting more apprentices. Powerday are also running a program with Berkley group providing young people with work experience placements.
As we operate a waste transfer centre most of the noise comes from our plant equipment and not our lorries. All our vehicles are fitted with White Noise Reversing alarms. We have completed a Noise assessment and the only noise we generate with our lorries are when we start our vehicles and do our defect checks, drivers then leave the yard and the only noise that is generated is then from our plant equipment. We don't have any gates or shutters we open that make noise either. Powerday Plc has imposed a pre-7am restriction on movement of vehicles within our depots. All skip vehicles are fitted with chain sleeves to reduce noise on deliveries and collections. All vehicles are fitted with anti-idling devices. Our fleet of vehicles are Euro 6 compliant.
We carry construction and demolition waste to and from construction sites within the M25. We move skips to and from construction sites. As we rely on our customers asking us to collect construction and demolition waste from various construction sites within the M25, we never know where we are going until they need us. We do transfer waste by barge and by rail whenever possible but the most cost effective and time effective method is still by using our lorries. Our Old Oak Sidings depot has Rail and Canal heads allowing us when possible to divert waste from coming in by road i.e. companies such as Laing O'Rourke, Barratts and the Berkley Group.
Currently 70 % of our fleet all have the lower passenger side window fitted and by the end of 2019 we hoping to have all our vehicles fitted with them. All our vehicles are already Euro 6 compliant, but we will still be replacing them for newer lorries as and when they are replaced.
We constantly promote FORS to all our Customers, Suppliers and the public. We have sponsored FORS events, CLOCS events and we have sponsored Changing Places, we advertise FORS on our website, Company Letter Head, our Companys workwear, email signatures etc. We really believe in FORS and know if that all companies signed up and joined FORS it would reduce all accidents/ incidents with vulnerable road users across the whole country.
Gaining FORS Gold Accreditation shows how dedicated we are as a company to improving road safety and the safety of all vulnerable road users in London as well as nationally. We will continuously use what FORS has taught us to help reduce our carbon footprint and make the roads so safer for everyone that uses them. We have also managed to make a significant saving by reducing our fuel usage and improving our MPG.
Welcome visit our Facebook, Twitter and LinkedIn