Premier Carriers specialise in complaint deliveries to the rail and construction industry covering the whole of the UK. Tony Bacon, Transport Manager, explains how critical driver training and education is when delivering in an urban environment. Premier Carriers is based in Dagenham and we supply various construction goods to The Crossrail Project, Thames Tideway and HS2. Tommy Everett, Managing Director explains how Premier Carriers have achieved huge reductions in fuel use, reduced CO2 emissions, lowered NOx and Particulate Matter emissions, improved our road safety record and decreased transport related fines and charges through FORS.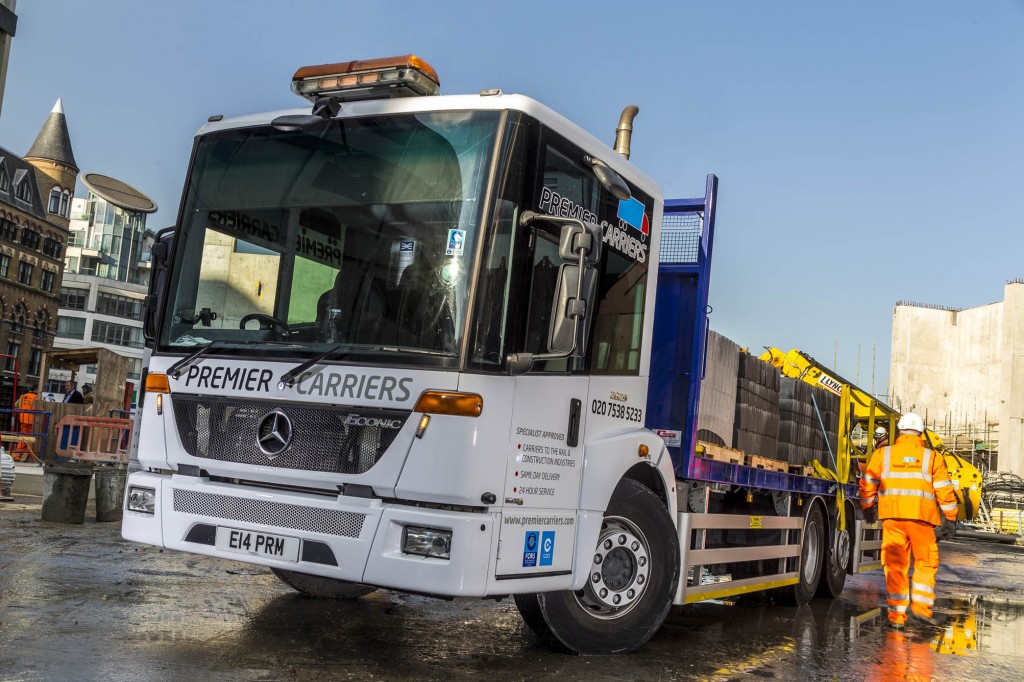 We have been FORS members since 2011 obtaining our Silver in 2014 and our Gold in 2016. We were made aware of FORS when we went to make a delivery on behalf of a customer to a Crossrail site and were first informed by a traffic marshal " we will let you in to do this delivery, but we will only be excepting FORS accredited carriers in the future". We realised FORS would help us to achieve best practice and benefit us by becoming a FORS accredited member.
My experience of the FORS Bronze audit was very interesting; your auditor was very helpful and full of knowledge. I had prepared a large folder for the gentleman that attended and he was very impressed with my structuring and organisation for the audit process.
As I have only taken over the Transport Managers role in the last year or so, maintaining the FORS Gold standard is very important to me and the whole organisation at Premier Carriers. We really made the most of the benefits on offer, in particular driver CPC training i.e SUDs, SAFED, TRIP, Driving licence checking etc.
Tony Bacon Transport Manager " attending the FORS Collision Investigator course has made a big impact on the number of collisions we have had in this current year and we hope to keep them minimal in the forthcoming coming year also"
Premier Carriers progressed through the FORS accreditations from Bronze, Silver to our current standard of Gold. We felt the need to progress through this scheme to offer our customers a better service and be able to deliver to any construction site nationwide.

• Driver health and fitness review – Every 6 months our drivers fill in a HSM201 Medical form, this form is self-completed by the driver and it is then we ask if any health condition have changed from previous submission, also we send all of our drivers on an express medical as it's a requirement for the induction process to access a Tideway Site.
• Strategy for recruiting drivers – When we recruit new drivers or staff we use a company called TalentSpa who have access to all the job site platforms and we see good results from them.
• Noise assessment – Our company policy is not due for annual review until Sept 2018. Our current policy states that when carrying out works during the night all audible equipment i.e warning turn signal, reversing beepers are switched off while in residential areas, Hiab's are to keep RPM to a minimum while crane is in use, to use strops instead of chains and to use hand signals as opposed to verbal communication, close doors quietly and switch radios off.
• Modal shift and alternative vehicles – On our previous FORS Gold audit we really exhausted all avenues in regards to modal shift, we cannot transport our customers goods in any other way other than using the road network, electric vehicles haven't got the range we require, alternative fuel will increase our vehicle costing i.e changing fuel lines, tanks, filters ect. However we are working more towards groupage of our customer's goods and consolidation thus reducing movements on the road network.
We at Premier Carriers are in the process of updating our fleet vehicles with Euro 6 emission rated vehicles. In the last year we have purchased a Volvo FM 62t Hiab Flatbed, Euro 6 rated vehicle with an added extra window in the near side door to meet the DVS standard, also a Mercedes-Benz Actors 44t tractor unit which also meets the Euro 6 standard and extra window in the near side door to comply with the direct vision standard. September 2018 is our annual review date for all our company policy and procedures.
Being a FORS Gold member is very important to Premier Carriers as we base our business model on being a fully compliant haulier. With being a FORS member the benefits are endless, discounts of services for licence checking, CCTV, Free Toolkits and help verbally from their advisors who have been very knowledgeable whenever we have called them.
You can find us on our Facebook page Premier Carriers to see the latest jobs we have completed for our customers and testimonies.
Please note: All published FORS Gold case studies have been submitted by the accredited company named above and transcribed verbatim.