PSJ Haulage Ltd, a Tarmac Trading franchise based Wiltshire, is a small family run company working in association with one of the UK's leading suppliers of sustainable building materials. Since February 2015 we, (Paul & Shelley James) have built our business from strength to strength. Starting with just one truck and one driver, we currently own two trucks and employ five drivers; therefore providing transportation of aggregates around the clock to customers and associates alike. PSJ Haulage Ltd has been able to develop and create a professional, efficient and reliable company by taking advantage of the huge benefits & resources available through The Fleet Operators Recognition Scheme. Through the guidance and direction of the scheme we are ensuring that we safe and 'green' hauliers.
As a company we have always taken Health & Safety requirements very seriously indeed, so when it was suggested by Tarmac Trading that we should look to become a member of the Fleet Operators Recognition Scheme (FORS) we willing progressed forward to obtain our Bronze Accreditation in March 2016, achieving an exceptionally score. We subsequently achieved our Silver Accreditation online in February 2017. Since joining FORS we realised very quickly that we could further ensure that, we as a company, along with our drivers are continuously meeting all relevant Health & Safety requirements.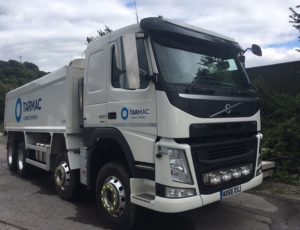 We have identified that the scheme has a number of really useful benefits available to us, such as Performance Management Tools, ongoing E-learning modules (management & driver training), supporting publication, latest safety guidance/recommendations, online Toolkits and a large number of courses and workshops; we have and will continue to utilise as many of these helpful aids as possible to ensure PSJ Haulage Ltd and its staff stay as up-to-date.
'We actively encourage other Tarmac franchise hauliers to push forward to achieve their Silver and Gold Accreditations as soon as they can, therefore further promoting the standard across the fleet.' – Shelley James, Director PSJ Haulage Ltd.
By undertaking FORS, we have all (drivers included) improved our knowledge significantly around road safety. Both of our trucks have had safety under-run bars, side sensors and left turn alarms, along with 360 degree recordable camera systems installed on them. In addition, we have implemented the undertaking of the 'Safe Urban Driving' course every 5 years. Here, drivers are asked to swap places with the cyclists in order to gain a perspective from their view; this is topped up with E-Learning updates annually. These measures are essential to reducing the number of accidents between cyclists and HGV's on our roads. Knowledge in other areas has been cascaded down via numerous company policies being developed and distributed to all drivers via sign off sheets, this has been a practical way to ensure compliance and the continuation of the standards we are achieving.
"Joining this scheme positively benefits businesses, associate companies, subcontractors and of course the general public. The FORS ethos together with the time, effort and work invested by organisations to ensure accreditation is achieved and maintained is invaluable." – Shelley James, Director PSJ Haulage Ltd.
The decisions to progress from the Bronze to the Silver and now from Silver to the Gold award have been very easy for us. We realised early on during our Bronze award that the benefits of embracing the FORS was extremely positive for all concerned.
| | | | |
| --- | --- | --- | --- |
| | Average fuel consumption (MPG) | Incidents per 100,000 Kms | Number of PNC |
| 23.916-1.8.17 1 truck | 214 | 1.40 | 44 |
| 2.8.17-1.8.18 2 trucks | 141 | 1.22 | 14 |
| Percentage improvement | -34% | -13% | -68% |
As we have only had access to significant performance data since September 2016 we unfortunately have little to demonstrate in terms of quantifying figures. However PSJ Haulage Ltd operate two fuel efficient vehicles which have Euro 6 engines in situ and should therefore be achieving lower CO2 emissions and reduced litres of fuel used when compared with less efficient tipper trucks.
We have found FORS extremely beneficial in how we manage our driver's health and fitness, along with reliable checking of qualifications and licences. Through clear HR protocols communicated to staff, we are able to ensure the health and fitness of our drivers are monitored regularly. This is done through regular licence checks, on-going monitoring of qualification expiry dates, six monthly eye check, toolbox talks and submission of company health declarations. Publications regarding the effects and dangers surrounding tiredness plus a strict alcohol & drugs policy are also communicated with all staff.
PSJ Haulage Ltd has had success in recruiting drivers through both social media and local publications. We always ensure that prospective candidates are aware of all mandatory Health & Safety requirements expected of them before consideration. We offer a protected 'buddying' period for all new starters and encourage additional training to drivers to ensure they stay up to date and maintain job satisfaction. PSJ Haulage Ltd is also very keen to join the 'Tarmac Drivers Academy Scheme' once it is rolled out in our area.
As a company and with the help of FORS, PSJ Haulage Ltd, are now more aware of how to reduce vehicle noise pollution. We now have a policy in place insisting all drivers continually try to reduce noise pollution in a number of ways including turning off engines when idle and when in traffic for extended periods, which of course also helps to reduce harmful emissions and saves fuel. Both trucks are also fitted with white noise reversing alarms.
As stated above we are currently contacted to Tarmac Trading to carry out 'last mile deliveries' of Tarmac products to customers, many of whom are road laying and therefore sites can change daily. This requires deliveries by road. However, Tarmac also has major investments in rail rolling stock and marine operations across the Southern region.
We currently have two Euro 6 vehicles in our fleet, we aim to replace these regularly to ensure the best efficiency in all areas. We also have plans for expansion and may possibly venture into business relationships with other local quarry stone suppliers; we will be doing our up-most to promote the Fleet Operators Recognition Scheme to these associates as well.
PSJ Haulage Ltd has found joining FORS invaluable to creating a strong and effective framework for our business. We want continue to promote the benefits of and demonstrate our commitment to scheme by ensuring that we, as an aggregates haulage firm, stay compliant and up-to-date with all Health and Safety requirements particularly around Safe Driving Standards. We are constantly looking to make improvements to the way we are managing our business, staff and relationships and therefore strive to achieve a very high standard in everything we do, achieving our Gold Accreditation will allow us to push on and continue meeting these bench marks.
PSJ Haulage Ltd: Facebook
PSJ Haulage email: pajames44@googlemail.com
Please note: All published FORS Gold case studies have been submitted by the accredited company named above and transcribed verbatim.