Punchards Haulage Ltd has been established in the Midlands for over 30 years and supplies a high standard of service to the construction Industry. Punchards has a wealth of experience in the haulage industry from moving construction materials, modules buildings, plant and machinery.  The fleet is made up of pick-ups, Rigid vehicles, Artics and also a wide range of Hiab vehicles.  From April 2012 Tracey Punchard is the FORS Practitioner for the business, Tracey's roll is to provide support to the transport office, using the FORS standards as guidance.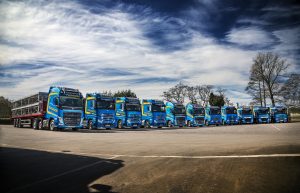 This year Punchards Haulage has achieved a reduction in fuel use which in turn has reduced CO2 emissions; lowered NOx and Particulate Matter emissions and it has improved our road safety record through implementing FORS procedures.
In 2011 Punchards Haulage was being audited externally by a large construction customer who recommended that we become a FORS member, and now many of our customers make it a contractual condition that we are FORS members at Silver or Gold level. We realised it would help us to achieve best practice and benefit us by becoming FORS Gold.
Our first FORS Bronze audit gave us positive feedback and encourages the business to use best practice in procedures and amend and review our Policies to be in line with FORS. The auditor encouraged the company to go further to achieve Silver and Gold.
Punchards has over the years used the benefits that are on offer with FORS using the Tool box talks, the performance management tool, and the driver cpc training. All of our drivers have completed Safe Urban Driving course (SUDS), Work Related Road Risk and the Terrorism Risk and Incident Prevention (TRIP) courses.
Mark Smith, Transport Manager says,
'Our drivers have benefited from the e-Learning and toolkits that FORS have on offer and are more knowledgeable.'
As a member of FORS it has benefited us as a business and it has helped us better manage eye sight tests, control driving licence checks, reduce idling time, and utilise our fleet more efficiently. The FORS workshops have been a great help for our management team, and the FORS eLearning modules have been completed by our drivers.
Tracey Punchard, FORS Practitioner says,
'Using the FORS standards has helped us maintain full industry compliance and to strengthen our day to day operations, it promotes safety and efficiency through the implementation and sharing of best practices.'
Being FORS standard has helped us demonstrate that we have a continued dedication to improve. Last year when we achieved FORS GOLD the moral within the business was fantastic.  More recently more and more sites are now insisting the haulage operator should be a least a Silver and some sites the minimum is for the operator to be GOLD.
Performance data
| | | | |
| --- | --- | --- | --- |
| | Fuel Used | Total KMS | Average MPG |
| May 2016 – Apr 2017 | 400582 | 1276595 | 14.49 mpg |
| May 2017 – Apr 2018 | 351972 | 1150210 | 14.86 |
| Percentage improvement | | | 2.55% |
Driver health and fitness review – A drivers health review is carried out every year showing any ailments and conditions that have been identified and then recommendations are being made. Eyes sight test are carried out quarterly. A Driver Health Declaration has been completed.
We have a low turnover in staff and if recruiting we would screen each candidate for the position and we would give comprehensive training to new people entering in to this industry. Any new drivers would have to undergo training prior to commencing his/her role.
Our fleet is all Euro VI and of low age made up of mainly Mercedes units. The noise assessment shows that our vehicles are below the recommendations for loud noise when undertaking driving, parking, loading or unloading, servicing or vehicle washing therefore helping with noise pollution.
We will change our fleet to alternative fuel vehicles, but this will be done in stages and when a tried and tested appropriate vehicle becomes available. It is clear that as an industry we shall be using alternative fuels in the future, and that this technology is for ever improving/changing as truck manufacturers look to offer a range of alternative fuel vehicles. We will look in the future at buying and slowly changing to an environmental fleet, however we are restricted with being based in the Midlands and the refuelling infrastructure has to be more established around the whole country. As a haulage business to move our consignments from road to alternative transport mode would be impractical looking at the size of the load, locations and time constraints.
Continuing the GOLD FORS journey has improved our business, we will continue to improve our daily operations by keeping the standard of best practice.  Punchards will continue monitoring Driver Fitness and Health, driver training and fuel management.
Becoming Gold accredited means that the business is dedicated to continual improvements and we are wholly dedicated to making the company the best it can be. We are extremely proud of the commitment that the whole company puts in. We have a dedicated team of staff that takes pride in our company and help the business in achieving FORS GOLD standard.
LinkedIn Tracey Punchard