R J Eames Transport LTD is a sub-contract haulier for Tarmac, the company was established in 1989 by Richard Eames who first started as a sole trader and two years ago changed to Ltd company. The Company is based in Harper Lane Radlett, we have two HGV vehicles, one of which is a Euro VI 44-tonne artic tipper, and the second is a Euro V 32-Tonne rigid tipper.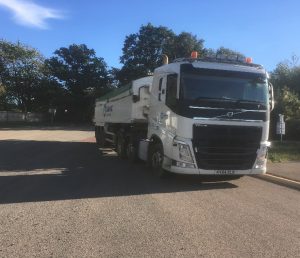 We first heard about FORS through Tarmac Industries, where we were encouraged to join and work with the scheme to be more aware of vulnerable road users, and what impact we have on the environment. We realised it would help us to achieve best practice and benefit us by…' implementing additional safety devices, and forms to monitoring fuel usage.
R J Eames Transport Ltd passed their initial audit first time round, like most business when undertaking an audit, you want to insure everything is correct and with the guidance and support from the FORS this was achieved.
Once we were Bronze we really made the most of the benefits on offer, in particular… Performance management tool as This help manage fuel performance. Second was TBT. it makes it so simple being able to access a mass of information in one place.
"FORS has guided us to reach and maintain our objective in safety." – Richard Eames owner.
FORS online E-leaning, has been invaluable to my drivers and myself focusing on a wide range of activities such as collision management investigator, Collision management: Road Risk Champion, and cycle safety.
"FORS training has heightened our awareness and strengthened our values towards safety and the environment. " – Richard Eames owner.
My reason for FORS progression is one contractual requirement of Tarmac that all sub-contractors will hold FORS gold accreditation. it's also a journey with an origination with the same beliefs and values as mine.
| | | | |
| --- | --- | --- | --- |
| | MPG | Incidents per 100,000 Kms | Number of PCNs |
| Jan-Dec 2016 | 6.9 | 0 | 0 |
| Jan-Dec 2017 | 7.8 | 0 | 0 |
| Percentage improvement | 8.9% | 0% | 0% |
We have used FORS performance tool to monitor our fuel usage over the past year, as shown on the chart .We have had improvements on MPG, and expect this to increase once we have delivery off our euro VI tipper, that will be delivered in the New Year.
Driver health and fitness reviews are done annually, with all drivers required to complete a health and fitness declaration and a fitness to drive questionnaire. eye test are every 6 months.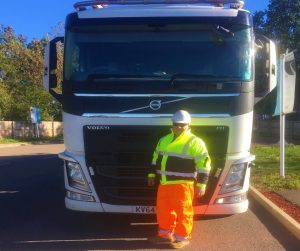 As a small family business If we need to recruit new drivers, it is usually via word of mouth or recommendations.
We have looked at alternative Bio Fuels and Hybrid vehicles, when the technology is available for our line of haulage we will definitely be trying them.
As previously mentioned. We have placed an order for Euro VI. This will have all the safety features, 360-degree camera, near side proximity camera, audible turn left alarm, lower chassis, Class IV, V, VI mirrors and all FORS information stickers. We believe this will also increase our fuel efficiency and reducing an impact to environment.
Becoming FORS Gold accredited would show that our company is committed to safety and the environment. We would maintain our focus on training, fuel efficiency, safety and wellbeing continuing to improve and learn by best practices.