Here at Swain our business culture is built around family values of integrity and reliability forged through strong customer service and sustainable investment built up over many years. This is supported by new, fresh thinking and processes that have developed with senior personnel joining from wider Logistics and Industrial backgrounds. This provides for a formidable combination that is able to understand clients businesses, the Logistical challenges, and deliver the solutions to overcome them. Expansion has come through organic growth, our reputation, client recommendations and through careful investment in acquisition. Proof of a dynamic and forward looking culture. We have the clear ambition to be successful throughout the next Century and beyond. 2016 revenues topped £66M with plans to achieve £100M in profitable and sustainable growth in diverse markets before 2020.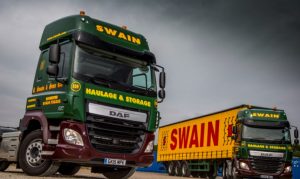 The Swain Group has been selected for many of the industry's most challenging infrastructure tasks such as the Heathrow's Terminal 5, Wembley Stadium , and the London 2012 Olympics. Tunnelling projects have become a specialism having supported significant segment supply chains for Eurotunnel, Network Rail, Lee Tunnel and Crossrail. Highly time sensitive supply chains developed to ensure seamless line-feed to the tunnel boring machine interface.
Since its foundation in 1918, five generations of Swains have built a company, with a proven track record, which constantly seeks to provide the best possible transport service. Carl Learder our Group Compliance Manager, explains how Swains has achieved significant improvements through FORS.
We heard about FORS back in 2009 and we were attracted to the scheme as it would improve our standards, safety and profitability through using best practice methods, such as constantly monitored policies and procedures and data monitoring across the fleet, including fuel use, PCN's, MPG's and even emissions such as CO2, NOx and PM output.
Our first bronze audit in 2012 was just for our Strood depot and we were surprised at how thorough the auditor was, especially with our basic procedures. It showed us that this accreditation was indeed a very worthwhile accolade to achieve and that we should strive on to bring it to the whole business and potentially go further through FORS to the higher accreditations, Silver and Gold.'
We realised once we had bronze there was no reason that we could not achieve more. We had already received many benefits from FORS such as the Performance management tools, to record PCN's and fuel usage, driver CPC training helping us to build a team of SUD trained drivers, practitioner workshops of which so far we have three full courses completed, and even introducing us to driver licence checking companies that are FORS recommended and even came with a discount.
Matt attended the FORS practitioner's workshops, SUD training and used the FORS helpline. He found that the perspectives gained added significantly to our VARSG process. The combined initiatives implemented within the Swain Group were:
A presentation to all drivers explaining the need to reduce accidents, the actions planned and inviting their participation and comment.
A change in wage structure to encourage a more honest approach to the reporting of vehicle accidents;
A detailed training scheme for drivers who have 2 or more at fault accidents;
A campaign to fit 3 or 4 camera systems to include a recording device to all new vehicles, even vehicles under 3.5 tonne.
A detailed interview with the driver to include any camera evidence to understand the cause of the accident;
A scheme implemented to provide free eyesight tests and basic pair of glasses for all staff;
The fitting of Class VI mirrors across the fleet;
Any new driver induction extended from 1 to 2 days
"Since becoming FORS Gold Accredited, Swain has enjoyed significant Commercial upsides within specific sectors." – Matthew Sweet Group Commercial Director

"Opportunities have come from both Domestic but equally offshore prospects seeking to engage with a reliable and compliant operator to ensure end-user requirements are met." – Matthew Sweet Group Commercial Director
We have reduced the number of accidents/ collisions we have by 50.47% since 2016. Our fleet size has reduced by 7.43% since 2016 as well.
| | | | | | | |
| --- | --- | --- | --- | --- | --- | --- |
| | MPG | Number of Vehicles | Number of Accidents | Number of PCNs | Km's Driven | Litres Used |
| Jan 16 – Dec 16 | 8.21 | 355 | 426 | 297 | 26315270 | 9007513 |
| Jan 17 – Dec 17 | 8.23 | 349 | 355 | 356 | 26004568 | 8886660 |
| Jan 18 – Dec 18 | 7.60 | 321 | 211 | 335 | 22869942 | 8456431 |
| Percentage improvement | -7.43% | 9.58% | 50.47% | -12.79% | 13.09% | 6.12% |
We get all our drivers to complete a comprehensive Medical Declaration on an annual basis. Driver's health and wellbeing is considered and thought of at all times. A close and open relationship with them ensures that we are aware of any physical or mental change that may result in the requirement of prescription medication. Any change will be investigated to see if it's still safe for the driver to be driving for the company and may even result in us asking the driver to get a letter from his doctor informing us whether he/she is still able to drive for the company. The risk is then managed to ensure there is no risk to the driver or other road users.
The Swain Group has a multi-faceted approach and strategy to the recruitment, retention and the development of drivers and support staff across all operating centres and fully recognises the importance of having a skilled and motivated workforce. Each operating centre/depot operates within this strategy utilising Group assets to support where necessary and also undertaking local initiatives. Special Projects Division participates in a number of initiatives such as Internal Recruitment & Development – Internal staff resources are first port of call for consideration in respect of continuity planning and fulfilling vacancies. This is particularly relevant when filling office-based operational roles such as Transport Planners, Transport Managers, Route Planners and even senior General Manager roles. Within the Swain Group, the Transport Planner roles are currently filled by individuals who were previously employed elsewhere within the Company. The Project Managers have all 'risen through the ranks' through time-served in the Company. One of the Transport Planners is on a 'fast-track' Graduate development programme and having already fulfilled a number of appointments is being mentored and developed as a future Project Manager in the Company.Website – Vacancies across the Swain Group are advertised on a dedicated page within the website www.rswain.com/careers . Vacancies specific to Swains Group and also advertised on the Company website. Candidates can apply directly on line by utilising the downloadable Application.
Commercial Recruitment – Several nationwide third party recruitment agencies are utilised for general recruitment purposes, such as "Indeed" or professional Executive Recruitment agencies.
Noise We only 3 Operating Centres and they are in an Industrial areas. We have implemented speed limits on entering and exiting the operating yard. We only use these site for parking our lorries. Occasionally we will need to load equipment onto our vehicles and this is done by a diesel Fork lift. We have electric gates at the front of the operators yard that we use to enter and exit the site. Servicing is done by our own mechanics in some of the depots as well as at dealers at their premises.We have completed a Noise assessments at our sites which is attached as evidence. The only noise is generated when we occasionally load our vehicles and when the drivers start our vehicles and do their defect checks.
All our vehicles are fitted with White Noise Reversing alarms.
Ultra-Low & Zero Emission Vehicles – Swain Group's fleet contains assets from Euro 4 through Euro 6 emission standards. The importance of moving to Euro 6 class vehicles across the fleet as soon as possible is well understood and supported (bearing in mind the commercial considerations around the cost of investment). Ultra-Low compliant vehicles are compatible with our operational requirements and all future vehicles are specified to this standard (Euro 6).
Consideration has been given to investment in the LPG fuel technology HGVs, however at this stage it is felt that the infrastructure necessary to support the widespread use of these vehicles across the UK is not currently available and that further time is required to establish this before it is operationally viable to bring such units onto the fleet. Research has been carried out into this option, with visits made to test drive units at Volvo's Testing and Research facility in Sweden and although the vehicles themselves are impressive, the issue of insufficient supporting infrastructure in UK remains the sticking point at this time.
Whilst the wider haulage and transport industry are actively engaged in serious field trials with electric vehicles, due to the heavy demands on our core fleet vehicles, electric power is simply not a technically viable option at this point. The use of electric powered LCVs is becoming a more viable option in the industry now and will be a serious consideration in future fleet renewal reviews.
All new vehicles purchased are specified to achieve the star rating needed to achieve the Direct Vision Standards, including the cab doors being fitted with glass panels in the lower section to facilitate the view of cyclists or pedestrians alongside. Irrespective of this, all HGVs are equipped to meet the Safe System requirements, which are designed to reduce the risks posed to vulnerable road users, such as: Class V and VI mirrors, CCTV system, Sensor system, Audible vehicle manoeuvring warning, External pictorial stickers and markers, Sideguards, Driver training specific to vulnerable road users.
We have positively promoted FORS by sending out letters to all our clients and suppliers informing them that we currently hold a FORS Gold Accreditation and that we would strongly recommend they join FORS if they haven't already as we believe it is a fundamental scheme that saves lives of all vulnerable road users. We show all our case studies on our website including FORS and the fact that we are Currently FORS Gold Accredited, we also have the FORS Logo on all our email signatures and company letter heads. Swain consistently promotes the FORS Brand and values through various forums. Primarily Customer related functions specific to relevant sectors in addition to public events.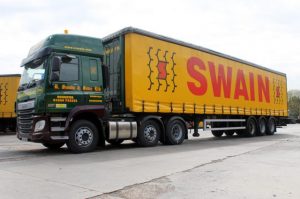 The following case studies can be accessed via our website
Can also refer to work we have done with Kent County Council at the Kent Cycle Safety Event held in Canterbury (see Image on our Compliance Page header). Adam R (in copy)may also have some content around this to support. I'm not clear on the FORS Workshops piece but something we should be engaged in and promoting internally and externally. Let me know how I may need to engage on this'
Since becoming FORS Gold Accredited, Swain has enjoyed significant Commercial upsides within specific sectors. Primarily this has come through the Construction and Infrastructure sector. Being a Gold practitioner we are approached directly by Leading contractors, manufacturers and importers to support a compliant supply chain at both site and project level. We are able to utilise our significant portfolio of case study experience to ensure that clients are fully briefed on requirements from a transport perspective and that we collaborate to ensure a seamless execution against project requirements.
Opportunities have come from both Domestic but equally offshore prospects seeking to engage with a reliable and compliant operator to ensure end-user requirements are met.
In terms of Goals moving forward, we would like to extend our reach into relevant industries to promote the quality and values that membership of FORS brings to the organization. Importantly the ultimate objective is to convert this into revenue earning business.
Visit our Twitter, LinkedIn and website