We are R Wilkes Transport & Storage Ltd, we are based in Holmewood, Chesterfield. We have 2 divisions, a general haulage division & also a dedicated medical services division carrying out important time critical deliveries to hospitals and clinics nationwide. My name is Scott Kelly and I am the Transport Manager, here is a simple walk through of our operation in line with FORS.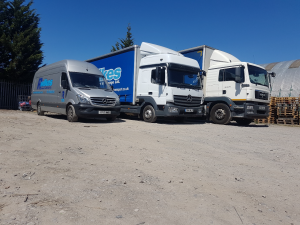 Here R Wilkes we have been looking at ways on how to reduce our carbon footprint, we currently have in place a very well trained and job served planner in place, the planner will always look to make any route or journey that bit more economical. He does this by using planning tools the give him the most cost effective and shortest distance travelled. Along with the planning tool we also have a very good tracking system in place that also emails certain members of our team an efficiency report, this is done on a weekly basis so we are able to see the figures that matter with regards to CO2 emissions etc.
As we are dedicated on reducing our CO2 emissions, lowering NOx and particulate matter emissions we have just recently (with the help of Nissan) had an electric panel van on a week's trial. We decided to give this ago to try to aid our Medical division dept. as we do a lot of work in and around all the major cities within the UK, whilst this in theory looked a brilliant option to do just that with the potential it posed, it didn't really work out that way. The only downside we found using the 100% electric van was its range.
The plan for improving our road safety relies upon us as a company making sure all our drivers are kept up to date with regards to training, all accidents are recorded on an accident reporting form then kept in a file. A spreadsheet is now also available and this, enables us to record what type of accidents are happening and what are the causes and cost. From this we can target area's we think are a major factor in accidents happening.
Transport related fines are logged on a spreadsheet and also the originals kept in a paper folder, these are analysed in detail of how they occur and why. We speak with our drivers who have been issued with the fines/charges and discuss how best to avoid these fines/charges in the future and how we can approach situations that may incur these fines.
We found about the FORS scheme through the logos that are situated on certified vehicles that travel around the UK. We looked up FORS and found it very interesting and wanted to show our commitment to being more environmentally friendly, and working safer. While working closely with FORS we started training our drivers to be more aware of their surroundings with regards to the effects to they are having on the environment and the public. And the need for being more considerate to pedestrians, cyclists, and other road users.
We also found that being a member of the FORS scheme we also knew that this could possibly generate a new line of business. This has also proved to be the case as we have had a lot of customers from our area here in Chesterfield make us a priority haulier for them as their own customers require the use of a FORS registered and qualified Haulier. This is especially the case for deliveries within London. We find that clients have more faith in our own company as FORS is a trusted and respected scheme, so much so that a lot of sites we visit in London will make a certain FORS level as a minimum qualification requirement before they even consider letting delivery vehicles enter their premises as safety levels rise.
Our experience of the Initial FORS Bronze audit was a very exciting and tense one, we knew where we wanted to be in terms of the accreditation, so we set our stall out on how we were going to approach the audit. Working from the online help tool we made sure we had covered all bases and had all the correct paperwork to hand and I'm pleased to say we her at R Wilkes passed the audit on the first attempt.
Once we were a Bronze FORS accredited company we really made the most of the benefits on offer such as, the performance management tool, driver cpc training, we knew we wanted to keep going with regards to getting a higher level of accreditation. Scott Kelly (transport manager) was tasked with making changes to our current fleet of vehicles i.e. higher version of the Euro engines were required, camera kits were also sourced and fitted. Also we contacted our tracking service provider for help in obtaining the correct running reports that were required to move up the ladder to the Silver accreditation.
A key factor or benefit/improvement from our FORS auditing and training would be improving our driver's knowledge and seeing a willingness from our drivers who are actually taking a great interest in the courses that are being rolled out as part of their e-learning programme. Drivers are giving a great feedback from the courses, the training seems to of made them more aware of  what is going on around them in relation to both their job and towards members of the public while making deliveries to places where the population is vast or the space around them restricts movement. It has also helped them be more vigilant when it comes to dynamic risk assessments.
Once we had got on the FORS ladder with the award of the bronze accreditation we wanted to improve further and get as high as we could with FORS. We knew all the training and knowledge gained from the FORS workshops and the E-learning courses we have been rolling out to all our staff would benefit ever member of staff involved in the day to day running of our operation. We also wanted to gain the best accreditation possible in order to stand out to both existing customers and any potential new customers that maybe looking to find a reliable and trustworthy haulier.
| | | | | |
| --- | --- | --- | --- | --- |
| |  MPG | Incidents and collisions  | Number of PCN  | Fuel used  |
|  29-09-2014 – 30-09-2015 |  22.5 | 3 | 0 |  125182 |
|  19-02-2017 – 19-02-2018 |  22.4 | 0 | 0 |  116048 |
|  Percentage improvement |  – | 300% |  – |  7.70% |
Driver health and fitness review – We monitor a driver's health by issuing an intensive annual health questionnaire, we also conduct a regular eye sight checks for all members of staff that could potentially drive any company vehicle on the public highway. This is done at 6 monthly intervals and records of testing is kept on file.
Strategy for recruiting drivers – Our strategy for recruiting new drivers is simple, we target hardworking individuals who understand simple instruction. Drivers who are willing to get stuck in to the job and get their hands dirty, they must also be helpful, flexible and approachable with a can do attitude. Candidates who fit this criteria will then be asked to come in for a driving assessment with our professionally trained and friendly company assessor. And based on the report the assessor submits back to us we will then have a sit down meeting with the candidate and have a formal chat about the job role and what is expected by both ourselves and our customers. We will also make sure the candidate is comfortable with what the position has to offer with regards to salary and job satisfaction and the friendly atmosphere we have here at R Wilkes transport and storage ltd.
Noise assessment – At R Wilkes we have rolled out a tool box talk that covers the loading and unloading of vehicles at night or any unsociable time of the day. We have also sent out a memo to all our drivers regarding all aspects of noise pollution and when is acceptable and when is not acceptable to do things like driving, parking, loading & unloading, or even washing a vehicle. Our biggest customer we carry out deliveries for are aimed at the building trade and new Building sites. A lot of these sites have strict laws in place with regard to delivery times and do not allows deliveries before 9am – 10am the laws are in place to safeguard local residents who live in close proximity of the site from the higher noise levels at unsocial times, so this aspect of our drivers daily duties is one of our top priorities.
Modal Shift and Alternative vehicles – We have recently had electric van on a trial basis from Nissan, the concept of it and the idea was great. However being as we deliver nationwide the only real struggle we found with this type of vehicle use was its range. Everything else with this worked really well, i.e. ease of driving, vehicle controls, load space, payload, and dimensions of the vehicle.
Moving forward we are planning to find a more environmentally friendly and cost effective way of making  deliveries nationwide. So in order to make further fleet improvements and further reduce our carbon footprint we are planning on re-visiting the idea of modal switch. I personally will be looking to approach and vehicle manufacturer regarding hybrid vehicles, I will again look to a trial period for certain types of vehicles that apply to our company. And if these trials prove successful I will build a case to put forward to my directors to renew some of our fleet with Hybrid types of vehicles.
Becoming FORS Gold accredited give us at R Wilkes a great sense of pride and accomplishment, we also feel we are at the top of the tree with regards to our existing customers and potential new customers looking to hire a quality assured haulier. We are very proud to have signage on all our HGV's and even on the company sign post outside our offices. It shows we are compliant and care not only about the environment but also the publics well being too.
Visit our LinkedIn