RKB Haulage Ltd is based in Greenhithe, Kent and is a sub-contractor for Tarmac Industries. RKB Haulage Ltd was established in 2013, and is known for offering waste removal services and transporting asphalt and aggregate materials. Since RKB Haulage Ltd joined the FORS scheme, they have seen improved efficiency in their drivers driving skills. This in turn has helped the company achieve lower fuel usage figures and emission output levels. Managing director of RKB Haulage Ltd, Khushbu Basi, explains how FORS has been beneficial to their company.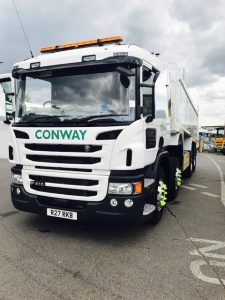 We first heard about FORS when tendering for work around London. We looked into the FORS scheme to decipher whether our company was suitable for the scheme and whether we would be able to benefit from it. After learning about the guides, toolkits and e-learning FORS has to offer, we decided to join the scheme, as we believed FORS would help us to achieve best practice.
Once we decided to start working towards our initial bronze accreditation with FORS, we were impressed with the amount of support and guidance that FORS provided us with. Due to this factor, we were able to easily implement the recommended policies and procedures to be able to achieve our bronze accreditation. This encouraged us to then begin working towards our silver and gold accreditations where we had a similar positive experience.
Once we had successfully achieved all accreditations with FORS, we continued to make use of the tools we used to achieve each initial audit, in order to keep our progress and improvements in tact and stable. One tool we particularly favoured and continued to make use of was the performance management system. This system helped with the organisation of our fleet's data, and also helped us set and achieve fuel usage targets as it was easy to track our progress with the system.
'The FORS performance management system was a key component to the organisation of our fleets files and data. Having this tool helped us lower our carbon footprint.' – Khushbu Basi, Director
Moreover, another tool provided by the FORS scheme which we continued to utilise includes the e-learning resources that are available and cater to the management and driver departments of a haulage business. The FORS e-learning module cycle safety evidently improved our drivers driving technique and safety procedures. Having our drivers complete this module gave them a better insight into the view of the road from a vulnerable road user's perspective.
'The FORS LoCITY for Managers module was very useful for me when implementing improved policies and procedures into the management of the business.' – Khushbu Basi, Director
At RKB Haulage Ltd, our reason for wanting to remain a FORS gold accredited company stems from the vast amount of benefits and improvements we have acquired and made since joining the FORS scheme. Once we started working towards our initial bronze audit, we began to see the significant improvements FORS has helped us make. Now that we have achieved all three accreditations with FORS, we have been operating at our most efficient level and wish to maintain this progress by remaining gold accredited with FORS.
In the ­­­­­last twelve months, we have increased our MPG by 0.8% thanks to FORS.
| | | | |
| --- | --- | --- | --- |
| | MPG | Incidents per 100,000 Kms | Number of PCNs |
| Jan – Dec 17 | 12.8 | 0 | 0 |
| Jan – Dec 18 | 12.9 | 0 | 0 |
| Percentage improvement | 0.8% | 0% | 0% |
At RKB Haulage Ltd, to ensure our drivers are fit to drive we ask that they complete a health declaration form. A review on their health is carried out every six months to ensure that they are still fit to drive. Furthermore, at RKB Haulage Ltd, we provide our drivers with written healthy living advice at every review. Moreover, we have also implemented periodic drug and alcohol testing along with regular eyesight checks.
At RKB Haulage Ltd, when looking for new recruits, we do not discriminate against drivers with no previous professional experience in a HGV vehicle. At RKB Haulage Ltd, we follow the RHA Guides when selecting, recruiting and training new drivers.
At RKB Haulage Ltd, we are aware that the vehicles we use to carry out our work contribute to the environments noise pollutions problems. In order to reduce our fleet's noise pollution to the public, we conduct manoeuvring assessments and endeavour to plan routes which optimise our fleet's fuel efficiency whilst lowering our noise output. Moreover, we have also implemented the FORS anti-idling method into our drivers training and handbook.
At RKB Haulage Ltd, we are searching for alterative vehicles in which we could implement into our business that would be more environmentally beneficial. Currently, the only suitable mode of transport is a HGV tipper vehicle which we are operating in at the moment.
At RKB Haulage Ltd, we plan to continue our search into alternative vehicles in which we can implement for improved carbon footprint, as well as continuing to improve on our driver's professional development by implementing FORS e-learning modules and courses into their training.
To conclude, at RKB Haulage Ltd we hope to stay gold accredited with FORS as it has helped us achieve best practice. Moreover, FORS has helped us to acquire more business contracts, as the FORS gold accreditation increases our credibility as a haulage company. We look forward to continuing to work with FORS and maintaining the high standard of work FORS has helped us to achieve over the years.