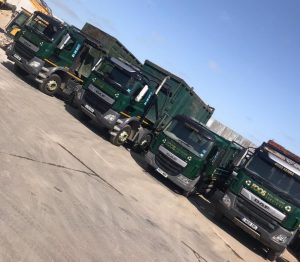 Roll On Off Services Ltd (ROOS) are based in Slade Green Erith in Kent. The company was first established in 1993 by Paul Foster and was primarily a smaller scaled family-run-business, operating around the City of London and neighbouring counties; initially with just a single lorry. Within a year a second vehicle was purchased, and the services expanded, however continuously keeping up with he ever changing requirements and legislation. ROOS offer complete waste management and recycling, including waste disposal and roll-on-off skip hire.  We are very proud that none of our waste goes to landfill sites.
In May 2016 ROOS had to face the tragic shock and untimely loss of Paul, just aged 52. Paul left behind a wonderful legacy to everyone at ROOS, which continues today, and his supportive wife Tina took on the running of ROOS, while I, Abigail completed my transport manager's qualification in November 2016 at the age of 22 and have since been appointed the transport manager of ROOS.
My father realised after researching the FORS scheme that it offered invaluable benefit, including expert advice on reducing fuel and emissions, penalty charges, showing what good driver training looks like, and networking opportunities with other local businesses. We started our FORS journey and was given the FORS number of 000883; we gained our first FORS Bronze accreditation in December 2012. As an accountable haulage and transport manager, I wanted my father to be proud of me and I continue the legacy for ROOS to be recognised in the industry for applying best possible practice, which we have continued to do with the accreditation.
Since December 2012, we have passed all our audits first time round at Bronze and Silver level; My father worked with a technology company to produce a B Spoke management system (Fleet X). The auditor commented on how good our system was, this incorporates a breakdown of CO2 emissions, fuel costs, vehicle tracking, driver and vehicle weekly behavioural reports; the system also registers all driver training completed along toolbox talks. The system also contains all driver credentials, certificates and licences. Medical reminders and alerts for all professional development of training update requirements.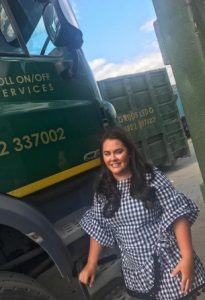 Once we were Bronze, we decided that we should progress to Silver due to the contracts we were bidding for, the majority embraced the FORS requirements requesting our drivers to be trained on the Safe Urban Driving (SUD) course. With the additional safety equipment fitted, we decided to fit a hard drive recording device for our camera system, this completely exonerated ROOS and the driver from an incident and the possible prosecution for the driver and the company.
The FORS Bronze audit itself, to have a professional come to our operation and check our systems and offer advice if required, was alone reassuring us that we remain compliant with regards to our O licence undertakings, as well as to satisfy the Traffic Commissioner. Once accredited, we really made the most of the benefits; all our drivers have completed the SUD course as part of the funded training programme delivered by Fleet Source. We use the Collision Management Toolkit, the LoCity Fleet Manager Toolkit and the TruckSmart Fleet Manager Toolkit, which has enhanced our company's efficiency.
Tina Foster Managing Director "The collision management course and toolkit assisted us in carrying out a collision investigation which has led to recommendations that we have now incorporated"

Abigail Foster Transport Manager "We have found it invaluable that all of our drivers complete the SUD course to make them aware of the vulnerabilities of vulnerable road users in and around London.
Section 6 – What improvements have you made?
Since being involved in FORS and learning/taking advice from the FORS Practitioner workshops, we have continuously improved our miles per gallon, also we have seen a reduction of fines and charges.
Below are our figures:
| | | | | | | |
| --- | --- | --- | --- | --- | --- | --- |
| | KMs PL | Incidents per 100,000 Kms | CO2 | NOx | PM10 | Number of PCNs |
| 2016 – 2017* | 2.01 | 116560 | 181 Tonne | 3.76 | 6.87 | 4 |
| 2017 – 2018* | 1.88 | 60674 | 33.8 Tonne | 0.0345 | 0.0005 | 1 |
| 2018 – 2019 | 1.66 | 56863 | 177 Tonne | 207 | 3.11 | 2 |
| Percentage improvement | -37% | – 51% | 2.2 Improvement | 45% Improvement | 54% Improvement | 50% Improvement from 2016-17 |
Note *Over the previous 3 years we have also increased the number of vehicles holding from three to six which also include bigger size vehicles. All figures are from the FORS Performance Management tool.
Training is a key essential part of a driver's development and we ensure that drivers don't just complete the minimum amount of training. Our drivers complete all the FORS eLearning modules annually, including those designed for managers, so they understand and give them the knowledge for future career development. Their professional development plans include Safe and Fuel-Efficient Driver (SaFED) training, LoCity driving and more above the minimum requirements.
Recruitment of drivers – "Yard to Wheels" ROOS have recently put the yard supervisor (aged 23) through their licence acquisition to category C+E; this has provided a new driver into the industry. We are currently training our yard labourer to pass his theory test, and once completed he will also complete his licence acquisition being another driver into the industry.
Working within an industrial site, we would have never considered to carry out a noise assessment, this year as part of the silver requirement, we found some of our operations were above the legal decibel limited, this was found by using an "App" called "Decibel X", having identified an issue of being above the legal limit in some working areas, we requested a formal noise assessment to be conducted. From this report we have put measures in place to reduce the noise to work within the safe legal limits.
We have purchased new Euro 6 vehicles, all of our vehicles are fitted with 360 degree cameras which are recorded on to a hard driver, as well as the camera system, we have retro fitted a low level window in the passenger door to assist drivers seeing vulnerable road users in their blind spot.  We have technology already within the business, we are now managing this better from the reports produced to improve efficiencies. ROOS do not stagnate and are seeking way to improve.
We have positively promoted FORS by offering our services to Bexley Borough Council by suppling one of our vehicles for them to carry out exchanging places. All of our vehicles display the FORS logo which we are very proud off and every email we send out also has the FORS logo attached. Tina the managing director has also given advice to smaller operators on how to achieve FORS and is always there for guidance when required.
FORS has allowed ROOS to be recognised as a forward-thinking operator with an all-important competitive edge. By promoting ROOS as a FORS accredited company and acknowledging its continuous effort to strive and improve driving standards, H&S performance. We support our drivers with more than just the 35 hours of training every five year, as this deepens their knowledge of the transport industry. This is also effective for their career development too.  By having new vehicles and working to the FORS Gold standard has proved we are smarter, cleaner and greener company achieving the very best results. We are dedicated to working towards a healthier and safer working environment which ROOS are very proud off.
*Please note: All published FORS Gold case studies have been submitted by the accredited company named above and transcribed verbatim