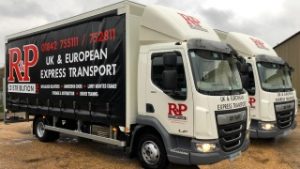 R&P Distribution Ltd provides transport, storage and distribution services throughout the United Kingdom and Europe. We are based in Thetford, Norfolk and have over 30 years' experience. We are perfectly placed to provide same-day or next-day deliveries, parcel deliveries and specialised loads throughout the United Kingdom and Europe. Samuel Giles (General Manager) explains how R&P Distribution Ltd has decreased transport related fines and charges through FORS and continue to monitor fuel consumption.
We were first introduced to the FORS initiative at the beginning of 2013, by a local manufacturer who required daily deliveries to London. We looked at the FORS standard and could see how our company would benefit from the standards to enhance our current policies and procedures. The company has always promoted best practise and the FORS standard gave us a framework to maintain it. An additional benefit from the accreditation has been the wining of prestigious and lucrative contracts.
R&P Distribution Ltd passed the Bronze audit in June 2013. This confirmed it was possible to build a healthier business from the inside out, following the FORS standard. The progression to Silver focused our attention on many items to assist the safe and efficient running of our fleet.
FORS introduced a new way of looking at the business with the initial Bronze focus being on compliance and best practise. We really made the most of the benefits on offer, developing our policies and procedures using the management tool kits. The progression to Silver focused our attention on many items to assist the safe and efficient running of our fleet. The changes within the company such as documenting communications and developments between management and drivers helped us to maintain a clear vision, with solid evidence to always refer to.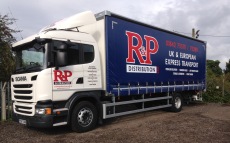 We have used the resources provided by FORS to develop our staff. This has provided additional efficiencies with the team being involved in the health of the business. The tool box talks available have provided excellent guidance to the drivers with a greater understanding of their roles and responsibilities.
`The company has made significant changes to its operation with a focus on safety and the environment. This has been achieved using the FORS management tools and training aids.' Mark Giles, Managing Director.  

`With the continued investment in driver training and better fuel monitoring, we have control of this important environmental and business element. This keeps us heading towards peak performance.' Mark Giles, Managing Director.  
Once we had achieved Bronze status, we immediately set our sights on Silver. This was to ensure we carried on maintaining the FORS standard, and we were eager to carry on the good work that Bronze had set up. We achieved Silver, successfully passing the audit, and fine tuning the policies that were included in it.
We purposely waited before going for Gold, so that we could fully dedicate our time and efforts to the Silver standard. Now we feel the time is right to progress to Gold and become the best version of the Company we can be.
| | | | | |
| --- | --- | --- | --- | --- |
| | Distance travelled (KM) | Fuel Used (Litres) | Parking Fines and Charges | Accidents |
| July 2016- July 2017 | 2,268,323 | 392,181 | 69 | 12 |
| July 2017- July 2018 | 2,575,061 | 383,093 | 75 | 8 |
| July 2018-July 2019 | 2,572,582 | 376,148 | 59 | 7 |
| Percentage improvement | 55% Increase | 42% Increase | 42% Increase | 23% Decrease |
We use the FORS Performance Management toolkit to record and analyse all our Miles, Fuel, Parking fines and Charges, Accidents, Cox, Nox, PM's. In the past 12 months our MPG averaged 19.26 MPG which is a 1.80% improvement compared to last year when we achieved an average on 18.90 MPG. We also achieved 18.25% improvement on our MPG compared to 3 years prior when we achieved an average MPG of 16.27MPG. We have also reduced our accidents/ collisions by 12.50% since last year and a 42% reduction since 3 years ago. We implemented a few new policies in the past 12 months, We have implemented an Anti-Idling Policy to try and save any wasted fuel our drivers might use when they don't need to be idling as well as a Fuel, Emissions and Air Quality Policy. We have also carried out toolbox talks regarding all these topics and got all our drivers to sign to say they also understand how important it is to stop our wasting any fuel. All our drivers have completed the FORS LoCity for Drivers E-Learning modules. Accident data is again lower than previous years and costs are at a 3 year low. Information is captured via incident and accident reports and placed onto an accident / Incident database
We are actively recruiting drivers through advertising, encouraging walk in applications, using our contacts in the industry, and encouraging agencies to send drivers to us with a high standard of competency. Going forward, we are looking into partnering with local military bases, to offer a trial period to ex-forces members who want to work in the industry.
We are monitoring noise regularly to ensure we are maintaining an environmentally acceptable level of noise output. This is to benefit our neighbours and customers, members of the public, and suppliers. After assessment, anything that is louder then 85dB, we are completing a risk assessment, and looking for ways to lower the output.
Modal shift has been investigated but we are a bespoke haulier, collecting goods from customer's premises. Many of these journeys are often time critical. Alternate methods are not available to meet the customer requirements yet therefore a modal shift is not an option now. We have however trialled alternate fuelled vehicles. This includes a fully electric 3.5t van, a hybrid 7.5t, and we are in talks to demo a brand-new hybrid 7.5t later this year, aimed at completing long-range journeys. We will assess the results and discuss if this will work for the company in the future.
To continually improve for the future, we will keep investing time and resources into our driver training and recruitment process'. This is to ensure we are maintaining best practice from all aspects of the company. We will also continue our high standard of being compliant beyond the standard necessary to run a successful transport company.
To become FORS Gold compliant would show that R&P Distribution Ltd have achieved the best possible practise with a nationwide recognised programme. This would set us apart from other companies, and ensure the longevity of the business, due to the many policies and procedures in place which undoubtedly improve the running of the business. Personally, to know that we are operating as environmentally and economically friendly as is possible within the industry, would be great news to me. It would also be a personal achievement to obtain Gold with the company.
*Please note: All published FORS Gold case studies have been submitted by the accredited company named above and transcribed verbatim