S Scott Transport is a sub-contractor to Tarmac and Aggregate Industries delivering asphalt in the south east region of the UK. Director Steve Scott and his wife Amanda Scott the company FORS practitioner continually observe the FORS standard when reviewing and making decisions for the business to continual improve operations. In the last twelve months we have continually improved our fuel management along with introducing a brand new vehicle to the fleet.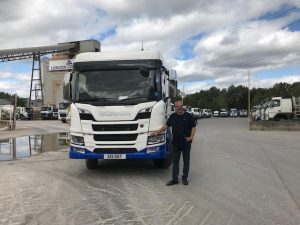 We first heard about FORS through our work with Tarmac in May 2013, as a requirement of our contract with Tarmac is to continue our FOR's journey. When we researched it more we could see the benefits FORS would bring to the business such as driver training, fuel economy improvement & a more organised business all round.
S Scott Transport passed the bronze audit first time this then encouraged the company to go for silver and then progress to gold as soon as it was possible. Our employees were right behind the business and were motivated to achieve the next steps. After getting the bronze accreditation we made the most of the benefits on offer in particular the e learning facilities , I  also attended the lo city driving and safe urban driving FORS funded CPC courses.
After becoming Bronze and seeing the benefits FORS made available to us, especially the e-learning and fuel management, we decided to move forward and apply for Silver. We were awarded our Silver accreditation after this the only way was Gold.
"FORS has proved to be very invaluable way forward for the business, our environmental impact is important to us, so we have introduced a new vehicle to the fleet." – S SCOTT (DIRECTOR)
Being awarded our Silver us as a business team that FORS was the way forward. The e-learning modules are a constant form of training along with the toolbox talks on the FORS website.
"We, as a company have learnt a great deal regarding best practice from FORS and will continue to move forward with our e-learning which has been made available to us through FORS." – A SCOTT (FORS PRACTIONER FOR S SCOTT TRANSPORT)
The main reason for progression was that we wanted to demonstrate to Tarmac and their customers that we are capable of meeting the challenges ahead. It is important that we continue to improve the operations of the business and by doing this we are in a better position to benefit from more contracts and continued expansion in the future
| | | | |
| --- | --- | --- | --- |
| | KPML | Incidents per 100,000 Kms | Number of PCNs |
| Apr-Jun 18 | 8.36 | 0 | 0 |
| Jul-Sept 18 | 8.87 | 0 | 0 |
| Percentage improvement | 6.1% | Nil | Nil |
An increase on KPML in the last quarter and continue our 100% on incidents and pcn's.
All our drivers complete a Medical Declaration and when joining the company and annually thereafter, drivers are aware they must report any changes to their medical conditions immediately.
When the company has the need to recruit, firstly enquire to the company we work with the enquire if they have recommendations by word of mouth or place advertisements in local papers.
We actively try to reduce any noise pollution we may make, we turn off vehicles if standing longer than 3 minutes in traffic, try to keep noise to a minimum when loading and unloading. Our reversing system is 'white noise' to reduce noise and all plants we load at are monitored by the companies we subcontracted to.
We have researched alternative transport modes to include Hybrid and Hydrogen powered vehicles, when vehicles are bought to the market that enables us to use them for our workload, we will look at the possibility, in the meantime we use Euro 6 vehicles.
Our plans for the future are to continue monitoring and improving where possible fuel management through ongoing driver training. Becoming FORS Gold accredited has shown and will continue to show that our company is dedicated to continual improvements in our service to our contractors and customers. S Scott Transport is a proud gold member of FORS that will continue to evolve in setting higher standards with our business within the road transport industry. Maintaining our Gold accreditation will continue to add value and raise the status of the business. Going forward we will continue to embrace the benefits of FORS for our fuel management and emissions and to further our knowledge in improving road safety standards.
Visit our Website