My name is Sean Pattinson I am S Walsh & Sons FORS administrator and one of the four Transport Managers on the operator's licence at S Walsh & Sons, we have been based in Essex for over 40 years our core business is the removal of construction waste in London and the surrounding areas for all the major construction companies. We operate 3 recycling sites where we take any waste that is recyclable, we can then screen and wash the material to turn it into a saleable product that is then sold to the construction companies it came from. Waste material that cannot be recycled is taken straight to landfill.

We have invested heavily in our road fleet that currently numbers 97 32 tonne tipper lorries, our road fleet is soon to be increased with the purchase of 15 low entry/ high vision Dennis Eagle 32 tonne tippers. Furthermore and in tugs and barges that operate on the River Thames. Our river fleet now numbers 9 barges from 1ktn to 0.5ktn.
We have been a member of FORS since 2010 when it was realised that membership was the way forward for our business. This was an operational and commercial decision which made sense when "best practise" was made contractual with our client base and FORS was the way forward. However the benefits of driver training, vehicle standards and management policies by far out-weigh any commercial decision. Vehicle standards was part of the reason we chose Dennis Eagle as the new vehicle addition to the fleet as they offered the best option to meet the changing standards for the highways and roads of London our predominant market.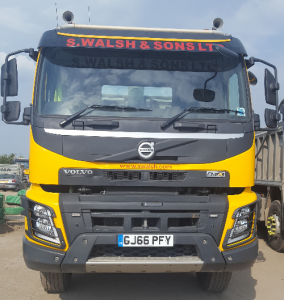 S Walsh gained Bronze status in 2010 progressing to Silver and Gold in 2015 unfortunately I was not involved at the time so was not aware of the work encountered to get the company up to the standards required but have subsequently reaped the benefit with the sytems and policies in place to enable progression each year with renewed Silver and Gold status.
Since S Walsh joined FORS in 2010 and gained Bronze status it has embraced the cycle safety culture championed by as then Crossrail, FORS and CLOCS all drivers attend the safe urban driving course and appreciate first hand what it is like to be a cyclist. All of our lorries have been kitted out with side sensors, left turn alarms, underrun bars and state of the art camera system with 5 cameras recording simultaneously with the recording stored on a hard drive for a minimum of 21 days. All of this goes to aid the driver in minimising the nearside blind spot.
'We are proud to be members of FORS and hold GOLD status.'
We have implemented across our driver base an annual health declaration to ensure no drivers medication hinders their ability to drive, additionally every driver undertakes a 6 monthly onsite eyesight check.
'It is important to lead by example.'
With the increasing number of projects we are working we are required to source external hauliers to assist, to ensure promotion of FORS we only employ external hauliers that have gained FORS bronze status as a minimum. We then work together with the external haulier to assist their progression towards gold. Currently we have 70% of our regular external hauliers are FORS silver or gold.
S Walsh moved its transport operations to Rainham, Essex in 2016 which meant a shorter distance to travel to the construction sites of London which therefore meant less fuel and less emissions. With investment on the road fleet to replace the older vehicles so every vehicle on the road was a Euro6 we have seen a significant increase in the miles per gallon achieved.
 

 

Total Miles (m)

Total Fuel (g)

mpg

Feb 2015 – Feb 2016

1752790
275783
6.4

Feb 2016 – Feb 2017

2987805
420857

7.1

Feb 2017 – Feb 2018

3260128
468056

7.0

 
 
Improvement

9%
Improvement in Fuel Economy
Regaining FORS Gold status will mean we can confidently deal with our client base knowing we are offering them best practise, they will know we are concerned about the safety of our employees, their employees, other road users and the environment. It also shows we are able to adapt and adopt new policies as the scope of FORS expands and changes.