SC Fabrications is a family run business with a carefully selected fleet of vehicles and a well-established reputation of excellent customer service, SC Fabrications over the last 20 years have grown into a tried, trusted and respected company offering a wide range of services and gaining FORS is a great achievement.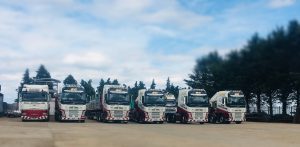 We have been Bronze accredited for 3 years after establishing the need for the accreditation through working with a vast variety of contractors.  We soon recognised the benefits of the scheme and how well they fitted in perfectly to improve safety, fuel efficiency and reduce our environmental impact.  Our first FORS bronze audit was made easier by the fact we had many policies already in place at FORS Standard but over time we enhanced these and strengthened our training systems, policies, risk assessments and performance data which then led to being FORS Silver!  Rapidly we could see the benefits with our customer base increasing rapidly.
Our next step was to gain FORS Gold and a FORS Practitioner status, attend workshops and enhance our training system.   Already being FORS bronze has greatly improved our demand and we will continue to progress with our excellent service.
"FORS has greatly increased our customer base and training has enhanced our drivers skills" – Steve Gost -Transport Manager
A huge benefit from FORS is the cost reduction with fuel, collisions, PCN's and suppliers. We have used FORS approved suppliers to improve our licence check system, fuel cards and driver training.
" We quickly realised the commercial benefits of moving through the accreditation scheme " – Shaun Copland – Director
Progressing to FORS silver and then Gold is a great achievement for our family run business, showing a great respect for the haulage industry and how serious we are about reducing our carbon impact and lowering our fuel emissions. FORS has helped training our drivers to a high standard to ensure vulnerable road users are safe at all costs and help them to understand a good control of fuel management.
Our progression through FORS has shown a great improvement in our Performance Data, our PCN's have become non-existent and incidents are down to a minimum. All our vehicles are fitted with FORS approved audible warning systems, side detection system and cameras. We have certainly noticed the benefit of having this equipment on our vehicles.
| | | | |
| --- | --- | --- | --- |
| | MPG | Incidents | Number of PCNs |
| Sept 2017-March 2018 | 7.232 | 0 | 0 |
| April 2018-Sept 2018 | 6.434 | 1 | 1 |
In order to manage driver's health and fitness, SC Fabrications conducts a medical questionnaire on new drivers with an induction and every 5 years on existing drivers. We also ensure all our drivers understand and sign our safe driving policy. Drivers have also attended a toolbox talks in driver fitness and health.
Strategy for recruiting drivers – As a family company we are fortunate enough to have a good team of drivers, therefore the need to advertise for new in far and between. However, we advertise through social media to recruit new drivers.
Noise assessment – Following completion of a noise assessment we have implemented a policy that ensures all drivers must turn off their audio devices before exiting their vehicles, vehicles are switched off where possible and professionalism is adhered to at all times; this is detailed in our engine idling and noise pollution policy.
Modal shift and alternative vehicles – Although we are unable to find alternative mode of transport to suit our industry of work, SC Fabrications continue to improve the vehicles to Euro 6 vehicles to reduce our Co2 and improve MPG. We will continue to keep engine idling to a minimum.
Following on from our FORS Gold accreditation and becoming an environmentally friendly company we will continue to manage our performance data, lowering the carbon foot print and increasing MPG. Our driver training portfolios will enhance further.  By 2019 we aim to have a FORS Practitioner and use the benefit of all the FORS funded courses available.
FORS Gold has helped us raise our standards even higher, showing respect to the industry we work in, maintain our trusted and respected reputation and improving our drivers' skills.  FORS has dramatically modernised the way we run, and we will continue to be FORS "Gold".
Visit our website, Instagram and Facebook