SFB Transport was established in 2009 by owner operator Steven Burgess who has been involved in the road haulage industry for 40 years. SFB Transport are involved with the construction industry moving various loads from bricks to crane sections and specialised equipment. Steven explains how continued membership of FORS, and in particular having gained Silver accreditation has ensured the high standards expected within the industry are maintained.
"I first heard about FORS over 4 years ago through working over Heathrow airport airside. At that stage operators were all gaining bronze accreditation to match the required criteria set by BAA and various other contractors working at Heathrow.
I passed my first bronze audit in August 2014 first time around which encouraged me to utilise the training and management tools on offer to further improve the safety and efficiency of my business.
As an accredited business I quickly made use of the training on offer and attended a Safe Urban Driving course which improved my knowledge and awareness of vulnerable road users. I have since progressed with FORS e-learning which has given me useful tips for fuel efficient driving and minimising environmental impact.
"FORS e-learning training has developed my knowledge of both vulnerable road users and fuel efficient driving that has contributed to an improvement of mpg"
Through the FORS standard requiring various safety systems to be fitted to the vehicle to meet the silver criteria such as left turn/reverse audible warning systems and side scanner proximity sensors further prompted me to add to this equipment including 4 way camera systems that give me a 360 degree view around the vehicle which I feel has been a contributing factor for the zero incident record I have.
"FORS are setting standards across the industry with the use of added safety equipment that are helping to bring down incidents between HGVs and vulnerable road users"
I gained bronze accreditation in August 2014 and stayed at that level until February 2018 where it was becoming increasingly prevalent to move up to silver accreditation to meet the criteria on the contracts I am working on.
MPG
Incidents per 100,000 Kms
Number of PCNs

Aug 2014 –

July 2015

9
0
2

Jan 2017-

Dec 2018

11
0
0
Percentage improvement
22%
–
100%
As an owner operator I monitor my own health and fitness levels by regular health checks at my GP surgery, I also engage in fitness activities such as walking and cycling.
I am a one driver, one vehicle business so there is currently no need to employ drivers as the vehicle is parked on my rest days.
Although my operating centre is not in a noise sensitive area I do abide by the strict delivery time windows given by customers to minimise noise and disruption in the local area.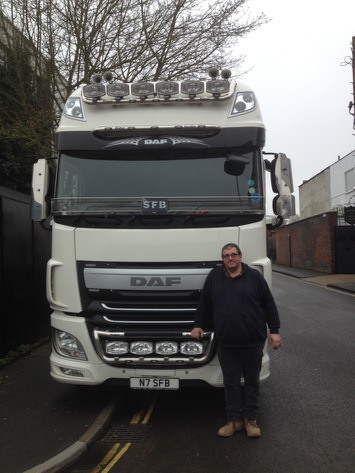 After researching modal shift transport and alternatively fuelled vehicles it is not currently a viable option. However, I own a new generation euro 6 truck which has improved fuel efficiency by up to 22% and a further reduction in harmful emissions
I will continue to work with FORS and make use of all of the training on offer to keep looking for Ways to further improve safety and fuel efficiency to do my bit in reducing environmental impact.
SFB Transport is proud to be a silver accredited member of a scheme that continues to evolve and develop offering support to its operators to maintain the high standards that are expected within the industry. Going forward I will ensure to embrace the benefits of FORS to progress my knowledge and the development of my business for the future. Gaining Gold accreditation will further build on the reputation of my business making steps in achieving the status of a high-quality operator.
Please note: All published FORS Gold case studies have been submitted by the accredited company named above and transcribed verbatim.