We operate rigid lorry loader equipped vehicles. Based in Southend on Sea in Essex our main operations cover the installation of portable accommodation and steelwork in and around the London and outer M25 area. I am Martin Ellis, company secretary and I assist my brother Simon, who owns and runs the company, with compliance and training based issues and requirements. I also act as our AP for site installation work. Since joining the FORS scheme back in 2011 we have seen remarkable improvements in fuel efficiency which in turn has lead to a reduction in emitted pollutants per km travelled. In addition, investment in new vehicles, training and safety equipment has seen us move to a modern, safety and environmentally conscious operator offering our customers an enhanced and compliant option for their delivery and installation needs.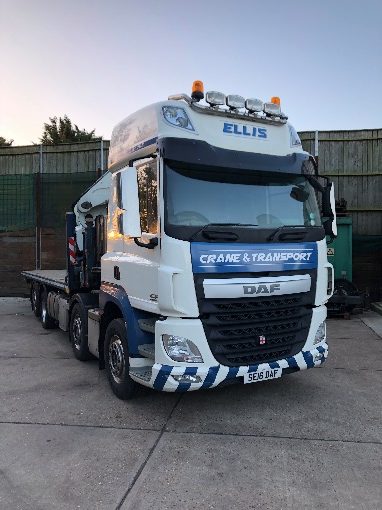 We first became aware of FORS in 2010 – We were making deliveries to the Olympic Park and our client suggested it to us. Achieving Bronze in 2011 more as a contractual requirement than anything else we quickly realised the boost the scheme would offer our company in advancing working practices, improving safety and fuel efficiency.
Our initial understanding of FORS – Having not implemented or indeed been asked to provide a level of evidenced compliance before it was quite a daunting prospect. There was not a great deal of experience of the FORS scheme around us but nevertheless it was being asked for on occasion so we decided to go online, have a look, gauge where we were in regard to meeting the requirements and from there booked an audit. The intervening time between booking and auditor arrival was spent analysing our working practices and attempting to align them with the FORS handbook of the day. We failed first time, but the auditor was helpful, recognised the efforts we had made and constructive in ways to improve. It basically came down to the presentation, recording and evidencing of systems and working practices which with a little work lead us to meeting the required standard for bronze within weeks.
Making best use of FORS – Having achieved Bronze FORS we were diligent in using the requirements of the standard to maintain, monitor and improve our working methods. From initial accreditation to now we have taken advantage of driver training methods promoted by the standard such as e learning and SUD courses, completed the FORS practitioner course and recently have again re written our driver handbook taking full advantage of the help given via sample toolbox talks and information available to drivers. The constant updating of the help and advice available has allowed us to develop a regular programme of updated operational advice and management techniques to be employed across our workforce.
"we have seen remarkable improvements in fuel efficiency"  Simon Ellis M.D.
Key benefits to our company – We have seen major savings in fuel efficiency, reporting, training and implementation of new policies to aid our operations however I would pinpoint the main advantage to our company as being the inclusiveness of the drivers in our progression, decision making and policy changes. As a small company we have found the implementation of the FORS standard over the years has allowed us all to be involved in the development of our business removing a great deal of separation between manager and driver. Clearly management have the major role in implementing change and improvement but this is now actioned on an inclusive basis with input from the whole workforce. I think that this understanding allows for the benefits of running a compliance lead operation to be greatly enhanced and our business has definitely benefited from this approach.
"the implementation of the FORS standard….has allowed us all to be involved in the development of our business"  Martin Ellis, Co. Sec.
Moving on from Bronze – As the scope of our work developed it became apparent that Silver accreditation was required. We started work on Crossrail and the physical vehicle safety requirements for site are very similar to those necessary for the FORS Silver standard. The contractual side of our business indicated that Silver was going to be a site requirement for much of our work and the other requirements of the standard offered the chance to again develop our operations by way of monitoring performance and implementation of new policies. As FORS has quickly evolved into the industry standard, particularly for London, progression to Gold was an inevitable goal for ourselves.
Example of our operational improvement –
This basic table demonstrates a major fuel efficiency savings against figures from just 2 years ago. The implementation of anti idling and driving standards policies has contributed greatly to this improvement.
| | | | |
| --- | --- | --- | --- |
| | Litres Used | Total KMS | Average MPG |
| Feb – Jan 2016 | 38934 | 103710 | 7.51 mpg |
| Feb – Jan 2018 | 34748 | 103491 | 8.40 mpg |
| Percentage improvement | | | 11.8 % |
We have implemented a driver health review policy, requiring 6 monthly self declaration for our employees as a way of monitoring and identifying any health related problems that may arise. Guidance has been provided to demonstrate what is or not reportable to DVSA and in addition we offer support to those affected by ill health and additional company sick pay to help compensate any absence that may be necessary.
We have a remarkably low turnover of staff and if recruiting would do so by recommendation. A full assessment programme is undertaken for any new recruit and this is backed up by a comprehensive training programme.
The introduction of our two new DAF vehicles this year means that our vehicles will be quieter units. Our noise survey indicates that the newer trucks are up to 15% quieter than existing The installation of new acoustic fencing around our depot and noise suppression systems for our steam cleaner and compressor have allowed us to reduce noise pollution generated by our operation. This process is ongoing and a new insulated workshop is nearing completion on site.
 We are reviewing the use of alternative fuel vehicles but with our vehicles equipped with lorry loaders have not been successful in finding suitable trucks but are now actively considering the use of Eletric pto options for the lorry loader itself. We have sourced an option for powering the pto using a rechargeable chassis mounted battery unit producing enough power to operate a lorry loader silently and with the vehicle engine off for an average working day. The environmental, safety and commercial benefits in my opinion far outweigh the additional initial cost of the new technology.
As the majority of our work involves cabin and steelwork deliveries to site with an average travelling distance of under 50 miles, a modal shift policy is not viable for us although of course we would consider all options if the structure of our work changed and this became feasible.
Future Plans – Currently we are looking to increase our operation and to do this by the acquisition of new Euro VI vehicles with silent mode running software. The implementation of Electric pto power units as already stated and continual development of our training to add an additional AP and a further lifting supervisor role, further development of our depot to provide greater security and continual development of policy and monitoring operation.  In addition due to the changing situation of our own depot with a housing estate now being erected on three sides we have started and will complete an installation of acoustic barriers around the industrial estate and identify and implement new working practices to minimise the effect of noise on our new neighbours.
Conclusion – Gold accreditation has given us the opportunity to seek contracts in areas we would not normally be considered for. The operational improvements that we have achieved have allowed us to become greener, safer and more efficient with our day to day running. Our workforce are an inclusive part of our business and we will strive to continue to develop all aspects of our company working practices over the coming years.
Martin Ellis, February 2018                                         Email:-  info@ellistransport.co.uk
Please note: All published FORS Gold case studies have been submitted by the accredited company named above and transcribed verbatim.