Simon Ellis Specialised Distribution Ltd is a Southend on Sea based haulage contractor with lorry loader equipped vehicles providing delivery and installation of portable accommodation, steelwork and air conditioning. Martin Ellis, Company Secretary, explains how over the 8 years which the company has been involved and accredited through FORS they have become a safer and greener operator, aware of their environmental responsibilities and acutely aware of the benefits that the Fleet Operator Recognition Scheme can bring to an organisation like theirs particularly in the areas of road safety, vulnerable road user protection, fuel use reduction, emission reduction and employee training and wellbeing.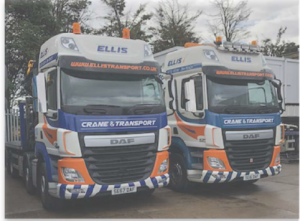 Our introduction to FORS was at the end of 2010 whilst working on the Olympic Park. It was a growing force in the transport industry in London and became obvious that if we became a part of it we could manage and improve our company operations at every level.
The inital FORS audit was a daunting prospect and we failed to achieve the Bronze standard atour first go, however within a few weeks we had reapplied and passed to become a Bronze operator. It became clear from the auditor that FORS was there to encourage and advance operations to make transport greener and safer. It wasn't simply a test.
We passed our next annual audit for Bronze and then looked at the benefits of advancing to Silver. Safety enhancements played a key role in this further development together with fuel monitoring and additional training. Contractual obligations with regard to Crossrail also made it necessary to look at the next level. The policies that we put in place to achieve this and later our Gold accreditation have further progressed our level of compliance and operational practices.
As a FORS accredited company there are benefits via the website from Associates that we have taken advantage of, however one of the greatest benefits is the provision of funded training for managers and drivers. Practitioner, SUD and Elearning courses have all been made available providing invaluable targeted learning.
Martin Ellis – Co Sec, "FORS was there to encourage and advance operations to make transport greener and safer."

Martin Ellis – Co Sec, "one of the greatest benefits is the provision of funded training for managers and drivers."
Our improvement in fuel economy from base year figures continues. This is in small part due to the acquisition of new vehicles but mainly the policies implemented due to FORS including driving techniques and training, anti idling, improved routing and changes in scheduling for multi vehicle site deliveries. Our incentive being the goal of always improving on last year. Better fuel economy and new vehicles equates to lower emissions.
| | | | | |
| --- | --- | --- | --- | --- |
|  Base year |  Km |  Litres |  Mpg |  % Improvement on Base Year |
|  01/02/15 – 31/01/16 |  250,255 |  92,872 |  7.60 | |
|  01/02/17 – 31/01/18 |  310,460 |  104,794 |  8.36 |  10% |
|  01/02/18 – 31/01/19 |  256,010 |  81,806 |  8.83 |  16.2% |
 

The issue of Driver Health is addressed by a six monthly self declaration of fitness and eyesight checks. Following an illness we have a graduated back to work policy. A stringent D & A policy is in place and all employees are signed up. Our Workplace Travel Plan encourages take up of the Cycle Southend initiative and we offer a grant for training and the purchase of bicycles.

Our recruitment policy offers new drivers the chance to train in our chosen area of transport with opportunities for career development and professional progression.

All our vehicles will be Euro VI by mid 2019 utilising ultra quiet software to minimse noise. New acoustic fencing has been installed at our depot together with acoustic barriers protecting yard equipment which has also been upgraded to minimise any possible impact on neighbours.

A study of modal shift for our particular business model has indicated that currently there is no opportunity to utilise this however it is always under review. We are currently researching the possibility of epto to power our lorry loader units which would provide a near silent offloading capability. At the moment there are not sufficiently powerful units on the market but they are in development for the future.
Our main objectives for the future are to continue to develop our operational strategy to demonstrate best practice to our client base. Career development for our employees and targeted training in our sector. Encourage initiatives to improve driver health. Source new vehicles that meet and exceed the basic Direct Vision Standard thereby improving safety.
We promote FORS by actively engaging with local companies, evidencing the benefits of FORS accreditation and offering places on our inhouse training and the initial response has been very positive. Our suppliers are being encouraged to gain FORS accreditation and we offer advice and help in this area.
FORS has given us confidence to make changes and operational improvements and constantly strive to be better, safer and greener. It gives us the opportunity to fully engage with our staff and we feel very much a team. It is our aim to continue in this manner.