SRC Aggregates is an independent, family owned business providing a number of top quality aggregate solutions. The company also provides quarry and agricultural reservoir planning and development across East Anglia, London & Hertfordshire. Based at Highwood Quarry near Stansted we supply a diverse range of materials and services for construction, remediation and civil engineering projects across the UK. In addition, we operate state of the art recycling equipment. Specialising in waste disposal services for inert, non-hazardous waste, as well as hazardous materials.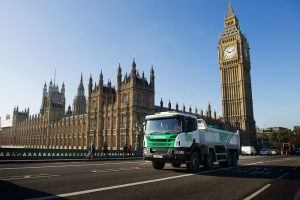 Back in 2015 we encountered FORS whilst tendering for work across London. When we looked at the requirements and benefits of joining the scheme we saw that they fitted in perfectly with our company ethos of improving safety whilst complementing our drive to improve fuel efficiency and reduce our carbon footprint.
We take legislative compliance and road safety seriously at SRC and as a result we achieved our Bronze and Silver Accreditation at first attempt. The FORS body also provided training and tools that bolstered our policies and procedures throughout this period.
Our company uses the provided performance management toolkits on a regular basis. As seen in fig.1 there is a clear improvement in our figures to support their use. We also have regular management-level meetings to discuss our fuel usage and determine where further savings on consumption can be achieved. FORS has helped us improve our filing systems and procedures following our increased internal communications on the subject.
'FORS is the leading standard for health, safety and Compliance in the haulage industry.' -Matthew Parker, Transport Manager for SRC Aggregates
During company inductions we now include FORS E-Learning, with all new drivers completing the Online Cycle Safety course and either the Smart deliveries or Smart Driving. Feedback from our drivers was positive and they have complimented the courses saying that they have learnt something new and the course was engaging and interesting.
'We have improved our MPG by 2.6% the last 12 Months.'- Clint Layzell, Transport Director for SRC Aggregates
Once we had achieved Bronze it was an easy decision to go for Silver and then Gold. This has been our third year operating at the highest standard, and it has considerably boosted our reputation in the industry. Clients and the general public can see that health, safety and compliance is a priority for us. We receive a high number of requests asking to see our FORS Gold certification before undertaking work. We are proud knowing that we are providing peace of mind to our customers.
SRC has seen a noticeable improvement in MPG since we trained in-house driver trainers. Our driver trainer programme was introduced specifically to lower incidents and improve MPG standards.
| | | | |
| --- | --- | --- | --- |
| | MPG | Incidents per 100,000 Kms | Number of PCNs |
| Jan-Dec 2016 | 7.5 | 0.40 | 40 |
| Jan-Dec 2017 | 7.7 | 0.31 | 18 |
| Percentage improvement | 2.6% Improvement | 5% Improvement | 55% Improvement |
Annual improvement in MPG and incidents per 100,000km
As a company we provide health surveillance and are keen advocates of a fit and healthy lifestyle; we provide readily available fruit across the company and throughout the summer months we hire a football facility and invite all employees to participate.
For the last year we have taken on novice drivers and sponsored them through all theoretical and practical HGV testing over the space of a year. We have had two successful participants, with two more joining the fleet this April. Addressing the skills shortage we face in road haulage and construction is essential to keep the economy moving in the right direction and we're proud to be doing our part.
SRC vehicles are equipped white noise alarms, have silencers on their exhaust brakes and can turn off the reversing alarm if needed (night working). All of our vehicles are fitted with 360 degree cameras which as of 2018 are now live-feed. Also equipped are nearside proximity sensors with audible turn left alarms; Class IV, V, VI Mirrors; Fresnel lenses, roof-mounted flashing beacons and cyclist safety stickers.
We have closely followed the development of new engine technology and its suitability to our vehicle application. Having reviewed the latest technology, we are open to the trialling of different demonstration vehicles when they become available in our industry, with a view to introducing them into our growing fleet
We are always updating our vehicles to the highest available specification and we have just ordered a large part of our replacement fleet- opting for automatics as they have proven that they will yield greater MPG figures than the manuals that we are using now.
SRC want to be a leader in the sector and we have found that with FORS it really provides the framework with which to really raise the standard above and beyond. Keeping our accreditation means we are fully compliant with current legislation, operating in line with relevant industry regulations, and using best practice to get there. This is a vital message that we want the general public and customers to see. We are utilising FORS daily, this is not a tick box exercise.
You can visit our social media pages we are on Linkedin , Twitter and Facebook