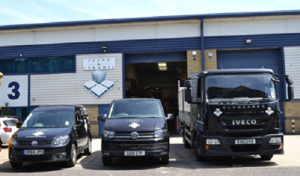 Stone & Ceramic is a well-established sub-contract company that specialises in tiling and stonemasonry within the construction industry. Over the past 16 years we have worked on numerous prestigious projects across London, including the Shard and the Savoy Hotel. Health & Safety is one of the most important factors within our company, and FORS has allowed us to learn about how we can develop our fleet safety and continually improve.
Paul Ahearne, Procurement & Logistics Manager, explains how Stone & Ceramic Ltd have achieved and maintained FORS Gold since 2016 and the changes we have made to our company since our second FORS Bronze audit in 2017.
Stone & Ceramic first discovered FORS when we were working for MACE at their Merchant Square project in 2013. We initially wanted to achieve the accreditation to commit to the Merchant Square project and to improve our delivery operations throughout the business. Another benefit of becoming FORS accredited, was that it gave us an extra edge over other tiling and stonemasonry contractors, to help eliminate the competition when trying to win jobs.
We have learnt that FORS is continually developing and improving, and our FORS Bronze audit in 2017 outlined some useful opportunities for improvement including;
Directors and senior management are now directly involved in reviewing, updating and signing off vehicle documents such as the driver handbook, policies and procedures.
To keep all staff, including fleet operators up to date with developments in the fleet and road transport industry, a regular news bulletin is displayed in the communal kitchen area to inform everyone of travel news and updates.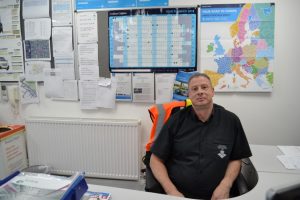 Since last year, we have removed one small van from our fleet and replaced another van with a brand new 18 plate Volkswagen, which complies with the new Euro 6 regulations.
As a FORS Bronze accredited company, our next steps were to attend FORS practitioner courses which Paul found extremely useful. Paul successfully attained the FORS Practitioner certificate in September 2014 which furthered our commitment to the FORS accreditation. All of our drivers have completed the safe urban driving course and regular eye sight and driving licence checks are carried out.
'My FORS Practitioner certificate expires in 2019, I am really looking forward to the refresher course to further my knowledge and to see what else I can learn from FORS.' Paul Ahearne, Logistics and Procurement Manager.
Our main driver, Gavin and FORS practitioner, Paul were invited to attend a clay pigeon shooting day arranged by one of our suppliers. While Paul and Gavin were enjoying their day out of the office, they were asked by two different suppliers about how we first got FORS accredited and were practically interested in how we worked our way through to FORS Gold. We appreciate being recognised by our clients and suppliers as FORS Gold 'champions' and enjoy encouraging other companies in our industry to gain the FORS accreditation too.
We have noticed over the last couple of years, especially that an increasing number of the sites we work on across London are asking for companies who deliver to site to be FORS accredited. We have also noticed how a lot of sites are now asking for a minimum of FORS Silver. It seems that the driving standard across the construction industry is increasing, and we are proud to be FORS Gold accredited.
'Being FORS Gold makes my life a lot easier when delivering materials to site! It's great that FORS is so widely recognised.' Gavin Dickinson, Driver
The knowledge and training we gained from the process of gaining FORS Bronze inspired us to continue learning and improving our standards, therefore we decided to go for Silver in 2015. To improve our fleet safety standards, a 360 degree camera with recording, a left turn warning and sensor system was installed to our HGV. We also became a CLOCS champion in September 2015.
A year later we became FORS Gold accredited, and enjoyed publishing our story across our marketing platforms, in hope that it will inspire other companies, especially small fleets like ours to become FORS accredited.
| | | |
| --- | --- | --- |
| | MPG | Incidents per year |
| Aug 15 – July 16 | 31.425 | 1 |
| Aug 16 – July 17 | 34.387 | 0 |
| Percentage improvement | 9.4% | 100% |
'Our MPG has improved by 9.4% since 2016!'
Depending on the advances in technology we hope to move our fleet to hybrid or electric vehicles within the next few years. This will considerably lower our emissions and will contribute to our ISO 14001:2015 environmental management system.
Being FORS Gold accredited, proves our commitment to the standards of FORS and shows us as industry leaders. FORS is widely recognised across London, and being Gold accredited ensures our clients and other road users that our drivers are safe, trained to the highest level and are efficient. Our goals that we want to achieve going forward include, encouraging other companies to become FORS accredited, especially small companies and fleets like ours.
Facebook –  @stoneandceramic
Twitter – @stoneceramic
Instagram- stoneceramic
Linked in – Stone & Ceramic Ltd
*Please note: All published FORS Gold case studies have been submitted by the accredited company named above and transcribed verbatim