Swift Scaffolding Limited are based at Marks Tey Colchester Essex and supply, erect and hire scaffolding to the construction industry. Logistics manager Mervyn Rolf explains how Swift Scaffolding Limited has achieved huge reductions in fuel use/reduced CO2 emissions, lowered NOx and particulate matter emissions, improved our road safety record, decreased transport related fines and charges through FORS.
We came across FORS as a contractual condition through Mace one of our many valued clients. We realised this would benefit us by consistently measuring our company's standards and performance, and to gain knowledge of innovations within the industry and demonstrate our commitment to best practise.
Swift Scaffolding Limited passed their initial FORS Bronze assessment on the 14th August 2013. From here we were encouraged to progress and achieve FORS Silver and then unto Gold which we achieved in 2014.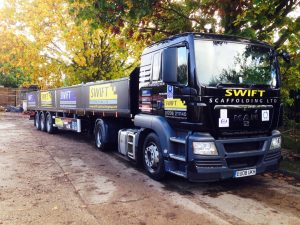 As a FORS accredited Company we have utilised the excellent benefits available for drivers and managers. The drivers have been on driver cpc courses safe urban driving, staying legal courses, eLearning courses and toolbox talks. Managers have been on FORS practitioner's workshops, managing O-licence and also essential O-licence courses all available through FORS, who are adding new workshops and courses all the time helping us gain valuable improvements which is reflected in our constant improvements programme.
Mervyn Rolf Logistics manager said,  'Gaining Gold gave use a competitive edge in the construction industry thanks to FORS.'
FORS Workshops have been a practical way of both improving our knowledge and learning from others; we have fitted our fleet with cameras sensors and left turn alarms to assist with alerting vulnerable road users of our presence and giving our drivers extra visibility and peace of mind. All vehicles and trailers have FORS recommended signage, Swift Scaffolding Limited are continually seeking ways to improve our safe operation.
Mervyn Rolf logistics manager also said, 'we want to be the best.'
Once we were Bronze we decided that we should progress to Silver because we wanted to improve our knowledge and standards silver also brought us into line with CLOCS (construction logistics and community safety) which we are CLOCS champions and as being a scaffolding company, we needed to be FORS silver and is what CLOCS require you to be at on most construction sites. Then we thought to go for FORS gold and become a exceptional operator which we have been for the last 4 years.
 Performance data
| | | | |
| --- | --- | --- | --- |
| | MPG | Incidents per 100,000 Kms | Number of PCNs |
| June-May 2017 | 11.45 | 0 | 1 |
| June-May 2018 | 11.67 | 0 No Change | 0 |
| Percentage improvement | 1.92% | 0% | 100% |
*Annual improvement in MPG and Incidents per 100,000 Kms
Driver health and fitness review – our drivers have an annual health surveillance medical and sign a medical declaration so any problems can be picked up and referred to drivers and their own doctors.
Strategy for recruiting drivers – Swift Scaffolding Limited are members of the FTA and work with their direction on recruiting new drivers we also bring on scaffolders working on site who have their HGV licences.
Noise assessment – Swift Scaffolding Limited have our own health and safety department who deal with noise assessments for the vehicles and yard they issue tool box talks to drivers and yard staff to the effect of noise and work with our client's transport logistics plans to reduce noise at the client's sites.
Modal shift and alternative vehicles – Swift Scaffolding Limited have looked at modal shift with the FTA information and guidance, but we use specialist kit and have tight time schedules that the clients book us into so not practical at present. Due to our geographical position alternative fuel is not a option at present, hopefully when the infrastructure and costs becomes more readerly available we can then look into this in apositive way in the near future.
Our plans for the future Swift Scaffolding Ltd will 'In order to make continual fleet improvements we will be purchasing Euro VI vehicles, quieter lorries. In the near future looking to procuring low entry/ high visibility vehicles, and looking at alternative fuelled vehicles. Revising the way we monitor driver fitness and health, in the near looking at procuring low entry / high visibility vehicles, bringing additional OCs onboard as this will help our company to stay ahead of best practice and ahead of the game.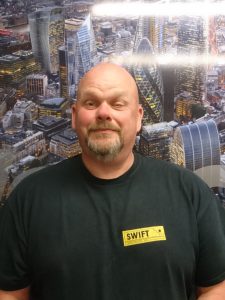 Becoming FORS Gold Accredited Swift Scaffolding Ltd has shown to our clients that we are serious about safety compliance and being above best practise, this gives us an edge. Through FORS training workshops e-learning for drivers and managers everyone can reach this accreditation. This will be our 5th year at gold and being first in our industry to gain gold was a proud moment for the company and to me personally all thanks to FORS. Looking forward to the years to come learning and gaining experience being a safer complaint company.
FORS member feedback questionnaire. Please can you take the time to complete a short questionnaire and provide feedback on FORS. Please note all answers you provide will be strictly confidential and will be used to help us to improve FORS. To access the survey, please click here