TEG Haulage Ltd are a Contractor for FM Conway Ltd providing haulage of tarmac and aggregate to infrastructure projects in and around the capital. I am Jamie Campbell, External Transport Manager for TEG Haulage Ltd.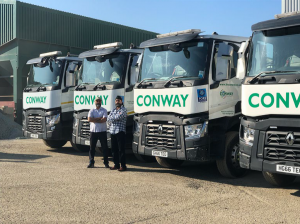 TEG first became aware of FORS when our client FM Conway, made it a requirement for us to hold the FORS Bronze accreditation. We quickly realised that the FORS ethos resonated with us and our commitment to a safer industry and took steps to employ an external transport manager with a solid FORS background.
The lead up to our first Bronze audit was nerve wracking, but there was no need to be worried, the auditor was courteous, fair and very knowledgeable. The report gave us pointers on where we could improve and gave us encouragement showing us how far we have come.
As soon as we became Bronze accredited we started using the performance management toolkit this really helped us spot trends in fuel consumption within our fleet, it's a real eyeopener.
"There was no need to be worried, the auditor was courteous, fair and very knowledgeable." – Managing Director.
Access to the FORS toolbox talks have been invaluable, the talks have formed the backbone of our continuous development programme. We have seen a real improvement in driver engagement. Our drivers feel valued because we are investing in their safety and improving standards and we are getting across key information. It's a Win Win for us.
"Our drivers feel valued because we are investing in their safety." – Managing Director.
When we were confident with the requirements of Bronze, we felt ready to prove that we were fit for Silver. Achieving FORS Silver gave all our staff a massive boost especially being a small company. So, this year we made it our goal to reach Gold.
MPG

Incidents per 100,000 Kms

Number of PCNs

Aug16-Aug17

7.40

0.02

3

Aug17-Aug 18

7.49

0.015

5

Percentage improvement

1.21% Improvement in MPG Achieved

25.0% Reduction in Incidents.

66.6% Increase in PCN's received, however this is due to the increase in vehicle fleet and mileage travelled.
Driver health and fitness review – We have put in place bi-annual medical declarations regular eyesight check and in conjunction with FM Conway Ltd, we conduct random, drugs and alcohol testing. This has enabled us to actively support any driver who requires it.
Strategy for recruiting drivers – Being a small family run company we do not have the need to employ new drivers, however we have been working closely with Conways to develop a pool of trained drivers.
Noise assessment – We have been working with FM Conway Ltd to ensure delivery sites in residential areas are kept to reasonable times.
Modal shift and alternative vehicles – We have investigated the use of a new to market electric tipper that is available. The current costs put's it out of our price range at this moment in time but we are watching the market feedback with interest.
We have big plans for the future we intend to make continual fleet improvements, achieving this by our fleet renewal programme ensuring all new vehicles are Euro 6 compliant, and monitoring our new driver fitness and health programme.
Achieving FORS Gold would be a big deal for us and we want to be at the top of our game. FM Conway Ltd are requiring all franchisees to be a minimum of silver accredited, therefore going one step beyond shows how committed we are to promoting road safety, environmental protection and the FORS scheme.