Thames Materials Ltd have been trading since 1995 and our core business is the removal, transfer and recycling of construction waste materials and the supply of primary and recycled aggregates. We have a modern fleet of tipper and grab Lorries as well as facilities for recycling of construction materials in Harefield in West London and Chadwell Heath. My name is Patrick Hourihane and I am the Transport Manager at Thames Materials. Thames Materials has benefited across the whole company through our participation with FORS. We have see reductions in accident and transport related fines due to the upgrading of safety equipment, FORS toolbox talks and educating drivers though the e-Learning process. The emphasis on training and educating drivers into safer and more efficient driving has see reductions in fuel, CO2 and NOx emissions.
We first heard about FORS through transport publications and then as a result of our involvement on Cross Rail Projects. The benefits of being part of the scheme are numerous, the tools available assist with our aim of continuous improvement for safety and the environment and the knowledge that we are working together sharing Industry best practice is rewarding. Displaying the FORS Logo shows existing and potential new clients the quality of service and standards they are to receive and that supports the Thames Materials approach to business.
We were delighted to pass our initial bronze Assessment on the first attempt, our commitment and effort was rewarded as we only received two observations in the entire assessment. This gave us confidence that our processes and proc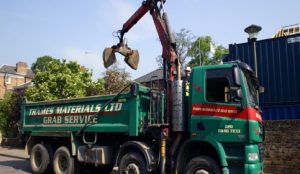 edures were appropriate but also that that there was guidance available for us to improve. It's from that initial achievement that encouraged us to progress to silver and then Gold.
Once we received our Bronze accreditation we were able to use both the FORS training and performance tools. We also benefited though the connections FORS opened up for us with other similar companies and the service providers linked with FORS. The improvements are evident in both a reduction in fuel usage, emission, NOx and a reduction in the number of accidents across the entire fleet.
"FORS has created a solid link for us with similar companies and services providers linked with FORS." – Patrick Hourihane, Transport manager.
The key benefit we have seen in the past number of years has been a reduction in both accident and fuel usage. Fuel usages has a direct link with harmful gasses. By reducing the amount of fuel and constantly investing in the newest vehicles with cleaner engines we have reduced the amount of harmful gases produced. These reductions can be directly linked to FORS training tool kits, performance management tools and safety equipment. With progression in FORS the emphasis is put on safety equipment and driver training. We feel this is a good direction and in line with FORS have done the same resulting in reductions across the fleet.
"FORS has pushed drivers to be better educated and safer, more efficient drivers." – Patrick Hourihane, Transport Manager.
The idea behind going for Silver and then onto was was that we wanted to be the best we could be. We felt that FORS was a driving factor in our industry. Buy achieving the highest level we are able to show our level of commitment and dedication to the organisation. A key benefit of the FORS scheme is the overall raising of awareness. The realisation that making small, often straight forward changes can have a major impact. The tool box talks are a great tool for communicating a message to all staff, including our drivers. The "Anti-Idling Facts" for example lists the well know myths and has the "Myth Buster" alongside identifying the real truth. We achieved our silver assessments on our first attempt for which we were immensely proud. We have also passed our Silver re-assessment recently. It is very important to us that we continue to pass these assessments and stay up to date with changes within FORS. Attending FORS workshops and trade events help us keep up to date.
| | | | |
| --- | --- | --- | --- |
| | Fuel Used | Incidents per 100,000 Kms | Number of PCNs |
| Jan-Dec 2016 | 843,000 | 14 | 14 |
| Jan-Dec 2017 | 826,217 | 7 | 7 |
| Percentage improvement | 2.03% | 50% | |
*Annual improvement in MPG and Incidents per 100,000 Kms
All drivers are regularly checked for their health and fitness. Upon starting employment all drivers sign a medical declaration form where we can be informed regarding any illnesses. This is followed up by every 6 months along with eye sight checks. Any driver who is off sick, upon returning to work is asked to sign an another fitness to driver declaration confirming that no health circumstances have changed.
When it comes to recruiting of drivers, we recruit by word of mouth. We know that when a vacancy comes up, drivers talk to drivers and it is mostly from our own drivers recommendations that we get drivers. We have opened our doors to younger less experienced driver who are will to be thought. This has worked out for us in recent times.
In line with FORS all vehicles have been fitted with white noise beepers which operate on a switch. We have also had night heaters fitted to cut out excessive idling on cold morning. Noise assessment has been carried out in our yard and steps are in place to reduce noise where possible. All employees are issued with ear protection.
Due to the nature of our work, modal shift is difficult. We have looked at a number of options such as rail and water. We do now dispose of some material by rail however lorries are still required to the transport the material to the rail depot. Disposal by water isn't an option unless the job is located on the banks of the river.
We have already made a purchase of 15 new vehicles which will arrive in September. We are keen to continually improve, learn form best practice and ultimately make the working environment safer, cleaner and more efficient for all concerned. This will replace all remaining euro 4 & some euro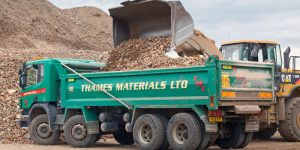 5 vehicles. All vehicles will be fitted with the lower passenger door glass for increased visibility. We will look at increasing driver monitoring when it comes to their health and fatigue. We will also continue with driver training. We believe that a more alert and better educated driver is a safer driver.
More and more customers require FORS registration and we are proud to be able to confirm that we have been associated with the scheme for many years.
We would be delighted to retain our Gold accreditation and continue this association for many more years.
Visit our website