Established in 1925, Hammond Transport has provided transport & logistics to businesses all over the UK & Europe "we have been working for the last three years to FORS standards and compliance procedures" says Clive Morris, Fleet Compliance Manager. "It has been my role to demonstrate to FORS that we qualify to be a FORS gold member". Hammond Transport has achieved considerable reductions in fuel use through FORS by monitoring vehicles and their performance more closely using vehicle telematics and CO2 monitoring. We have also decreased unnecessary empty vehicle movements.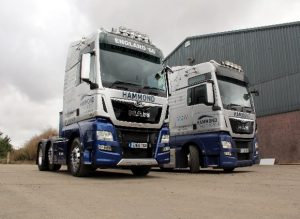 We first came across FORS as a contractual condition for anyone working on Crossrail explains Clive, "we did some investigation to see if it would be beneficial to us. We soon realised it would be a great opportunity to measure our current company standards against a standard which was perceived to be industry best practice'
We first came across FORS as a contractual condition for anyone working on Crossrail sites" explains Clive, "we did some investigation to see if it would be beneficial to us. We soon realised it would be a great opportunity to measure our current company standards against a standard which was perceived to be industry best practice
"As soon as we achieved our bronze accreditation, we were working towards silver. Having always assessed ourselves and collecting the relevant information, we were able to enter a year's worth of data to the benchmarking system straight away and achieve silver status just 9 months later. The benefit to us is the way the benchmarking system condenses our data into one accessible location and produces graphs that are easy to interpret, we really made the most of the benefits on offer, in particular… (Performance management tool/driver CPC training/practitioner workshops/driver licence checking etc.)" – Terry Hammond M.D.
FORS Silver was a very good selling tool for us; it initially was a request from one of our customers, then gaining popularity we were asked by many more customers what our next steps were we then gained our FORS Gold which was always our intention, We've utilised the Smart Analysis Checking Systems for driver licenses and we have used many of the Performance Management Tools that "FORS" have on offer. Driver CPC training was also a great aid for us, this is now an on-going yearly assessment keeping our staff abreast of current laws, compliancy and legislation.
'FORS workshops have been a practical way of both improving our knowledge and learning from others… we have implemented new policies and seen improvements in revenue and our drivers view on safety and the safety of others around them particularly pedestrians and cyclists' – Terry Hammond M.D.
Achieving gold status means that all the hard work done by my team has been recognised, our drivers and operational staff are a credit to their profession and industry. The journey however continues, and we will endeavour to achieve higher standards in our transport operations.
We have managed reduce our accidents/incidents by 67% compared to our baseline year. We achieved this by making sure we always selected the best route possible to all our sites and we plan ahead before leaving the yard.
| | | | |
| --- | --- | --- | --- |
| | MPG | Incidents | Number of Parking Fines and Charges |
| Sept 14-Aug 2015 | 16.71 | 15 | 11 |
| Sept 17-Aug 2018 | 16.82 | 5 | 3 |
| Percentage improvement | 1% | 67% | 73% |
We get all my drivers to complete a Comprehensive Medical Declaration on a annually basis even though the FORS Standard states once every 5 years. It's also mentioned in the drivers handbook that if they at any point in time start suffering from a medical condition they need to notify the company ASAP as well as if they need to start taking medication prescribed by their GP or over the counter drugs. We will then investigate it to see if it's still safe for the driver to be driving for the company and we may even ask the driver to get a letter from his doctor informing the company if he is still able to drive for the company. We will then start doing more driver assessments on the driver to make sure he isn't a risk to the company or anyone on the road.
We have implemented an recruitment policy to try and help us recruit young drivers into the Transport industry. We are at present looking into starting an in-house apprentice scheme run by the RHA to recruit new drivers. We currently use I4 Recruitment Ltd as our recruitment agency who help us employ young drivers as and when any of our driver leave.
All the vehicles we are replacing all have anti-idling devices fitted to reduce the amount of time we idle. We only have 1 Operators yard and its in a farmers field. We load our lorries using fork lifts, we only use this site for parking our Vehicles. Servicing is done by main dealers at their premises and as we are a hauler we go to a site and deliver the goods. We have a warehouse on site they we store the loads which are unloaded and loaded by Forklifts. We keep the noise to a minim as all this is done in the warehouse. All our vehicles are fitted with White Noise Reversing alarms.
We carry heavy equipment to and from construction sites across the whole country. We mainly move pallets and wooden boxes. As we rely on our customers asking us to collect the equipment from various construction sites across the whole country, we never know where we are going until they need us. Therefore we can't afford to try and move anything via barge or train as we collect all the equipment from building sites and there is no other method than using a lorry and we then asked to deliver anywhere in the country. So using a Lorry is the most cost effective way of moving our clients goods. We are replacing all our lorries with as and when they are due with Euro 6 engines. We have looked at electric vehicles and because of the weights we carry and the fact that our lorries have equipment fitted no manufacture have produced an alternative fuelled vehicle that can carry the weight we do and go over the same terrain we do.
We will continue using what FORS has taught us to improve our MPG and reduce any wasted idling we might have across the whole fleet.
The whole team here at TJ Hammond Transport Ltd are dedicated to making the company the best it can be, we are proud of the commitment that everyone involved in the business has put into making us a forward-thinking company, we are always assessing and trying new technologies to improve our safety and efficiency.
Our whole fleet of vehicles now have camera systems fitted and all new vehicles are fitted with CLOCS windows as standard to improve the driver's visibility from the driving position of our vehicles.
FORS Gold accreditation only confirms what we have achieved so far, our aim is to continue making improvements in all areas of our business within the office and for our drivers on the road, we strive to be one of London's most compliant and forward-thinking Hauliers.
Visit our Facebook, LinkedIn & Twitter